The Latest: Trump says Nike is sending 'terrible message'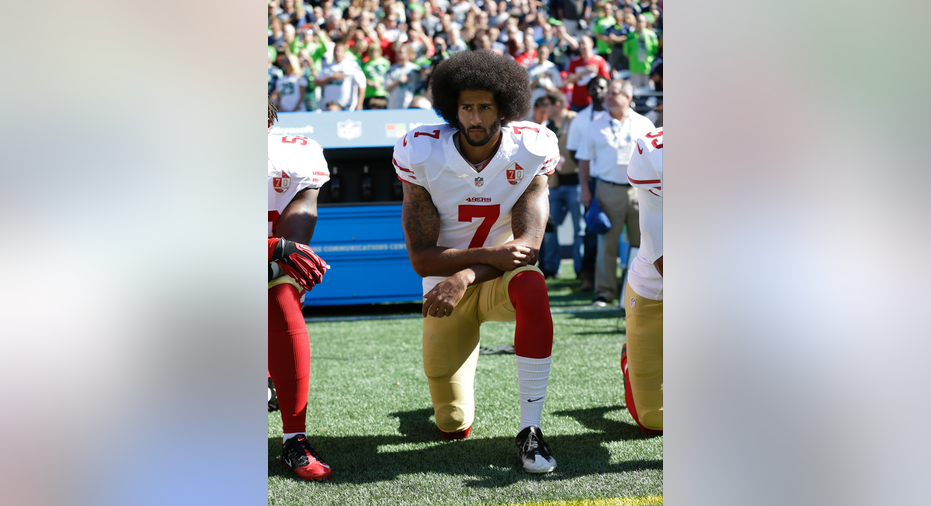 The Latest on Colin Kaepernick's Nike deal. (all times local):
5:25 p.m.
President Donald Trump says Nike is sending a "terrible message" by making Colin Kaepernick part of a new ad campaign tied to the 30th anniversary of its "Just Do It" series.
Trump told The Daily Caller that "there's no reason for it" but he also feels Nike's ability to make its own business decisions "is what this country is all about."
Trump has been a frequent critic of protesting NFL players. He has loudly urged the league to suspend or fire players who demonstrate during the anthem.
The Republican president is also a key figure in Kaepernick's grievance case against the league. Some NFL owners have said Trump made clear to them his feelings about demonstrations during the anthem and his intention to continue to raise the issue.
Kaepernick is arguing the owners colluded to keep him off any roster.
___
4:45 p.m.
An NFL executive says the social justice issues raised by Colin Kaepernick and other football players "deserve our attention and action."
Jocelyn Moore is the league's executive vice president of communications and public affairs. She said Tuesday that the NFL embraces the role of players and others in the game to promote "meaningful, positive change in our communities."
The statement is the league's first since Nike and the former 49ers quarterback announced he would be part of a new ad campaign tied to the 30th anniversary of the famed "Just Do It" series. Kaepernick tweeted an image Monday that said: "Believe in something. even if it means sacrificing everything."
Moore's statement came with a detailed breakdown of things players and league executives have done together to learn about and address social issues, including community meetings, lobbying and financially supporting local programs.
___
12:45 p.m.
Country singer John Rich of Big & Rich is criticizing Nike for hiring former San Francisco 49ers quarterback Colin Kaepernick for a new ad campaign and posted a picture of cut up Nike socks.
Rich tweeted on Monday night that a member of his crew cut the trademark swoosh off his socks and that he was also planning to burn them. Kaepernick began a wave of protests by NFL players two seasons ago, kneeling during the national anthem to protest police brutality and racial inequality.
In a series of tweets that continued Tuesday, Rich, who was also on "The Celebrity Apprentice," said he supported the right to protest, but that Nike lost his support when they endorsed Kaepernick.
___
9:35 a.m.
Nike's stock is falling in early trading on Tuesday following an announcement that former San Francisco 49ers quarterback Colin Kaepernick has a new deal with the athletic clothing and footwear maker.
Kaepernick's attorney, Mark Geragos, made the announcement on Twitter, calling the former San Francisco 49ers quarterback an "All American Icon."
Kaepernick already had a deal with Nike that was set to expire, but it was renegotiated into a multiyear deal to make him one of the faces of Nike's 30th anniversary "Just Do It" campaign, according to a person familiar with the contract.
The NFL and Nike extended their partnership in March to run through 2028. Nike provides all NFL teams with game-day uniforms and sideline apparel that bears the swoosh logo.
Shares of Nike Inc. dropped 2 percent.
___
More AP NFL: https://apnews.com/tag/NFL and https://twitter.com/AP_NFL