The Latest: Tourists buy in to recreational pot in Nevada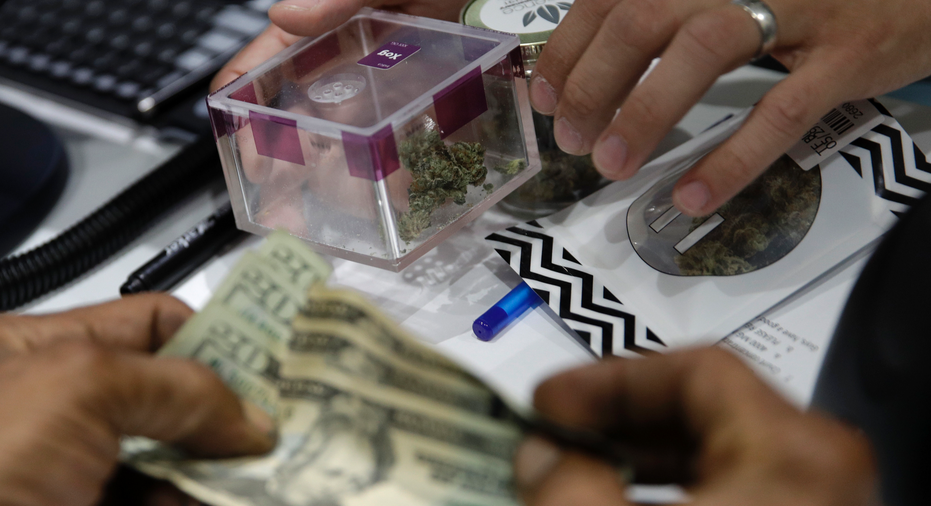 The Latest on Nevada becoming the fifth state in the U.S. with stores selling marijuana for recreational purposes (all times local):
12:30 p.m.
Minnesota resident Edgar Rosas Lorenzo on Saturday flew with his family to Sin City for a wedding. But even before he checked in to his hotel, he stopped at a pot dispensary on the Las Vegas Strip.
The 21-year-old says he learned of the legalization of recreational marijuana in Nevada while he was at the airport waiting for his flight to depart. He waited in line about 40 minutes before he could buy one-eighth of an ounce of marijuana and hemp wraps.
Lorenzo immediately posted photos of his stash on Snapchat. He says his friends have said they're jealous and asked where he bought the products.
It remains illegal in Nevada to consume marijuana in public, including at casinos and hotels. Lorenzo says he still hasn't figured out where he will smoke the weed he got at the Essence Cannabis Dispensary.
Lorenzo says he will plan another trip to Vegas specifically to be able to legally purchase marijuana, not to visit the city's world-famous casinos.
_____
10:30 a.m.
Kristin Deneal waited in line outside a dispensary in the Las Vegas area since 5:45 a.m., after a different shop that opened at midnight closed before she could make a purchase.
The 57-year-old Las Vegas resident says she is elated at being able to legally buy the drug that for decades she has had to buy through acquaintances. She says marijuana helps her cope with a mental health condition while also working a stressful job at a bank.
More than 100 people were in line along with Deneal by the time The Source dispensary opened at 9 a.m. State Sen. Tick Segerblom, one of the main proponents of marijuana legalization in Nevada, made the first purchase at the shop in a strip mall.
Deneal says she is relieved that she no longer has fear potentially being arrested for possessing marijuana.
_____
12 a.m.
Nevada has become the fifth state in the U.S. with stores selling marijuana for recreational purposes.
People began buying pot early Saturday, just months after voters approved legalization in November. It's the fastest turnaround from the ballot box to retail sales in the nation.
Those 21 and older with a valid ID can buy up to an ounce of pot. The millions of tourists who visit Las Vegas and other Nevada cities every year are expected to make nearly two of every three pot purchases.
People can only use marijuana in a private home. It remains illegal to light up in public places, including casinos, bars, convention centers, restaurants, parks and concert halls.
Nevada joins Colorado, Oregon, Washington and Alaska in allowing adults to buy the drug that's still banned by the federal government.