The Latest: Supreme Court clears way for sports betting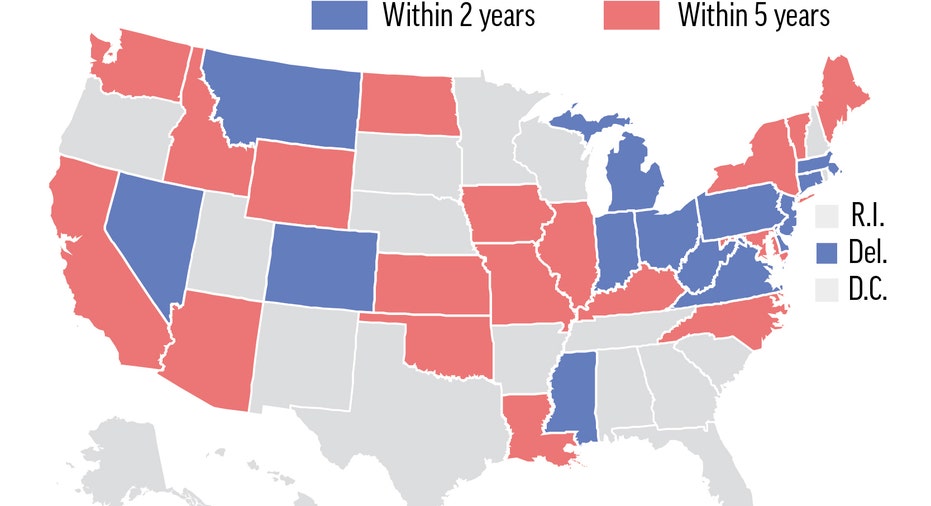 The Latest on the Supreme Court ruling striking down a federal law that bars gambling on football, basketball, baseball and other sports in most states (all times local):
10:45 p.m.
The Supreme Court has cleared the way for states to legalize betting on sports, breaking a longtime ban and creating a potential financial boon for states and the gambling industry. The first bets could be placed within weeks.
The high court has struck down a federal law that had barred betting on football, basketball, baseball and other sports in most states. States that want to take advantage of the ruling now will generally have to pass legislation to allow sports books to open.
Sports leagues had expressed concerns about any expansion of sports gambling. But the ruling also could be seen as bringing a popular activity out of the shadows. Americans wager about $150 billion on sports each year illegally, according to the American Gaming Association.
__
6:15 p.m.
An oddsmaker at one Las Vegas resort sees little chance that betting in other states will siphon business away from Las Vegas.
Westgate race and sports book chief Jay Kornegay calls Monday's U.S. Supreme Court decision allowing sports betting in states an opportunity for which sports books have been preparing for a long time.
Kornegay says tourists don't just come to Las Vegas to wager at the sports book. They also visit restaurants, casino tables, stores, pool venues, theaters and nightclubs.
Kornegay predicts crowd will still come for big events like the NCAA basketball March Madness tournament, the NFL Super Bowl, boxing and mixed martial arts fights, and the Kentucky Derby and Breeders' Cup horse races.
He says people who are introduced to legal gambling in their home states might then want to visit Las Vegas.
____
5:50 p.m.
Casino operator MGM Resorts International does not expect the U.S. Supreme Court's decision on sports betting to have a negative impact on the Las Vegas market.
CEO Jim Murren tells The Associated Press the company has polled customers in focus groups around the U.S. and found that widespread sports betting opportunities will not keep fans from traveling to the nation's gambling mecca.
Murren says people will want to visit the market leader, which will take them to Las Vegas' sports books.
The Las Vegas-based company operates more than 10 properties there and several more in the U.S. and abroad.
Murren says the ruling will increase consumer interest in sports.
__
5:45 p.m.
An executive with a company that owns casinos in 18 states and Ontario, Canada, says the U.S. Supreme Court ruling on sports gambling could begin a "land rush" for states to enact sports wagering laws.
Penn National Gaming senior vice president Eric Schippers says West Virginia is already at work on regulations to enable sports betting in that state by the start of the NFL season in September.
Penn National operates the Hollywood Casino at Charles Town Races, about 60 miles west of Washington, D.C.
The company also operates the Tropicana resort on the Las Vegas Strip and the M Resort in suburban Henderson, Nevada.
__
4:15 p.m.
Longtime sportscaster Brent Musburger says prohibition didn't work with liquor and prohibition didn't work for sports betting.
The former ESPN announcer now heads a sports betting broadcast called Vegas Stats and Information Network.
He's calling Monday's U.S. Supreme Court ruling on sports betting in states a healthy thing for sports and the public.
Musburger says sports betting and influence scandals are rare, and all that bookmakers in Las Vegas want is integrity and honesty.
He says the ruling takes sports betting "out of the underground and makes it mainstream."
____
3:50 p.m.
Casino giant Caesars Entertainment says you can bet it will expand its sports wagering business to states where it says secure and responsible gambling is legalized.
It's not talking yet about details.
Company president and chief executive Mark Frissora says Monday's ruling by the U.S. Supreme Court could end illegal sports wagering by replacing it with a well-regulated alternative that sports fans can trust.
Las Vegas-based Caesars operates 47 casinos in 13 U.S. states and five countries.
Frissora says the company will announce its specific approach to adding sports books after regulations evolve from the court ruling.
__
3:45 p.m.
New Jersey lawmakers have introduced new legislation that would regulate and tax sports betting, hours after the U.S. Supreme Court cleared the way for states to legalize it.
A bill sponsored Monday by Democratic state Senate president Steve Sweeney and others would set an 8 percent tax rate for bets made in person at casinos and racetracks, and 12.5 percent on online bets.
The state Division of Gaming Enforcement, Casino Control Commission, and state Racing Commission would all be involved in regulating sports bets that would be placed through casinos and racetracks.
The bill would presumably supplant one introduced last week that would have paid an "integrity fee" to the sports leagues, in effect giving them a cut of the proceeds from sports betting.
____
2:40 p.m.
The National Council on Problem Gambling says the high court ruling offers the largest potential expansion of gambling in U.S. history, and predicts many more people will develop gambling problems or worsen existing ones unless steps are taken to minimize risks.
Marlene Warner, the group's board president, says any governmental body and sports league that receives money from sports betting revenue should be required to dedicate funds to prevent and treat gambling problems.
Earlier Monday, the Supreme Court struck down a federal law that bars gambling on football, basketball, baseball and other sports in most states, giving states the go-ahead to legalize betting on sports.
__
2:35 p.m.
The chairman of the Senate Finance Committee says he'll propose legislation that would establish standards for sports betting that will uphold the integrity of the game, protect consumers and safeguard against underage gambling.
Republican Sen. Orrin Hatch of Utah says Congress cannot allow uneven enforcement and a patchwork of state laws regarding sports betting result in a "race to the regulatory bottom."
Hatch is reacting after the Supreme Court struck down a law that he helped write in 1992 that forbade state-authorized sports gambling, with some exceptions. It made Nevada the only state where a person could wager on the results of a single game.
Hatch says the 1992 law was created to protect the integrity of athletics from corruption. He says the upcoming legislation will have that focus, too.
__
12:55 p.m.
The NFL plans to ask Congress "to enact a core regulatory framework for legalized sports betting" following the Supreme Court's ruling that would allow sports wagers in most states.
In its statement, the NFL noted that "Congress has long recognized the potential harms posed by sports betting to the integrity of sporting contests and the public confidence in these events."
The NFL also said it will work closely with teams to ensure that any state proposals "protect our fans and the integrity of our game."
____
12:50 p.m.
The PGA Tour has restated its support of sports gambling following a Supreme Court ruling that overturned a federal law barring gambling in most states. The tour's position is similar to the NBA and Major League Baseball on gambling issues and it says it will continue to work with state legislators and regulators.
The tour last year established a program that requires players on all six circuits the PGA Tour manages to take part in an online tutorial that, among other things, illustrates some of the far-reaching effects of gambling.
"We believe that regulation is the most effective way of ensuring integrity in competition, protecting consumers, engaging fans and generating revenue for government, operators and leagues," the tour said in a statement.
___
12:45 p.m.
NBA Commissioner Adam Silver says the league remains a favorite "of a federal framework that would provide a uniform approach to sports gambling in states that choose to permit it."
Silver said the league would "remain active" in ongoing discussions with state legislatures in the wake of the Supreme Court's ruling. Silver added that "regardless of the particulars of any future sports betting law, the integrity of our game remains our highest priority."
___
11:45 a.m.
Major League Baseball has issued a statement saying the Supreme Court ruling will have "profound effects" on the league. It said "our most important priority is protecting the integrity of our games."
MLB said it would continue supporting legislation "that creates air-tight coordination and partnerships between the state, the casino operators and the governing bodies in sports toward that goal."
__
10:11 a.m.
The Supreme Court has struck down a federal law that bars gambling on football, basketball, baseball and other sports in most states, giving states the go-ahead to legalize betting on sports.
The Supreme Court on Monday struck down the Professional and Amateur Sports Protection Act. The 1992 law barred state-authorized sports gambling with some exceptions. It made Nevada the only state where a person could wager on the results of a single game.
One research firm estimated before the ruling that if the Supreme Court were to strike down the law, 32 states would likely offer sports betting within five years.
The court's decision came in a case from New Jersey, which has fought for years to legalize gambling on sports at casinos and racetracks in the state.