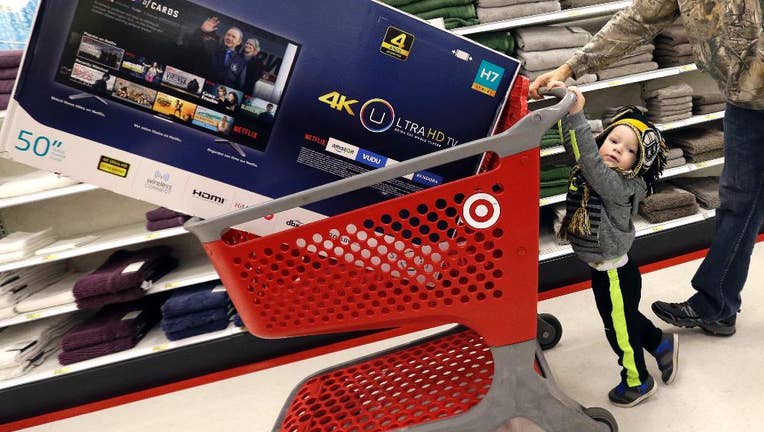 The Latest on Black Friday Holiday shopping (all times Eastern):
7:30 a.m.
Brian Motzko is making his usual trip to the Mall of America in Minnesota early Friday while visiting relatives for Thanksgiving.
The Cedar Falls, Iowa resident says he's doing all his Christmas shopping on Black Friday, buying gifts for himself, his wife and family "until my card blows up." He says, "I've got two teenage girls. It's whatever."
Motzko says he scored 70 percent off cookware at Williams-Sonoma and was on the hunt for a Bluetooth speaker. He said the nation's largest shopping center seemed less packed than in years past.
___
12:01 a.m.
Stephanie Sullivan says she's searching for deals this holiday season on items for her son's upcoming wedding. She said she planned to hit the Columbia Mall in Missouri on Friday after some shopping the night before.
Sullivan, her two adult sons and future daughter-in-law had driven from Kirksville, Missouri to Columbia for the shopping on Thanksgiving. She and her entourage toted luggage and bulging bags as they headed to their truck, driven by one of her sons, waiting in front of Kohl's.
The 49-year-old said she saved $580 and spent a little under $200 on a four-piece luggage set, sweaters, pillows, boots and other things. She said she was buying for herself, but did purchase one sweater as a gift.
Sullivan said the family was trying to stay busy after the death of her husband in October. "and not focus on what we lost."
___
12:01 a.m.
Stores open their doors Friday for what is still one of the busiest days of the year, even as the start of the holiday season edges ever earlier.
Many stores are offering the same deals as in previous years, like $19.99 boots that remain a big attraction, cashmere sweaters, and sheets. For some shoppers, big discounts on electronics are the draw.
Stores like Macy's, Walmart, Target and more were open Thursday evening in what they hope will be a new holiday tradition. Several shoppers were out looking for bargains on TVs. Other items that drew crowds were cellphones and Hatchimals — eggs with a small, animated animal inside that hatch when given attention.
Black Friday, the day after Thanksgiving, vies with the Saturday before Christmas as the biggest sales day.
____
Associated Press writers Kyle Potter in Bloomington, Minnesota, and Summer Ballentine in Columbia, Missouri contributed to this report.