The Latest: Ryan urges Trump to back away from tariff plan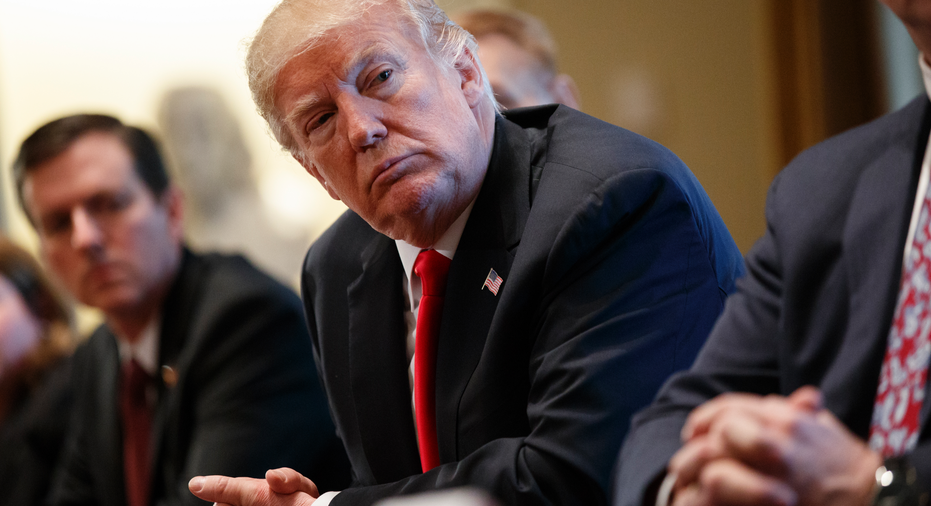 The Latest on President Donald Trump and trade (all times local):
9:40 p.m.
House Speaker Paul Ryan and other Republican allies of President Donald Trump are pleading with him to back away from his threatened international tariffs, which they fear could spark a dangerous trade war.
Trump says he's "not backing down."
The president says Canada and Mexico will not be spared from his plans for special import taxes on steel and aluminum, but he is holding out the possibility of later exempting the longstanding friends if they agree to better terms for the U.S. in a revised North American Free Trade Agreement.
A spokeswoman for Ryan says the GOP leader is "extremely worried" that the proposed tariffs would set off a trade war and is urging the White House "to not advance with this plan."
__
3:30 p.m.
Two senior Mexican officials are pushing back at President Donald Trump's tweets about steel and aluminum import tariffs and drug smuggling.
Mexican Economy Secretary Ildefonso Guajardo says on Twitter that Mexico should not be included in Trump's proposed tariffs. He calls them "the wrong way to incentivize the creation of a new & modern #NAFTA." Mexico, the United States and Canada are holding talks on the North American Free Trade Agreement in Mexico City.
Foreign Secretary Luis Videgaray tweets that "dealing with drug trafficking is a shared responsibility between Mexico and the U.S."
Videgaray says that only "addressing supply and demand" can the illegal "flow of drugs, cash and weapons going both ways" be stopped.
Trump tweeted earlier Monday that Mexico has "not done what needs to be done" about drugs.
___
12:35 p.m.
President Donald Trump says "we're not backing down" on his push to impose tariffs on imported steel and aluminum despite criticism from fellow Republicans.
The president says during an Oval Office meeting with Israel Prime Minister Benjamin Netanyahu that he doesn't expect to have a trade war as a result of his push to crack down on a flood of steel imports.
The president spoke after a spokeswoman for House Speaker Paul Ryan said the speaker was "extremely worried" about the consequences of a trade war and urging the White House not to advance the plan.
Trump says the U.S. has had a "very bad deal" with Mexico under the NAFTA agreement but he says the tariffs "could be part of NAFTA."
___
12:15 p.m.
House Speaker Paul Ryan is raising concerns that President Donald Trump's plan to impose new tariffs on steel and aluminum imports could start a trade war. The speaker is "extremely worried about the consequences" and is urging the White House "to not advance with this plan," according to a statement issued by his office.
Ryan notes through his spokeswoman that the new tax overhaul "has boosted the economy and we certainly don't want to jeopardize those gains."
The statement from the top Republican in the House comes as the Trump administration is arguing that the tariffs are needed to preserve American steel and aluminum and warning that North American neighbors Canada and Mexico will not get any relief unless they agree to a fair trade deal.
__
12:15 p.m.
Republican leaders of the House Ways and Means Committee are circulating a letter opposing President Donald Trump's announcement that he'll boost tariffs on imported steel and aluminum.
Committee spokeswoman Lauren Aronson says the letter expresses lawmakers' concerns about "the prospect of broad, global tariffs" on the two materials. Aronson says any tariffs should be aimed at "unfairly traded products."
The letter doesn't mention any countries as potential targets.
It's the latest indication of resistance to Trump's plan by Republicans in Congress.
The letter says the administration and Congress should pursue trade policies that build off the economic momentum from the GOP-approved tax cuts and shouldn't disrupt trade.
The letter was drafted by committee chairman Kevin Brady of Texas and Washington state's Dave Reichert, who heads the panel's trade subcommittee.
__
7:25 a.m.
President Donald Trump is reaffirming that two close allies of the U.S. will be affected by his planned import tariffs on steel and aluminum.
In a pair of Monday morning tweets, Trump is reiterating his displeasure with trade deficits with Mexico and Canada. He says the metals duties will only be removed on the American neighbors to the north and south when a "new and fair" free trade agreement is signed.
Trump has long criticized the North American Free Trade Agreement. The latest round of a nearly year-long renegotiation effort is concluding this week in Mexico City.
Trump also calls on Canada to "treat our farmers much better" and Mexico to do "much more" on stopping the flow of illegal drugs into the U.S.
___
7:25 a.m.
White House trade adviser Peter Navarro is rejecting criticism of President Donald Trump's planned import tariffs on steel and aluminum amid concerns they may kick off a trade war.
Navarro tells "Fox and Friends" Monday: "There are virtually no costs here."
Critics argue American manufacturers will face higher costs that make them less competitive globally, as Trump tries to protect the two industries in the U.S.
"If you put a 10 percent tariff on aluminum, it's a cent and a half on a six pack of beer and it's $25,000 on a $330 million (Boeing777)," Navarro says.
Amid speculation that Trump may bow to pressure and amend his tariff plan before it's put into effect in the coming weeks, Navarro reiterates that there would be no country exemptions on the tariffs of 25 percent on steel and the 10 percent on aluminum.
"Firm line in the sand," he says.
___
5:45 a.m.
President Donald Trump is embracing the potential for a trade war after announcing his intent to place tariffs on imported steel and aluminum, as he rebuffs allies who have pushed to be exempted from the stiff duties.
The protectionist policy will be made official in the next two weeks, White House officials said Sunday, as the administration defended the decision from critics in Washington and overseas.
Trump's pronouncement Thursday that he would impose tariffs of 25 percent and 10 percent, respectively, on imported steel and aluminum, roiled markets and rankled allies. While his rhetoric has been focused on China, the duties will also cover significant imports from Canada, Mexico, South Korea, Japan and the European Union.