The Latest: Ryan urged Trump to sign bill after veto threat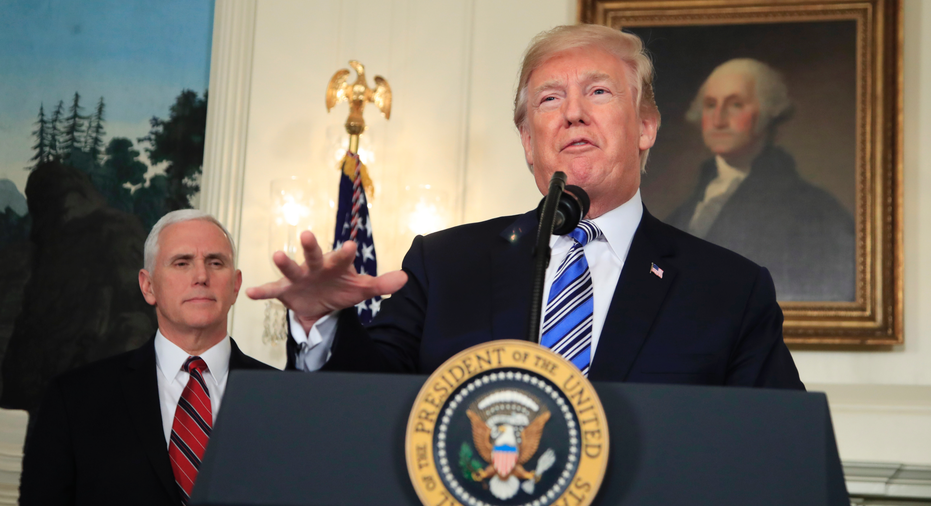 The Latest on the $1.3 trillion spending bill (all times local):
5:05 p.m.
House Speaker Paul Ryan encouraged President Donald Trump to sign the big spending bill into law in a call early Friday, shortly after the president tweeted he might veto it, according to a source granted anonymity to discuss the private conversation.
Ryan was in his home state of Wisconsin when he and Trump spoke around 9:30 a.m. EDT, not long after the president expressed his misgivings about the bill that was approved in a midnight Senate session.
The source says the men spoke — as they had earlier in the week, when Ryan dashed to the White House to brief the president about the package — about all the wins in the bill, especially for the military. Both felt better after the call, the source says.
— Lisa Mascaro
__
3:45 p.m.
Once again, federal funding for the arts has been spared.
The $1.3 trillion budget signed Friday by President Donald Trump continues support for the National Endowment for the Arts, National Endowment for the Humanities and other agencies he sought to eliminate.
It's the second straight year Congress restored funding in response to Trump's calls for ending such programs as the NEH, the NEA and the Corporation for Public Broadcasting. The money is used for everything from scholarly research to local theater productions.
The NEH and NEA each will receive $3 million increases, to just under $153 million per agency. The CPB's budget was kept the same, at $465 million. The Institute of Museum and Library Services is getting a $9 million increase, to $240 million.
__
1:46 p.m.
President Donald Trump is warning Congress that he will "never sign another bill like this again," as he signs a $1.3 trillion spending bill.
Trump calls the omnibus legislation a "ridiculous situation," noting lawmakers had only hours to review the massive bill, but says national security concerns are leading him to sign it.
Trump says "nobody" is "more disappointed than me because the number is so large."
Trump says he wants to change the Senate's rules to eliminate the filibuster, and allow passage of all bills on a simple-majority vote. He also appeals to Congress for a line-item veto that would grant him the ability to nix spending he disagrees with.
___
1:45 p.m.
President Donald Trump says the $1.3 trillion spending bill he's signing into law will provide an "initial down payment" for his promised border wall.
The package provides $1.6 billion for building new sections of wall and replacing older sections.
That's much less than the $25 billion Trump wants. But Trump says the permitted work will begin "literally on Monday."
He says, "this is a short term funding, but it's immediate."
Trump tweeted earlier Friday that he was considering vetoing the bill, in part because "the BORDER WALL, which is desperately needed for our National Defense, is not fully funded."
A veto would have created another government shutdown.
___
1:40 p.m.
President Donald Trump is expressing displeasure at the size of the omnibus government spending bill but is saying "we had no choice but to fund our military."
He touted the increase Friday as the biggest in history and said that the United States military "would be far superior than any military in the world."
Defense Secretary James Mattis also praised the increase in defense spending.
Mattis quoted George Washington in saying that "to be prepared for war is one of the most effectual means of preserving peace."
Trump has long promised to fully fund the Pentagon and suggested that he was "forced" to sign the bill, much of which he dislikes, in order to fund the military.
___
1:30 p.m.
President Donald Trump says he's signed a $1.3 trillion spending measure averting a government shutdown just hours after saying he was considering a veto.
Trump has been fuming because the package does not include protections for "Dreamer" immigrants and doesn't provide enough money for his promised border wall.
But Trump is pointing to major increases in military spending included in the bill.
He says, "my highest duty is to keep America safe" and that he's signed it "as a matter of national security."
___
1:03 p.m.
A White House official says President Donald Trump will sign a $1.3 trillion spending bill, hours after tweeting he was considering vetoing the legislation.
Trump teased a 1 p.m. "news conference" on Twitter Friday, where the official said he will sign the bill to avert a government shutdown at midnight.
The official spoke on the condition of anonymity to discuss internal deliberations.
An internal White House television feed is advertising the upcoming event: "President Trump Participates in a Bill Signing."
___
12:40 p.m.
President Donald Trump has announced a 1 p.m. news conference to discuss a $1.3 trillion spending bill. The press conference comes just hours after he tweeted that he's considering vetoing the legislation.
Trump tweeted: "News conference at the White House concerning the Omnibus Spending Bill. 1:00 P.M."
A day earlier, White House officials said Trump would sign the legislation. Then early Friday morning, Trump mused publicly on Twitter that he would consider vetoing it over concerns that it does not completely fund a border wall or secure protections for younger immigrants brought to the U.S. as children.
A presidential veto would likely result in a government shutdown when most federal funding authority expires at midnight Friday.
___
10:05 a.m.
The conservative House Freedom Caucus says it would support President Donald Trump if he vetoed a $1.3 trillion spending bill.
Republican Rep. Mark Meadows of North Carolina, chairman of the freedom caucus, says in a tweet the group would "fully support" a veto. He adds that Congress should pass a short-term budget resolution while Trump and congressional leaders "negotiate a better deal for the forgotten men and women of America."
The Freedom Caucus had urged Trump to veto the giant bill passed on Thursday. It says the bill does not have enough money for the border wall, leaves intact President Barack Obama's health care law and funds Planned Parenthood.
The government faces a midnight shutdown if a spending bill is not signed.
___
9:15 a.m.
President Trump says he is "considering" a veto of a giant $1.3 trillion spending bill, citing concerns over "Dreamers" and border wall funding.
Trump says on Twitter Friday morning: "I am considering a VETO of the Omnibus Spending Bill based on the fact that the 800,000 plus DACA recipients have been totally abandoned by the Democrats (not even mentioned in Bill) and the BORDER WALL, which is desperately needed for our National Defense, is not fully funded."
Trump's tweet created confusion after Congress gave final approval early Friday to the spending bill, which is needed to avert a federal shutdown.
On Thursday, Trump's budget director Mick Mulvaney said that Trump would sign the bill.
___
2:10 a.m.
Congress has given final approval to a giant $1.3 trillion spending bill that ends the budget battles for now. But that came only after late obstacles skirted close to another shutdown as conservatives objected to big outlays on Democratic priorities. Republicans control the House, Senate and White House.
Senate passage on Friday shortly after midnight averted a third federal shutdown this year, an outcome both parties wanted to avoid. But in crafting a sweeping deal that busts budget caps, they've stirred conservative opposition and set the contours for the next funding fight ahead of the midterm elections.
The House easily approved the measure Thursday, 256-167.