The Latest: Pence reports pension plan, football tickets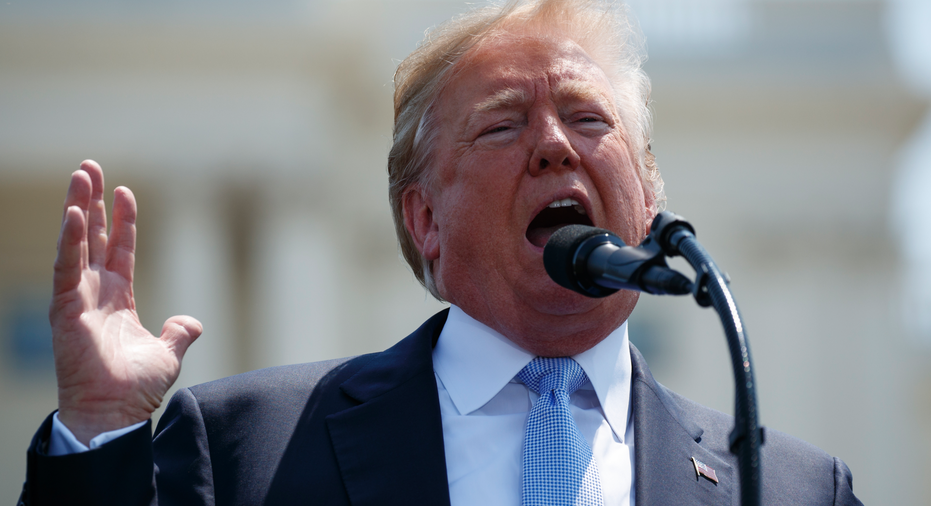 The Latest on President Donald Trump's financial disclosure report (all times local):
6:30 p.m.
Vice President Mike Pence has released his annual financial disclosure, reporting a pension plan from the state of Indiana worth between $500,000 and $1 million and credit card debt between $15,000 and $50,000.
The report shows that oil company founder Forrest Lucas provided Pence with two tickets worth $774 to the Indianapolis Colts game in October that Pence walked out of in protest of some NFL players who knelt during the national anthem.
Pence also received three tickets worth $15,000 to the 2017 Super Bowl in Houston from Houston Texans owner Bob McNair. The vice president also attended the Indianapolis 500, receiving two tickets valued at $1,000 from the Indianapolis Motor Speedway.
Pence's wife, Karen Pence, reported royalties of $15,000 to $50,000 for her children's book, "Marlon Bundo's Day in the Life of the Vice President."
__
2 p.m.
President Donald Trump's disclosure that he "reimbursed" personal attorney Michael Cohen for as much as $250,000 last year comes in a footnote to his financial disclosure report.
No mention was made of a $130,000 paid to porn star Stormy Daniels to keep her quiet about an alleged affair. A footnote in tiny type on page 45 of the 92 page document says the president "fully reimbursed" Cohen for "expenses" ranging from $100,001 to $250,000. The report says Trump did not have to disclose the payment but is doing so "in the interest of transparency."
The footnote appears in a report giving the first extended look at Trump's income from his properties since he became president. Among his holdings, he took in $25 million from his Mar-a-Lago resort in Florida.
__
1:50 p.m.
President Donald Trump has filed a financial disclosure report that reveals a payment to his personal attorney, Michael Cohen. The value of the payment ranged from $100,001 to $250,000.
Trump attorney Rudy Giuliani revealed earlier this month that Trump repaid Cohen for a $130,000 hush money payment to porn star Stormy Daniels. Daniels says she had an affair with the president. Trump denies it.
The mandatory filing says that "in 2016 expenses were incurred by one of Donald J. Trump's attorneys, Michael Cohen. It says Trump "fully reimbursed Mr. Cohen in 2017."
The Office of Government Ethics has also concluded that the payment to Cohen "meets the disclosure requirement for a reportable liability." The disclosure was not included in Trump's 2017 filing.
__
12:09 a.m.
President Donald Trump has submitted his annual financial disclosure to the U.S. Office of Government Ethics and it's expected to be made public in the coming days.
Trump's disclosure includes all of 2017 and part of 2018.
The document is being closely watched by ethics experts to see whether it discloses the $130,000 paid to porn star Stormy Daniels on his behalf by his attorney Michael Cohen.
Ethics experts say that if that money isn't disclosed, Trump could be in violation of ethics laws for failing to disclose a reportable item, a violation for which others have been prosecuted.
Trump's previous report, covering January 2016 through the first few months of 2017, showed he had at least $1.4 billion in assets and at least $594 million in income.