The Latest: NTSB probing post-crash fire system for copter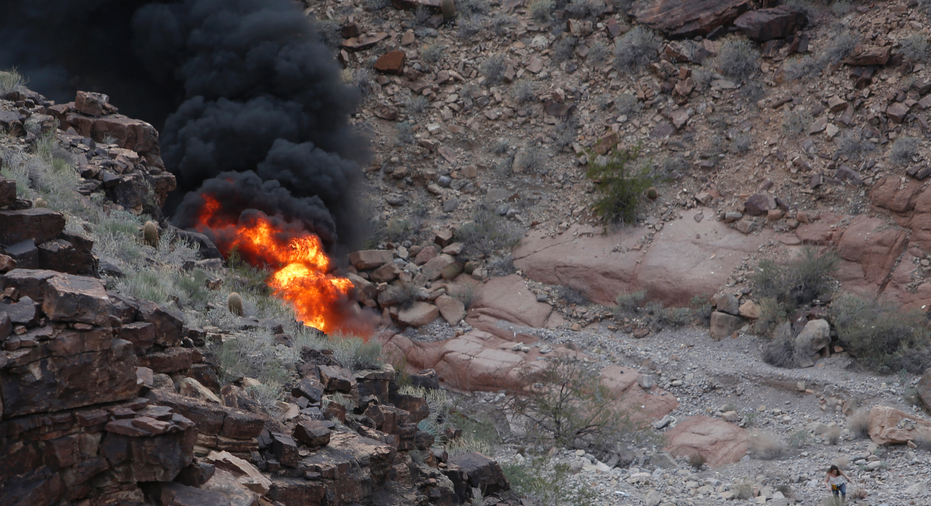 The Latest on a helicopter crash at the Grand Canyon (all times local):
3:45 p.m.
The Federal Aviation Administration says the sightseeing helicopter that crashed at the Grand Canyon wasn't required to have a fuel system to prevent the aircraft from bursting into flames on impact.
Three Britons died and four others were injured in Saturday's crash at the canyon west of the national park.
Photos from the scene showed the helicopter in flames.
A witness has said he heard explosions and saw one survivor with extensive burns.
The FAA requires helicopters newly certified after 1994 to have a crash-resistant fuel system to prevent or lessen burn injuries.
But the regulations don't apply to newer versions of a helicopter designed before then.
The National Transportation Safety Board investigators are combing through the wreckage Tuesday and will determine if the helicopter had been retrofitted with the system.
___
12:05 p.m.
An Arizona medical examiner will conduct autopsies on three British tourists who died after their sightseeing helicopter crashed in the Grand Canyon.
The Mohave County Medical Examiner's Office says autopsies on the trio are expected to be completed by Tuesday afternoon.
The victims have been identified as 27-year-old Becky Dobson, 27; her boyfriend, 30-year-old Stuart Hill; and his brother, 32-year-old Jason Hill.
Family members say they were celebrating Stuart Hill's birthday with a group of friends.
Four other people, including the pilot, remain hospitalized.
The Airbus EC-130 crashed Saturday on tribal land that has fewer regulations for air tours than the national park.
___
12:15 a.m.
Six British friends on a sightseeing helicopter to a busy stretch of the Grand Canyon crashed on tribal land that is less regulated than the national park.
Three British tourists died and four others were critically injured, leaving federal investigators to determine what led the group's birthday celebration to end in tragedy.
Aviation attorney Gary C. Robb says investigators are likely to pay special attention to the EC-130 helicopter that flew Saturday. It generally lacks a system to keep it from exploding on impact, denying passengers a few extra minutes to try to escape.
The company that operated the helicopter says it's cooperating with the investigation and abides by flight safety regulations that exceed those required by the FAA.
Hualapai tribal leaders said they're halting helicopter tours at the canyon for now.