The Latest: Macron says he hasn't pushed for joint eurobnds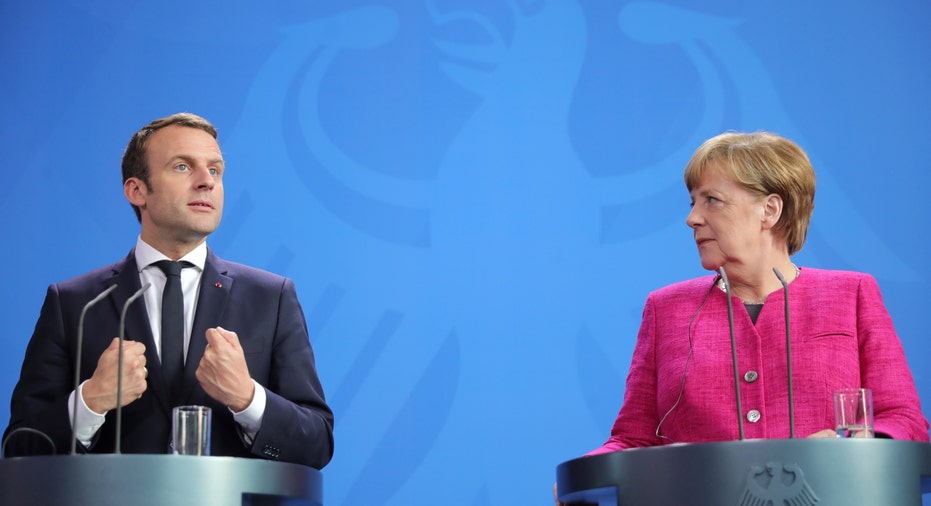 The Latest on new French President Emmanuel Macron's first full day in office (all times local):
7:50 p.m.
French President Emmanuel Macron says he has never pushed for jointly issued eurobonds and doesn't favor European countries taking joint responsibility for old debts.
Macron's message at a news conference with Chancellor Angela Merkel on Monday was aimed at calming German concerns that he might revive an issue that divided European countries at the height of the eurozone debt crisis. Merkel's Germany, which has Europe's biggest economy, has vehemently opposed taking direct responsibility for weaker eurozone countries' debts.
Macron added, however, that "what I know is that we have investments to make (in Europe), and so we have to work on investment mechanisms for the future"
___
7:40 p.m.
Chancellor Angela Merkel says Germany is prepared to talk about treaty changes if they're needed to implement reforms in the European Union.
Speaking at the side of French President Emmanuel Macron, Merkel said Monday that European countries must not think that the union should never make treaty changes.
She says: "A European Union that behaves this way would be vulnerable from every corner of the world."
But she also made clear that treaty changes were not a topic immediately on the table.
"First we need to work on what we want to change, and then if it turns out it needs a treaty change, then we're prepared to do that," she said.
Macron reiterated that the EU needs a roadmap for change, and he would also be prepared to change treaties if necessary.
___
7:25 p.m.
French President Emmanuel Macron says he will work closely with German Chancellor Angela Merkel on a "road map" of reforms for the European Union and the eurozone.
Speaking at the side of the German leader in Berlin, Macron said that they need to work on "deep reforms that are necessary and need common work."
Macron said in addition he plans to push for economic reforms in France in the coming months in order to fight the country's high unemployment rate.
He said he will implement a reform agenda at home "not because Europe requests it, but because France needs it."
He said the government he will appoint on Tuesday will start working on the issue.
___
6:20 p.m.
German Chancellor Angela Merkel is calling for a "new dynamism" in German-French relations, saying that the two countries' interests are closely tied together.
Merkel told Emmanuel Macron during his first foreign visit as president Monday that "Europe will only do well if there is a strong France, and I am committed to that."
Merkel said it was an honor that Macron chose to visit Berlin during his first full day in office, and said the countries' ministers would meet after an upcoming French legislative vote.
She said the two talked about the European asylum system, trade relations and other issues.
Merkel says: "We each represent the interests of our own countries, but the interests of Germany are naturally closely tied to the interests of France."
___
5:45 p.m.
German Chancellor Angela Merkel has welcomed new French President Emmanuel Macron to the chancellery in Berlin on his first foreign trip since taking office.
Merkel greeted Macron with a handshake Monday ahead of a military honors ceremony.
Macron traveled to Berlin a day after being sworn in, continuing a tradition of French presidents making their first foreign trip to Germany. He is Merkel's fourth French president in nearly 12 years as German leader.
A large group of onlookers, some carrying European flags, stood outside the chancellery as Macron arrived.
Germany and France have traditionally been the motor of European integration, but the relationship has become increasingly lopsided over recent years as France struggled economically.
Macron previously met Merkel when he visited Berlin in March as a candidate.
___
4:45 p.m.
The far-right National Front party of Marine Le Pen, who was beaten handily by Emmanuel Macron in the French presidential election, has joined the criticism of Macron's appointment of Edouard Philippe as prime minister.
Nicolas Bay, the party's secretary general, said Macron's government is becoming "a synthesis of the worst of the right and the worst of the left."
Philippe, from the mainstream right, and his Socialist predecessor, Bernard Cazeneuve, had only kind words for each other at their handover Monday of the prime minister's office.
Philippe praised Cazeneuve's "quite exceptional" ministerial career and his "constant elegance."
___
4:05 p.m.
Edouard Philippe is moving into his new offices as France's prime minister, meeting at the Matignon palace with its previous occupant, his predecessor Bernard Cazeneuve.
Cazeneuve, a Socialist, and Philippe, from the mainstream-right Republicans party, shook hands warmly. The red carpet was rolled out for Philippe, 46, named earlier Monday by new President Emmanuel Macron to form his first government.
Cazeneuve was the final prime minister of former President Francois Hollande, Macron's predecessor, holding the job for five months.
___
3:40 p.m.
France's far-left leader Jean-Luc Melenchon, hoping to turn his strong showing in the presidential campaign into seats in parliament, has reacted with hostility to Edouard Philippe's appointment as prime minister.
Noting that Philippe comes from the right of French politics, Melenchon said: "The right has just been annexed, with a prime minister taken from its ranks, from the Republicans."
Melenchon got nearly 20 percent of the vote in the first round of the presidential election. Voters go to the polls again in June to elect the 577 lawmakers in the National Assembly. Melenchon urged them not to give a parliamentary majority to new President Emmanuel Macron and to Philippe.
___
3:15 p.m.
France's new prime minister, 46-year-old Edouard Philippe, is close to Alain Juppe, a former prime minister who campaigned for the French presidency but was beaten in a primary.
Reacting to Philippe's appointment Monday by President Emmanuel Macron, Juppe called the new prime minister "a man of great talent" with "all the qualities to handle the difficult job."
Philippe served as Juppe's campaign spokesman during the Republicans party primary. When Juppe was beaten, Philippe switched his support to Francois Fillon for the French presidency but then quit the campaign when prosecutors started investigating allegations that Fillon's family benefited illegally from cushy taxpayer-funded jobs.
The mayor of Le Havre since 2010, Philippe previously worked as a director of public affairs for French nuclear group Areva from 2007-2010 and as a lawyer from 2004-2007 with New York City-based international law firm Debevoise and Plimpton LLP.
___
2:55 p.m.
French President Emmanuel Macron has appointed Edouard Philippe, a relatively unknown 46-year-old lawmaker, as prime minister, making good on campaign promises to repopulate French politics with new faces.
Alexis Kohler, Macron's new general secretary at the presidential Elysee Palace, made the announcement Monday.
Philippe is the mayor of the Normandy port of Le Havre, a trained lawyer and an author of political thrillers. He's also a member of the mainstream-right Republicans party that was badly battered by Macron's victory in the presidential campaign.
Philippe's appointment ticks several boxes for the 39-year-old Macron, France's youngest president, who took power on Sunday. Philippe's age reinforces the generational shift in France's corridors of power and the image of youthful vigor that Macron is cultivating.
Philippe could also attract other Republicans to Macron's cause as the centrist president works to piece together a majority in parliament to pass his promised economic reforms.
___
2:05 p.m.
French President Emmanuel Macron's choice for prime minister is about to be named at 2:30 p.m. (1230 GMT).
The presidential Elysee Palace announced the timing in a statement on Twitter.
It says Alexis Kohler, Macron's new general secretary at the Elysee, will make the announcement.
___
This item has been corrected to show the GMT time is 1230 GMT, not 1330 GMT.
___
1:40 p.m.
German Chancellor Angela Merkel says she has no intention of telling France what to do as new President Emmanuel Macron tries to revive his country's economy.
Merkel was asked before a meeting with Macron on Monday whether she would recommend that he conduct labor market reforms similar to Germany's over a decade ago. She replied: "I am the last person who is going to come and say what France has to do."
Merkel said it's important for French people, particularly the young, to have more hope of jobs. She added that there have been many proposals over the years for the development of the 19-nation eurozone.
She said: "I will of course discuss this with him, and I will say (we are) open to getting something done together."
___
1:35 p.m.
German Chancellor Angela Merkel says the election of new French President Emmanuel Macron offers an opportunity to bring new dynamism to Europe.
Macron is to meet Merkel in Berlin later Monday on his first foreign trip, a day after he took office. Germany and France are the traditional motor of European integration.
Merkel said ahead of the meeting: "Germany will in the long term only do well if Europe does well, and the election of the new French president offers us the opportunity to bring dynamism to European development."
The German leader added that "we will do everything to develop good initiatives with the new president, Emmanuel Macron."
___
9:10 a.m.
On his first full day in office, French President Emmanuel Macron is expected to move quickly Monday on fronts foreign and domestic, meeting in Berlin with Chancellor Angela Merkel and possibly unveiling his choice of prime minister.
Among names being bandied around for the top job in Macron's first government, speculation is mostly centering on Edouard Philippe. The 46-year-old lawmaker, largely unknown to voters, is a member of the mainstream-right Republicans party. His appointment would be seen as an effort by the centrist Macron to build a majority in parliament by drawing in politicians from the right.
Macron's trip to Berlin, his first as president, signals his intent to also move rapidly on campaign promises to revive support for the European Union by reforming and strengthening it.