The Latest: JFK airlines told to get bags to owners faster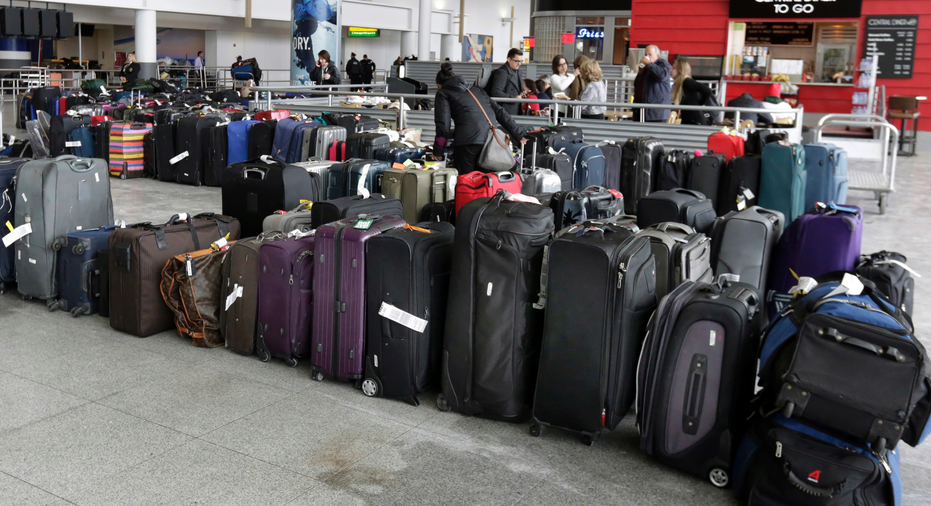 The Latest on the aftermath of a snowstorm at New York's JFK Airport (all times local):
4:45 p.m.
The agency that runs New York's Kennedy Airport is asking airlines, terminal operators and baggage delivery companies to beef up their efforts to reunite travelers with lost baggage after a storm disrupts airport operations.
Port Authority of New York and New Jersey Executive Director Rick Cotton said Thursday that the chaos that followed a Jan. 4 snowstorm was "completely unacceptable."
He said the authority is asking airlines and baggage handlers to develop short-term and long-term plans to ensure that travelers get their luggage more promptly.
The directive was one of 10 interim measures announced Thursday to improve operations at JFK during winter storms.
The Port Authority's director of aviation, Huntley Lawrence, says "a couple hundred" bags have still not been reunited with their owners following the storm.
___
3:30 p.m.
An official with the agency that runs New York's airports says as many as 200 travelers still don't have their luggage nearly two weeks after winter weather caused chaos at John F. Kennedy Airport.
Huntley Lawrence, director of aviation for the Port Authority of New York and New Jersey, said Thursday that "a couple hundred bags" had not been reunited with their owners as of Wednesday.
Port Authority Executive Director Rick Cotton apologized for the breakdown and called it "completely unacceptable."
The authority has tapped former Transportation Secretary Ray LaHood to investigate the problems that followed the Jan. 4 snowstorm.
LaHood promised Thursday to "get to the bottom of this."
___
12:05 a.m.
Over a week after winter weather woes snowballed into a long weekend of dysfunction at New York's John F. Kennedy International Airport, some passengers are still waiting for their baggage.
The still-missing luggage is a fraction of the thousands of unclaimed bags that accumulated during the chaos. But it illuminates the magnitude of the breakdown and airlines' limitations in handling baggage backups.
Consultant Robert Mann says airlines generally have a good record on luggage but aren't prepared for an unexpected backlog that happens fast.
A JFK official told The Associated Press on Wednesday the backlog had dwindled to about 100 bags. The official wasn't authorized to discuss the issue publicly and spoke on condition of anonymity.
That tally apparently doesn't include bags possibly given to delivery agencies or flown elsewhere.