The Latest: Italian League chief: No need to fear populists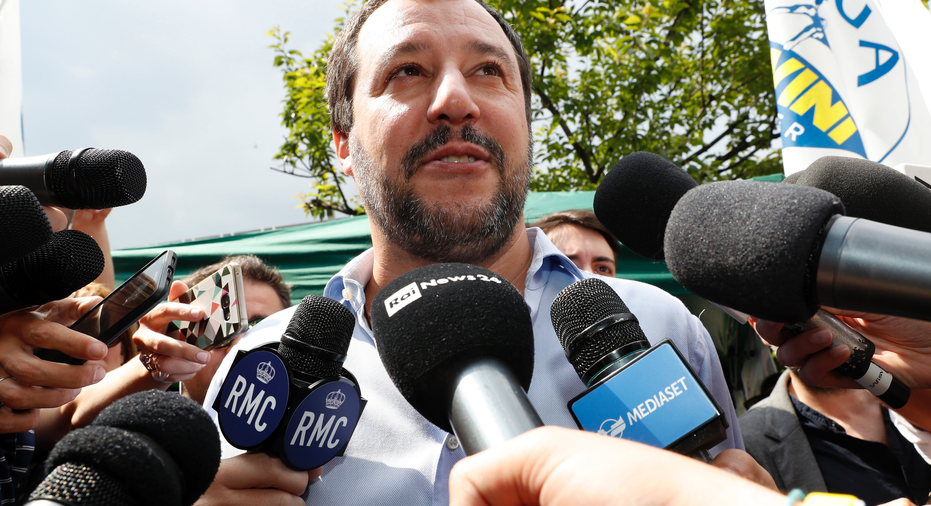 The Latest on talks to form a government in Italy (all times local):
8:15 p.m.
Right-wing leader Matteo Salvini says other European nations have no reason to worry about Italy's soon-to-be-born populist government.
The League party chief and fellow euroskeptic leader Luigi Di Maio, of the 5-Star Movement, told Italy's president Monday evening they're ready to form a coalition 11 weeks after inconclusive elections.
Salvini said they aim to "make the economy grow to reduce debt." He insisted their coalition will put "Italians first" while "respecting ... all the rules and limits" of the European Union.
There are fears among Western European governments the populists' campaign promises to drastically slash taxes, give the unemployed sizeable subsidies and ease pension age restrictions will balloon Italy's already sizeable debt.
Di Maio said they've asked President Sergio Mattarella to tap anti-bureaucracy law professor Giuseppe Conte as premier.
___
5:30 p.m.
Italian news agency ANSA is reporting that a law professor named Giuseppe Conte is the person chosen by a populist coalition of the 5-Star Movement and League to be Italy's next premier.
The leader of the 5-Star Movement, Luigi Di Maio, did not identify the coalition's candidate while speaking to reporters after meeting with Italian President Sergio Mattarella on Monday.
ANSA quoted Di Maio shortly after naming Conte and saying he would be "a political premier of a political government."
Speculation over Conte leading the government arose over the weekend after Di Maio and League leader Matteo Salvini agreed that neither of them would be premier.
The president also was meeting with Salvini on Monday.
___
10:40 a.m.
Italy's president has convened the leaders of the anti-establishment 5-Star Movement and the right-wing League for consultations that could lead to the first populist government in the eurozone's third largest economy.
The prospect of a 5-Star-League government is weighing on markets and on Italy's European allies. The cost of borrowing to fund Italy's persistently high public debt rose again on Monday and the Milan stock market was down 2 percent. France's economics minister has already sounded an alarm that the eurozone's financial stability could be threatened if a populist government blows Italy's deficit commitments.
The leader of the 5-Stars, Luigi Di Maio, and League leader Matteo Salvini indicated agreement Sunday on a candidate for premier to present to President Sergio Mattarella, who must grant his approval before a parliamentary confidence vote.