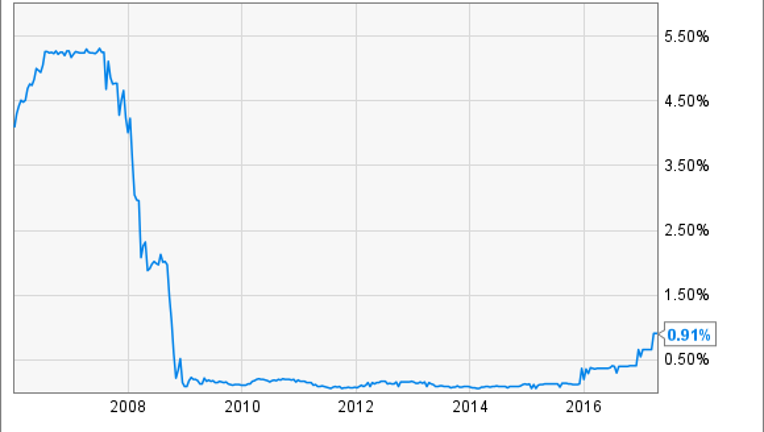 Bank of America (NYSE: BAC) is one of the most asset-sensitive banks in its peer group, meaning that its revenue is lashed especially closely to changes in interest rates. This situation has weighed on its performance for much of the past few years, but things are starting to turn in the North Carolina-based bank's favor.
Since December 2015, the Federal Reserve has increased the fed funds rate three times, for a total of 75 basis points, or 0.75%. The second increase, which occurred in the final month of last year, boosted Bank of America's net interest income by just under $600 million a quarter, which is exactly what the bank had promised.
Image source: The Motley Fool.
This was one of the two principal reasons Bank of America's earnings surged 44% in the first quarter compared with the year-ago period. The other reason being a sharp year-over-year gain in the amount of money its trading and investment banking operations generated.
The good news for shareholders is that there's still more gas in the tank insofar as interest rates are concerned. Rates remain abnormally low. The fed funds rate, which is the primary short-term interest rate benchmark in the United States, has stayed below 1% since the start of 2009. To reach its long-run average, it'll take 20 or so more increases like the one in December 2016.
Effective Federal Funds Rate data by YCharts.
Bank of America's shareholders won't have to wait long to see another uptick in net interest income from higher rates. The Fed's decision to raise rates last month would have had a nominal impact on its first-quarter earnings, but it should shine through in the second quarter.
To this end, Bank of America estimates that the latest interest-rate increase will translate into an additional $150 million in net interest income a quarter going forward. Holding all else equal, that equates to $600 million on an annual basis, or roughly $0.06 per share in pre-tax earnings.
Where's that number come from? Here's Bank of America's chief financial officer, Paul Donofrio, on the bank's quarterly conference callfrom earlier this week (emphasis added):
In sum, so long as interest rates continue heading higher, Bank of America can look forward to steadily expanding top and bottom lines. This doesn't necessarily mean its stock a buy right now, as valuations in the industry have gotten ahead of fundamentals over the past few months. But it does mean existing shareholders have plenty to look forward to.
10 stocks we like better than Bank of AmericaWhen investing geniuses David and Tom Gardner have a stock tip, it can pay to listen. After all, the newsletter they have run for over a decade, Motley Fool Stock Advisor, has tripled the market.*
David and Tom just revealed what they believe are the 10 best stocks for investors to buy right now... and Bank of America wasn't one of them! That's right -- they think these 10 stocks are even better buys.
Click here to learn about these picks!
*Stock Advisor returns as of April 3, 2017
John Maxfield owns shares of Bank of America. The Motley Fool has no position in any of the stocks mentioned. The Motley Fool has a disclosure policy.