The Latest: French leader hopes to persuade Trump on climate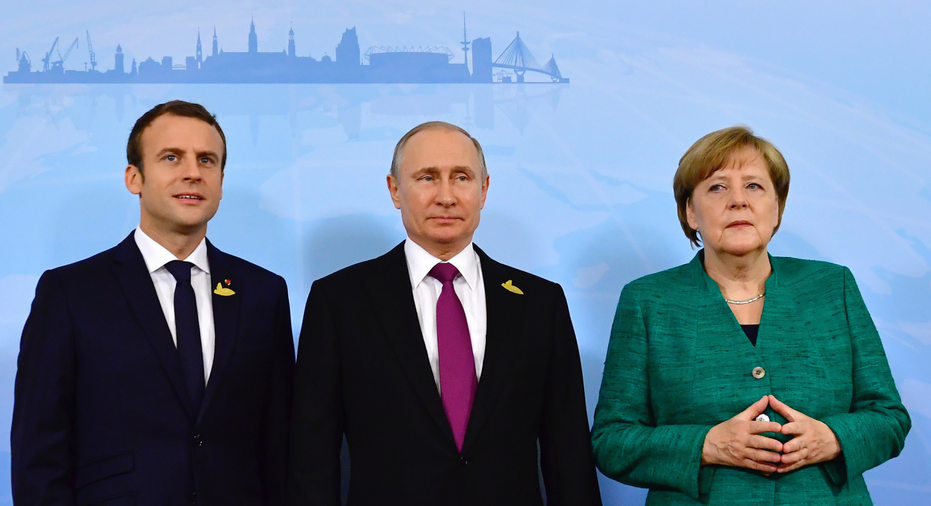 The Latest on the Group of 20 summit (all times local):
6:40 p.m.
French President Emmanuel Macron says he harbors the hope of convincing President Donald Trump to bring the United States back into the Paris climate accord.
Speaking at the close of the G-20 summit on Saturday, the French leader said he plans to hold a climate summit in December to mobilize public and private financing two years after the Paris agreement was adopted.
Of the G-20 countries that met in Hamburg, the United States was the only holdout from a statement reaffirming a commitment to work toward the carbon emission reduction goals outlined in the landmark deal.
But Macron said in response to a question that he hasn't given up on the idea of persuading Trump to change his mind.
He said: "I confirm that I hope to convince him."
Trump is scheduled to be in Paris for France's Bastille Day parade next Friday and will dine with Macron the night before.
___
6:15 p.m.
The Group of 20 countries have agreed under U.S. pressure to "urgently" call for a solution to the long-standing dispute over China's excess capacity to produce steel.
The final statement Saturday from the Group's summit in Hamburg, Germany pledges to seek "the removal of market-distorting subsidies and other types of support by governments and related entities." The statement calls for a substantive report on solutions by November, 2017.
The Trump administration is weighing additional barriers to imported steel under a rarely used national security provision. But other countries fear that any new barriers in the United States will hit their producers and workers as well.
Chinese imports to the U.S. have already been reduced by import taxes aimed at blocking dumping, or selling products below market prices
___
4:28 p.m.
Russian President Vladimir Putin says he thinks U.S. President Donald Trump believed his in-person denials of Russian meddling in the U.S. presidential vote.
Putin spoke Saturday after the Group of 20 summit where he and Trump had their first face to face meeting.
He said Trump asked him numerous questions about Russia's alleged interference in the U.S. election during a lengthy discussion on the issue.
Putin says he thinks his answers satisfied Trump, but added that Trump's opinion would be better sought from the U.S. president himself.
He says Moscow and Washington would be able to improve their ties if the two countries keep relating the way he and Trump did.
___
4:25 p.m.
German Chancellor Angela Merkel says the Group of 20 summit achieved "good results in some areas" despite a logjam with the United States over climate change.
Merkel said discussions at the summit that ended Saturday had at times been "difficult" and that "I can only call things as they are."
She pointed to a hard-won agreement on trade, one in which she said "every word was weighed."
The trade language keeps the G-20's longstanding condemnation of protectionism, but includes themes that echo Trump's position that trade must be balanced and fair as well as free.
The countries agreed that trade needs to be "reciprocal and mutually advantageous" and that countries could use "legitimate trade defense instruments" to protect their markets.
Nineteen members agreed to support the Paris climate agreement, leaving the U.S. out in a separate paragraph that merely "takes note" of the U.S. rejection.
___
4:05 p.m.
German Chancellor Angela Merkel says 19 members of the Group of 20 have reaffirmed the Paris climate accord as "irreversible."
Merkel said Saturday that the summit's final statement "takes account" of the U.S. position rejecting the climate deal.
That leaves the United States as the odd one out after President Donald Trump announced his intent to withdraw the U.S. from the agreement. The Paris accord aims to lower emissions of the greenhouse gases scientists say cause global warming.
Merkel called the U.S. position "regrettable."
Officials did reach a common statement including Trump about the other contentious issue at the summit, trade.
The statement retains the G-20's longstanding rejection of protectionism. But it also acknowledged that trade must be mutually beneficial and that countries can use "legitimate" trade defenses to protect workers and industries against being taken advantage of by trade partners.
___
3:05 p.m.
Tens of thousands of peaceful protesters are taking to the streets on a third day of demonstrations against the Group of 20 summit in Hamburg, where violent riots have overshadowed some protest events.
About 20,000 protesters, including families, socialists, Kurdish groups and anarchists waving flags and shouting anti-capitalist slogans, marched through the city as G-20 leaders were inside the summit grounds tackling contentious issues like climate change, trade and terrorism.
Thousands of police officers were accompanying the marches, but many had removed their helmets and watched as protesters sang, danced and played music.
The gathering Saturday afternoon came after aggressive riots overnight in the city's Schanzenviertel neighborhood, which is only a few hundred meters (yards) away from the summit grounds.
___
2 p.m.
President Vladimir Putin says Russia will meet its obligations under the Paris climate agreement.
Speaking at a meeting with French President Emmanuel Macron on the sidelines of the Group of 20 summit in Hamburg, Putin said that "we honor the Paris agreement." He added that Russia has made decisions related to the implementation of the deal and intends to implement them.
Macron hailed Putin's pledge as "very important."
Russia, the world's fifth-largest emitter of greenhouse gases, was among the 195 countries that signed the 2015 Paris agreement but it delayed its ratification for at least two years.
Russia's carbon emissions reduction goals are very modest, and it also insisted that it be given the maximum potential credit for carbon adsorbed out of the atmosphere by vast Siberian forests.
___
1:25 p.m.
Germany's top security official is denouncing the rioting in Hamburg during the Group of 20 summit and saying that it is "the opposite of democratic protest."
Interior Minister Thomas de Maiziere said Saturday after rioters set up street barricades, looted supermarkets and attacked police with slingshots: "These were unbounded violent excesses out of a desire for destruction and brutality."
He added that "completely uninhibited attacks against people and objects, looting and arson by anarchists from Germany and Europe, have nothing to do with political motives or protest."
De Maiziere said that police and judicial authorities must take a tough stance against such crimes, and it is good that arrests were made.
Hamburg is Germany's second-largest city and has a strong militant scene. But de Maiziere said that "any criticism of the location of the meeting misjudges cause and effect."
___
12 p.m.
Police say a German man has been arrested on suspicion of attempted murder for allegedly using a laser pointer to temporarily blind pilots of a police helicopter patrolling the skies during the Group of 20 summit in Hamburg.
Police said in a statement Saturday that the 27-year-old man, whose name wasn't released in line with German privacy law, blinded the two crew members of the Libelle 2 helicopter so badly while they were up in the air that they had to stop working because they couldn't see. The incident happened Thursday.
Following intensive investigations, police arrested the suspect in his Hamburg apartment Saturday and also found the laser pointer.
Thousands of anti-globalization activists and police have been clashing for two consecutive days as G-20 leaders meet.
___
10:55 a.m.
Russia President Vladimir Putin has met with Turkish counterpart Recep Tayyip Erdogan on the sidelines of the Group of 20 summit, hailing his contribution to Syria peace efforts.
Putin said at the start of their meeting in Hamburg that Erdogan's stance "has made it possible to improve the situation in Syria."
Erdogan similarly praised Putin's role and noted that efforts by Russia and Turkey "set a clear example for the international community."
Russia, Turkey and Iran have made a deal in May to set up de-escalation zones in Syria, but specifics related to their boundaries and monitoring mechanisms are yet to be determined.
In a separate development, Russia and the U.S. made a deal to declare a cease-fire in southwestern Syria beginning Sunday. The agreement also involved Jordan.
___
10:40 a.m.
The leaders of Germany, France and Russia have met to discuss the conflict in eastern Ukraine.
The German government said in a brief statement that Chancellor Angela Merkel, French President Emmanuel Macron and Russian President Vladimir Putin agreed on the sidelines of the Group of 20 summit that a cease-fire that's part of a 2015 peace agreement must be "implemented comprehensively."
Merkel and then-French President Francois Hollande brokered that agreement, reached in Minsk, Belarus, but it has proved hard to implement. Germany and France have led diplomatic efforts to keep in a lid on the conflict in eastern Ukraine together with Russia and Ukraine, which is not a member of the G-20. Saturday's meeting brings new French leader Macron on board the process.
___
10:35 a.m.
Officials at the Group of 20 summit say leaders haven't reached an agreed statement on climate change — one of the most contentious topics at talks after the U.S. said it would withdraw from the Paris climate agreement.
European Union officials who briefed reporters on draft final statement say the document contained a general commitment to fighting climate change, and then a separate paragraph that "took note" of the U.S. decision to withdraw.
A third paragraph then affirmed the support of the 19 other members for the Paris deal. The officials spoke on condition of anonymity to discuss the draft before it's agreed.
Officials debated language pushed by the U.S. in which it proposed to help other countries use fossil fuels more cleanly. That ran into objections.
—By David McHugh
___
9:50 a.m.
European Union officials say that leaders of the Group of 20 countries have agreed to keep their markets open to foreign trade. But the group's draft statement also says that trade needs to be mutually beneficial and that countries can take steps to protect their markets.
EU officials at the summit in Hamburg said that the draft trade language keeps the traditional G-20 condemnation of protectionism, or keeping out foreign competitors with unfair import taxes or regulations. But countries also agreed to fight "all unfair trade practices" and recognize "legitimate trade defense instruments." The officials spoke on condition of anonymity to discuss the draft text before its release.
Trade has been a hotly discussed issue at the summit, as new President Donald Trump pushes his "American First" agenda. Trump has focused on making trade fair as well as free and has criticized trade relationships where the other countries sell more to the U.S. than they buy.
G-20 officials were still haggling over final language on climate change in the wake of the U.S. withdrawal from the Paris climate agreement.
— By David McHugh
___
9:15 a.m.
Activists from the environmental Greenpeace group have scaled a bridge in Hamburg, where the Group of 20 summit is taking place, and unfurled a banner saying, "G-20: End Coal."
The group said in a statement that 65 activists participated in the protest early Saturday demanding from international G-20 leaders to act quickly to phase out coal and speed up global climate action.
Fighting global warming is one of the major issues on the G-20 agenda, but negotiations are proving to be difficult since the U.S. left the international Paris climate agreement a few weeks ago.
Greenpeace's Susanne Neubronner said, "the millions of people threatened by climate change or already suffering its impact expect the G-20 leaders to accelerate their efforts to reduce their emissions."
___
8:55 a.m.
International leaders are set to convene for a second day of talks on global trade, climate change and international terrorism at the Group of 20 summit in Hamburg that has been overshadowed by violent riots between anti-globalization activists and police.
The summit's host, German Chancellor Angela Merkel, said the negotiators, including President Donald Trump, Russian President Vladimir Putin, European and Asian leaders, "still have a great deal of work ahead of them" to formulate the summit's closing communique planned for Saturday. Merkel told leaders Friday they must be prepared to make compromises as she worked toward a summit outcome that everyone present could accept.
Other the topics on the agenda include the leading economic countries partnership with Africa, migration and heath.