The Latest: EU chief: No role for EU in Catalonia dispute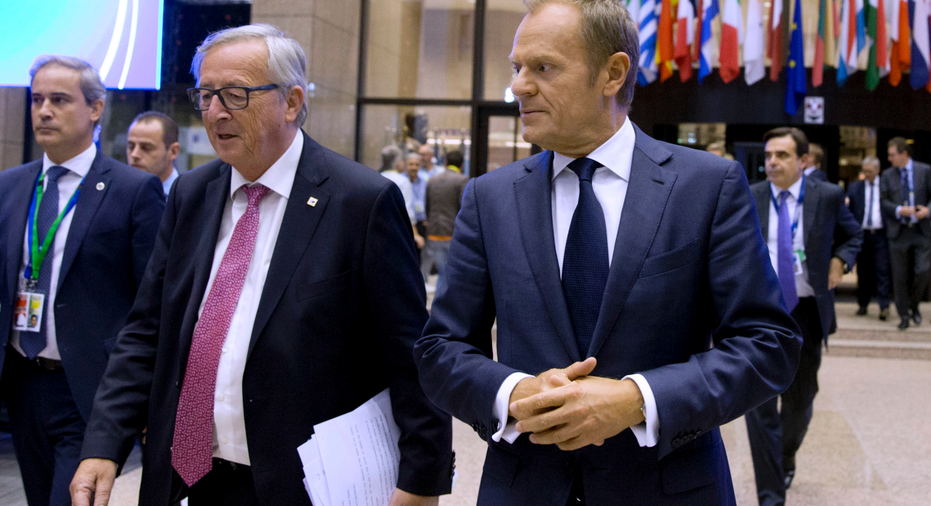 The Latest on the Spain-Catalonia political crisis (all times local):
8:40 p.m.
European Council President Donald Tusk is ruling out any European Union role in the dispute between Spain and Catalonia as Madrid weighs whether to reclaim some powers from the regional government amid an independence dispute.
Tusk told reporters Thursday on the sidelines of an EU summit that "there is no room, no space for any kind of mediation, or international initiatives or action."
Tusk said "there is no hiding that the situation in Spain is concerning." But he added that the Catalonia crisis was not on the summit agenda in Brussels. Spain is insisting that it not be discussed.
The Catalan government has sought EU mediation to help ease tensions, but Madrid considers Catalonia's independence moves illegal and refuses outside intervention.
___
7:50 p.m.
The head of the European Parliament has warned that if Catalonia declares its independence from Spain, "nobody in the European Union" would recognize it as a sovereign state.
Antonio Tajani also said he has no intention of meeting with Catalonia's leader, Carles Puigdemont, or mediating in the crisis in Spain over a push in Catalonia for independence. Tajani is calling the secessionist dispute an "an internal Spanish matter."
Speaking Thursday at an EU summit in Brussels, Tajani responded to a question about why he hasn't yet met with Puigdemont by saying he considers only the Spanish government as a "legitimate" representative in the matter.
He said that Catalonia's government "has violated the rules of the Spanish constitution and has also violated the rules of Catalan autonomy."
___
7:15 p.m.
A few dozen protesters are braving downpours in Barcelona to protest the arrest of two Catalan pro-independence activists who are being investigated as part of a sedition probe.
The protesters are outside the Barcelona offices of the Spanish central government, holding umbrellas and chanting slogans Thursday in favor of Catalan independence.
Jesus Rubia, a 55 year-old civil servant from Barcelona, says he's there "to defend civil rights in Europe, even if Europe is not listening."
A National Court judge this week ordered the preventive jailing of Jordi Sanchez and Jordi Cuixart, the leaders of secessionist groups the Catalan National Assembly and Omnium Cultural.
They allegedly orchestrated protests last month that hindered a judicial probe into preparations for an Oct. 1 Catalan independence vote that was ruled unconstitutional.
___
7 p.m.
Russian President Vladimir Putin says Russia believes a standoff over Catalonia's independence has been spawned by Western double standards in treating secessionist movements.
Speaking Thursday at a forum for foreign policy experts in Sochi, Putin said the crisis should be solved on the basis of the Spanish law. At the same time, he criticized Washington's European allies for quickly supporting Kosovo's 2008 independence bid from Serbia. He said Kosovo has "provoked similar processes in other regions of Europe."
Russia has long pointed at Kosovo to counter Western condemnation of Moscow's annexation of Ukraine's Crimean Peninsula in 2014.
Putin added that attempts to divide secessionists into "fighters for freedom and democracy" and "separatists" pose a "serious danger for stable development of Europe.
___
3:40 p.m.
Belgian Prime Minister Charles Michel is playing down a rift with Spanish counterpart Mariano Rajoy over Michel's appeal to stop the violence in Catalonia during its contested independence vote.
Michel said Thursday that senior councilors and ambassadors from both countries have been in close contact in recent days, amid fallout over his tweet fired off during the police crackdown on Catalan voters.
He said no formal meeting is planned with Rajoy but an informal chat could not be ruled out.
But Michel said he takes responsibility for his tweet: "I condemn all forms of violence and appeal for dialogue."
He said the tweet had been misinterpreted during the Catalan crisis.
___
3:25 p.m.
French President Emmanuel Macron wants this week's European Union summit to show solidarity with Spain as Catalonia threatens to secede.
Macron said Thursday in Brussels that the summit will "be marked by a message of unity around member states amid the crises they could face, unity around Spain."
Macron, scheduled to meet with Spanish Prime Minister Mariano Rajoy on the sidelines of the summit, has been among the few leaders to clearly support Rajoy in his standoff with Catalan separatists.
Many others, including EU officials, have insisted that the tensions are an internal Spanish affair.
Spain's government on Thursday rejected a threat by Catalonia's leader to declare independence unless talks are held, and moved toward taking back the region's semi-autonomous powers.
___
3:10 p.m.
The spat between Spain and Catalonia over the region's independence isn't on the official agenda of a European Union summit in Brussels, but the pressing issue is still drawing comment.
Luxembourg Prime Minister Xavier Bettel, arriving at the summit Thursday, says Spanish law must be obeyed — a nod to the Spanish government's insistence that Catalonia's attempt to secede is illegal.
At the same time, Bettel said he would like to see a negotiated settlement to the deadlock between the authorities in Madrid and Barcelona.
He says, "there is a constitution that must be respected." He adds: "I hope they are going to find a solution, political, diplomatic and they talk together. No other solution would be good."
___
2:10 p.m.
Spain's political parties are responding to the government's push to take over some or all of Catalonia's autonomous powers in response to a threat by the region's leader to declare independence.
The Socialist opposition backs Prime Minister Mariano Rajoy's moves but wants the measures to be limited in scope and time, according to PSOE's organizational secretary Jose Luis Abalos.
The pro-business Ciudadanos (Citizens) party wants a swift triggering of Article 155 of the Spanish Constitution, which would allow Madrid to suspend Catalonia's regional government. It also wants an immediate election in Catalonia.
Ciudadanos, leads the opposition in Catalonia, second to the ruling pro-independence coalition.
The far-left CUP Catalan party, a key ally to the separatists' minority government, said it remains committed "to proclaim the Catalan Republic as soon as possible."
___
12:15 p.m.
Civil society groups in Catalonia are calling for new protests over the jailing of their pro-independence leaders by Spanish authorities.
Spain's National Court ordered the leaders of Assemblea Nacional Catalana and Omnium Cultural, the grassroots organizations behind the separatist bid, to be held for allegedly orchestrating protests in mid-September that hindered a judicial investigation into preparations for the banned Oct. 1 referendum.
The group said that the first gathering will be later Thursday at the gates of the central government's office in Barcelona, but a bigger march is planned in Catalonia's regional capital for Saturday afternoon.
___
10:20 a.m.
Spain's government says the prime minister will hold a special Cabinet meeting on Saturday to trigger the process to take some or full control of Catalonia's semi-autonomous powers.
The government was responding to a letter from Catalan president Carles Puigdemont who threatened to explicitly declare independence from Spain if no talks are offered.
Puigdemont said in the letter that if Spain's government continues to "impede dialogue and continues its repression," Catalonia's parliament will proceed to hold a vote on declaring independence from Spain.
Spain replied that the government would hold the special Cabinet meeting and "approve the measures that will be sent to the Senate to protect the general interest of all Spaniards."
The measure falls under Article 155 of Spain's 1978 Constitution, but has never been used in the four decades since democracy was restored at the end of Gen. Francisco Franco's dictatorship.
___
9:50 a.m.
Catalonia's leader has threatened to explicitly declare independence from Spain if no talks are offered and central authorities follow through on a threat to take control of the region's semi-autonomous powers.
Carles Puigdemont's warning came in a letter to Spain's leader minutes before the expiration of a deadline to back down on the independence bid.
Puigdemont said in the letter that if Spain's government continues to "impede dialogue and continues its repression," Catalonia's parliament will proceed to hold a vote on declaring independence from Spain.
Puigdemont, in an address to the regional parliament last week, declared independence but then immediately suspended it and challenged Spain to hold negotiations.
A Spanish government official said the letter didn't answer the call for Puigdemont to clarify whether Puigdemont had already declared independence. The official said on customary condition of anonymity that the government plans to trigger Article 155 of the Constitution.
--By Aritz Parra.
___
8:50 a.m.
Catalonia's separatist leader is facing an imminent deadline to withdraw a bid to secede from Spain.
But an official from Carles Puigdemont's party says that he has no intention of doing that and he plans to make a full declaration of independence in the next few days if Spain's government resorts to taking over control of Catalonia's semi-autonomous powers.
PDECat party coordinator Marta Pascal outlined Puigdemont's plans after a meeting late Wednesday.
Spain has threatened to take direct control of the autonomous region if Puigdemont fails to meet the 0800 GMT (4 a.m. EDT) Thursday cutoff.
Spain's government says it would be willing to hold off on doing that if the Catalan government were to call a snap regional election. But a Catalan official has ruled that out.