The Latest: Danish foreign minister rues Trump's 'bad call'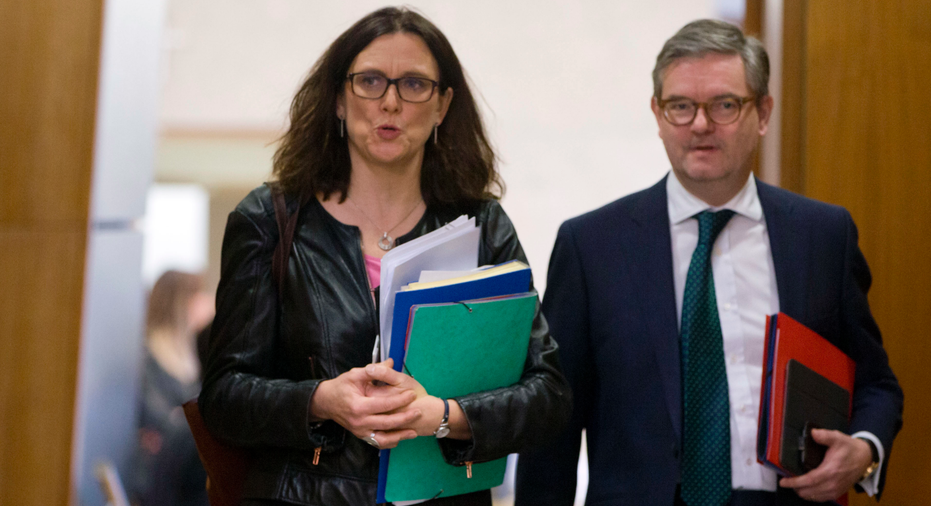 The Latest on the reaction to U.S. President Donald Trump's proposed trade tariffs (all times local):
2:45 p.m.
Denmark's foreign minister says no one will end up winning if a trade war ensues between the United States and the European Union.
Anders Samuelsen says "at the end of the day, European and American consumers will pay for it."
Speaking live on Denmark's TV2, Samuelsen said U.S. President Donald Trump's proposed trade tariffs are "a bad call."
"That is the signal we have to send to Trump that it is not a path we should follow."
Earlier, the EU's trade commissioner confirmed that the EU's counter-measures would include tariffs on U.S. steel and agricultural products, as well as other products like bourbon, peanut butter, cranberries and orange juice.
___
2:15 p.m.
A trade official says 18 members of the World Trade Organization have expressed concerns about U.S. President Donald Trump's decision to slap tariffs on steel and aluminum imports, with most urging the United States to reconsider.
China raised the issue at a WTO general council meeting Wednesday, and ambassadors and other officials from Australia, Brazil, the European Union, India, Japan, Norway and Russia were among those warning U.S. action would be unjustified and improper.
WTO Director-General Roberto Azevedo has expressed concerns about a trade war and appealed for cool heads to prevail.
The EU said it was considering "all possible responses" including dispute settlement and rebalancing measures allowed under WTO rules, according to the trade official. He spoke only on condition of anonymity to relay details of the envoys' comments.
___
12:40 p.m.
The European Union's top trade official says that the bloc doubts U.S. President Donald Trump wants to slap heavy tariffs on steel and aluminum imports for national security reasons but is rather seeking economic gain.
Trump has long railed against what he deems unfair trade practices by China and others, and last week declared that he would levy penalties of 25 percent on imported steel and 10 percent on aluminum imports.
EU Trade Commissioner Cecilia Malmstroem told reporters in Brussels that Trump's rationale appears to invoke the international legal right to protect national security.
She said: "We have serious doubts about that justification. We cannot see how the European Union, friends and allies in NATO, can be a threat to international security in the U.S."
___
10:15 a.m.
Germany's economy minister says "the situation is serious" regarding U.S. President Donald Trump's planned tariffs on imports of steel and that the country is in close consultation with other member countries of the European Union about it.
Economy Minister Brigitte Zypries said the EU will "be ready to react appropriately. However, it is our goal to avoid a trade war."
Zypries said in a statement she hopes Trump will change his mind regarding slapping tariffs on steel imports.
She said, "trade creates wealth, when it is based on exchange and cooperation" and added, referring indirectly to the surprise resignation of Trump's top economic adviser Gary Cohn Tuesday, that, "advocates for this in the U.S. administration are very important. Therefore the current signals from the U.S. make me worried.