The Latest: Charges detailed in Turkish gold trader plea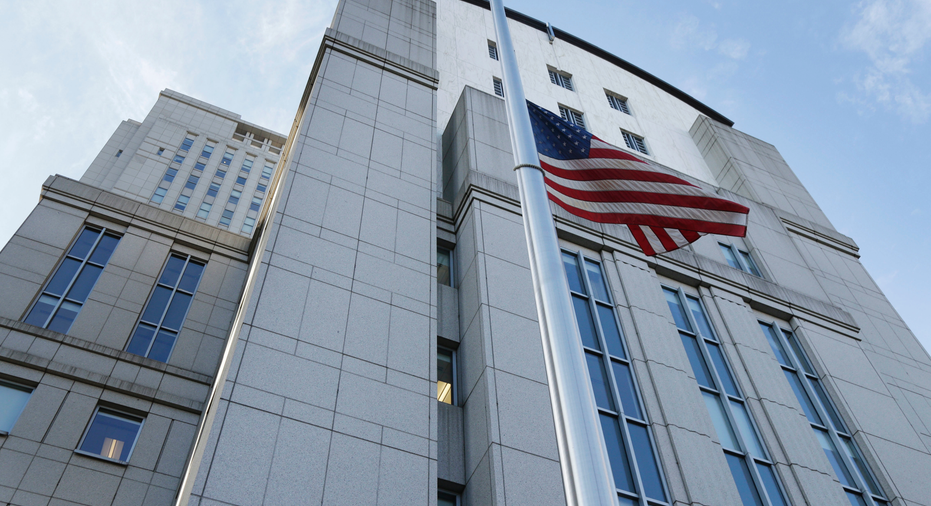 The Latest on the Iran sanctions trial of a Turkish banker (all times local):
3:30 p.m.
Court papers show Turkish gold trader Reza Zarra pleaded guilty last month to bank fraud, money laundering and other charges as part of a deal to testify at a New York trial.
The papers were unsealed on Tuesday after U.S. prosecutors revealed the deal.
They say Zarrab met in 2012 with Turkish and Iranian government and banking officials to discuss transferring Iranian oil proceeds to a Turkish bank. They also say he discussed bribing the general manager of a Turkish bank as part of a money laundering scheme.
Zarrab is expected to testify as early as Wednesday at the trial of a Turkish banker charged in the conspiracy.
___
10:45 a.m.
A U.S. prosecutor says Turkish gold trader Reza Zarrab has pleaded guilty to charges and will reveal at a New York trial how he helped Iran evade U.S. sanctions in an "economic jihad."
Assistant U.S. Attorney David Denton said Tuesday that Zarrab will be a key witness against Turkish banker Mehmet Hakan Atilla. The prosecutor said the scheme to evade U.S. sanctions against Iran since 2011 enabled billions of dollars to be moved and threatened U.S. security.
Defense attorney Victor Rocco attacked Zarrab's credibility in his opening statement, saying the case was really about Zarrab's crimes.
He said Zarrab made a deal to get out of jail free, possibly joining the U.S. witness protection program so he and his family can live in the United States.
___
10:20 a.m.
A senior Turkish official says the U.S. trial of a Turkish banker on charges of violating economic sanctions against Iran is a "play" staged with the help of a U.S.-based cleric.
Mahir Unal, a deputy chairman of President Recep Tayyip Erdogan's ruling party, on Tuesday also described the case as a "political" one lacking legal basis.
Unal renewed a Turkish government claim that U.S. judicial officials were cooperating with cleric Fethullah Gulen's network against Turkey. He said: "We know who staged this play and what its aim is."
Gulen has been living in self-imposed exile in Pennsylvania for nearly two decades.
Turkey accuses him of orchestrating last year's failed coup. It also says his movement concocted corruption allegations against the government in 2013, some of which were allegedly being used in the case against the banker.
Gulen denies the accusations.
___
10:15 a.m.
A prosecutor began opening statements at a trial in New York City by saying that the lies of a Turkish banker blew a billion-dollar hole in the U.S. economic sanctions against Iran.
Assistant U.S. Attorney David Denton said banker Mehmet Hakan Atilla told lies that gave Iran access to U.S. banks and threatened U.S. national security.
He spoke shortly after lawyers revealed that co-defendant Reza Zarrab would testify against Atilla in a plea deal. The arrest of the gold trader in 2016 has strained relations between the U.S. and Turkey.
Denton said Atilla and Zarrab were part of a conspiracy that involved top officials in the Iranian and Turkish governments.
___
9:18 a.m.
Lawyers say Turkish-Iranian businessman Reza Zarrab will testify at the U.S. trial of a Turkish banker on charges the two of them violated economic sanctions against Iran.
The revelation came Tuesday as defense lawyer Robert Fettweis asked for a two-week delay of the trial of Mehmet Hakan Atilla, deputy CEO of Halkbank, in New York City. He said he needed time to prepare for the testimony. Judge Richard Berman rejected a postponement.
A prosecutor confirmed that Zarrab will testify, saying he would take the stand Wednesday.
Zarrab, a businessman and gold trader, had stopped appearing in court weeks ago, prompting speculation he was cooperating with the U.S.
Recently, Turkey's deputy prime minister said Zarrab was a "hostage" being forced to testify against Turkey's government. On Tuesday, a Turkish prosecutor issued warrants for the detention of two citizens for cooperating with U.S. prosecutors.