The Latest: California mudslide destruction tally grows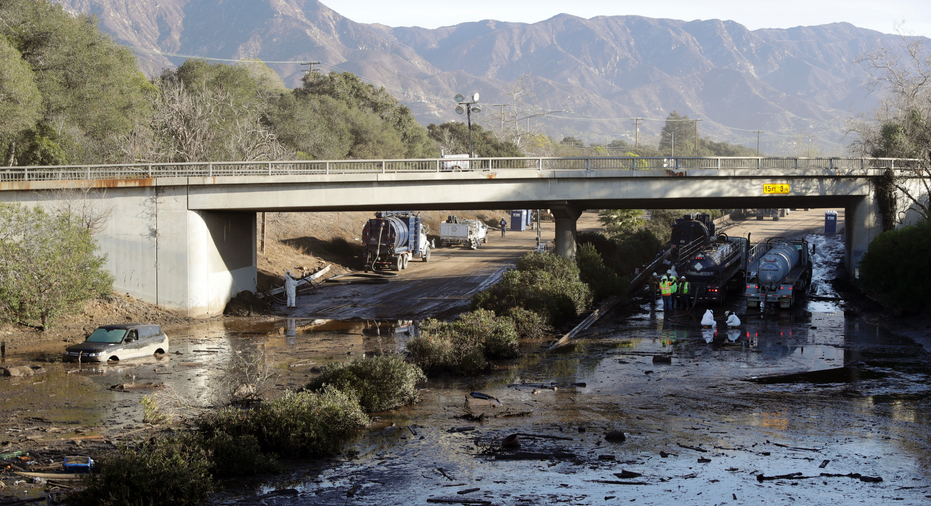 The Latest on deadly California mudslides (all times local):
12:54 p.m.
The number of single-family homes determined to have been destroyed by mudslides in Montecito, California, has risen to 115.
That's nearly double from estimates last week.
The multi-agency incident management team also said Tuesday that the number of houses damaged has been lowered to 242.
The numbers are expected to fluctuate as damage inspections continue.
The death toll remains at 20 with three missing since a powerful storm unleashed downpours on fire-denuded mountains and hillsides on Jan. 9.
___
11:45 a.m.
A lawsuit says that negligence by two California utilities contributed to widespread destruction from the state's largest-ever wildfire in December and last week's deadly mudslides caused when flame-scarred hillsides came loose in heavy rain.
The suit filed Tuesday in Santa Barbara County Superior Court targets Southern California Edison and the Montecito Water District. The utilities did not immediately respond to phone and email requests for comment.
The lawsuit was brought by individuals injured in flash floods and a business that sustained property damage.
It claims Edison's equipment caused the enormous fire and said that mudslides only occurred because vegetation that held soil back was burned in the blaze.
The water district is accused of negligent actions surrounding its equipment, leading to a catastrophic break of a major water line.
___
7:40 a.m.
Officials say seven people remain hospitalized a week after they were injured in mudslides that devastated the coastal California town of Montecito, killing 20.
Santa Barbara Cottage Hospital says that as of Monday evening, two of the seven still undergoing treatment were in critical condition.
Twenty-eight patients have been treated and released.
The mudslides were triggered Jan. 9 by a powerful storm that dumped heavy rain on mountain slopes that had been burned bare by a huge wildfire in December.
More than 500 homes were damaged or destroyed. Three people including a 2-year-old girl remain missing.
Officials say the U.S. 101 freeway is not expected to reopen until Jan. 22. It's been closed for a week.