The Latest: Auditor predicts 35 percent Medicaid cut by 2036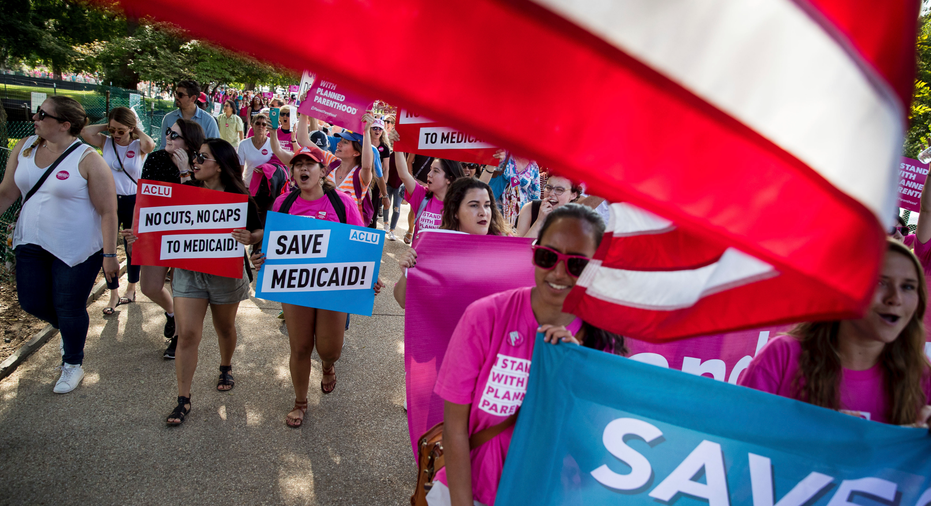 The Latest on Senate Republicans' effort to pass a health care overhaul and keep the party's promise to repeal President Barack Obama's health care law (all times local):
4:35 p.m.
The Congressional Budget Office says Medicaid cuts in the Senate Republican health care bill would take a 35 percent bite off the program's projected spending by 2036.
That's a deeper cut than the nonpartisan office has projected for 2026. That year's reduction would be 26 percent below projections under current law.
The report released Thursday does not quantify how many fewer people the health care program for the poor and disabled would cover in 2036 due to proposed GOP cuts. It says enrollment "would continue to fall" compared to current law.
CBO has estimated the Republican bill would mean 15 million fewer Medicaid recipients by 2026. It now covers over 70 million.
The Senate bill would impose several cuts on Medicaid, including a slower annual growth rate starting in 2025.
__
1:35 p.m.
Senate Republicans trying to salvage their bill repealing much of President Barack Obama's health care law are considering keeping the biggest tax increase he enacted to pay for his statute's expansion.
The GOP bill would repeal most of the tax boosts in Obama's law.
Leaders are considering retaining Obama's 3.8 percent tax increase on investments by higher earners. That tax boost is expected to raise $172 billion over 10 years. Some Republicans want to use the money instead to make their federal health care subsidies more generous.
They're also considering a proposal from conservatives to let insurers offer policies with whatever premiums and benefits they'd like — as long as they also offer a plan providihg all the coverage Obama's law requires.
It's unclear whether either proposal will survive.
___
12:55 p.m.
Top Republicans have agreed to add $45 billion for battling opioid abuse to their struggling health care bill. But the measure's fate is still uncertain, as leaders confront an expanding chorus of GOP detractors.
Senate Majority Leader Mitch McConnell is hoping the added money will help win over moderate GOP senators like Rob Portman of Ohio and Shelley Moore Capito of West Virginia. Their states are among many battered by rising death tolls from illegal drug use and they've been pushing for the funds.
Those same senators are also insisting on easing cuts the GOP legislation would impose on Medicaid, the health insurance program for low-income and disabled people that their states also rely upon. There's no indication an agreement has been reached to pull back on those reductions.
___
4:10 a.m.
Senate Majority Leader Mitch McConnell is exploring options for salvaging the Republican health care bill. But he's confronting an expanding chorus of GOP critics. And that is deepening the uncertainty over whether the party can keep its promise to repeal President Barack Obama's overhaul.
A day after McConnell, short of votes, unexpectedly abandoned plans to whisk the measure through his chamber this week, fresh GOP critics came forward.
While this week's retreat on a measure McConnell wrote behind closed doors dented his reputation as a consummate legislative dealmaker, no one was counting him out.