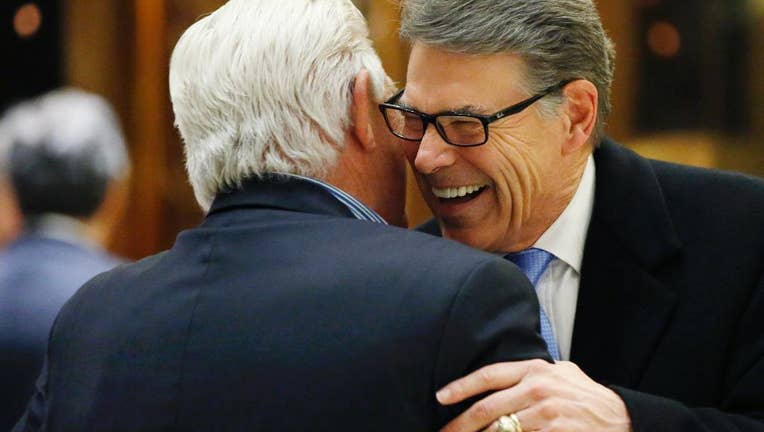 The Latest on President-elect Donald Trump's transition to the White House (All times EST)
9:32 a.m.
President-elect Donald Trump has selected former Texas Gov. Rick Perry to lead the Energy Department.
That's according to two people with knowledge of the decision.
The two-time presidential candidate had been a harsh critic of Trump during the 2016 race, calling him a "cancer to conservatism." He later endorsed the Republican nominee and said he'd be willing to work in a Trump administration.
One of Perry's best-remembered moments from his first White House run was when he couldn't remember in a debate the third of three federal agencies he promised to eliminate if elected. The one he forgot was the Energy Department.
The two people with knowledge of Trump's pick insisted on anonymity because they were not authorized to disclose the decision ahead of the official announcement.
-By Ken Thomas and Julie Pace
___
9:25 a.m.
Kanye West is visiting Trump Tower this morning.
The musician entered the building shortly after 9 a.m. with a large entourage. West was not accompanied by wife Kim Kardashian West.
The 39-year-old recently spent over a week in Ronald Reagan UCLA Medical Center in Los Angeles for stress and exhaustion.
West did not stop to talk to reporters gathered in the lobby.
___
9:21 a.m.
An aide to President Vladimir Putin is praising President-elect Donald Trump's choice of Rex Tillerson to lead the State Department.
Kremlin aide Yuri Ushakov said Tuesday in remarks reported by the TASS news agency described Tillerson as a "very credible figure" and a "big professional."
The CEO of ExxonMobil has met Putin several times and he received Russia's Order of Friendship in 2013. ExxonMobil works closely with Russian oil giant Rosneft and in 2013 the two companies struck a multi-billion dollar Arctic oil exploration deal.
Russia Foreign Minister Sergey Lavrov also praised Tillerson's "pragmatism."
___
8:50 a.m.
Rudy Giuliani says Exxon Mobil CEO Rex Tillerson would do a good job as secretary of state.
Giuliani, at one time in the running for the post, says President-elect Donald Trump has chosen someone who has the experience to understand the world.
"I'm okay with the choice," Giuliani told CNN on Tuesday morning. "I think Donald Trump has selected somebody who knows the world and can advise him on the world."
Giuliani says Trump had several solid candidates on his short list, such as former U.N. Ambassador John Bolton. "I thought John Bolton would have been a great secretary of state," he said. Giuliani said he took himself out of the running last month.
___
8:40 a.m.
Russia's foreign minister says the "pragmatism" of the nominee for the next U.S. secretary of state, ExxonMobil CEO Rex Tillerson, is good basis for future relations.
Sergey Lavrov said Tuesday in the Serbian capital that both President-elect Donald Trump and Tillerson "have not been against our cooperation."
Lavrov says, "we expect that this pragmatism will be a good foundation for building mutually beneficial cooperation" between the U.S. and Russia.
Tillerson has close ties to Russia and President Vladimir Putin, which is certain to draw scrutiny and fuel a potential Senate confirmation fight.
___
7:44 a.m.
A top adviser to Donald Trump says the president-elect "hit it off" with his choice for secretary of state, Rex Tillerson.
Reince Priebus said Tuesday that the president-elect chose Tillerson in part because the ExxonMobil CEO is a diplomat who "happens to be able to drill oil."
The Republican National Committee chairman said, "Tillerson had to maintain relationships across the world in many places that aren't the easiest places to have relationships, during many different (presidential) administrations."
Some Republicans and Democrats said they have concerns about Tillerson's longtime business ties to Russia, raising questions about whether he could win Senate confirmation.
Priebus spoke Tuesday on MSNBC's "Morning Joe."
___
7:00 a.m.
President-elect Donald Trump announced Tuesday he has settled on ExxonMobil CEO Rex Tillerson to be secretary of state.
The real estate mogul said in a predawn statement that Tillerson is "among the most accomplished business leaders and international deal makers in the world."
Trump added that Tillerson's career is "the embodiment of the American dream."
Senate Democrats and some Republicans have said they're concerned about Tillerson's business ties to Russia. The subject is likely to come up during Tillerson's Senate confirmation proceedings.
___
4:00 a.m.
President Barack Obama is criticizing Trump for saying he'll shun daily intelligence briefings when he takes office.
Appearing Monday evening on Comedy Central's "The Daily Show," Obama said that a president who isn't getting the benefit of such regular briefings from the intelligence community is likely "flying blind" in managing national security issues for the country.
Trump said in a television interview Sunday that he wasn't interested in getting daily intelligence briefings, a practice that's been a fixture for chief executives of both parties for several years.
Obama also said the reason he's ordered a wide-ranging probe into purported Russian hacking against the U.S. election process is to "really just gather all of the threads of the investigation." He says notions of meddling in the campaign "was not a secret" before Election Day, Nov. 8, in the United States.
3:15 a.m.
President-elect Donald Trump has tapped ExxonMobil CEO Rex Tillerson to lead the State Department, dismissing concerns about the businessman's close ties to Russia and bringing a long public audition process to a conclusion.
Two people close to Trump's transition team said Monday night that Trump had selected Tillerson. They insisted on anonymity because they were not authorized to disclose the pick ahead of that announcement.
Trump was set to announce his nomination Tuesday morning. The selection could set him up for a potential fight with Congress over confirming Tillerson, who has connections with Russian President Vladimir Putin. Leading Republicans have already expressed anxieties about Tillerson, as they contend with intelligence assessments saying Russia interfered with the U.S. presidential election to help Trump.