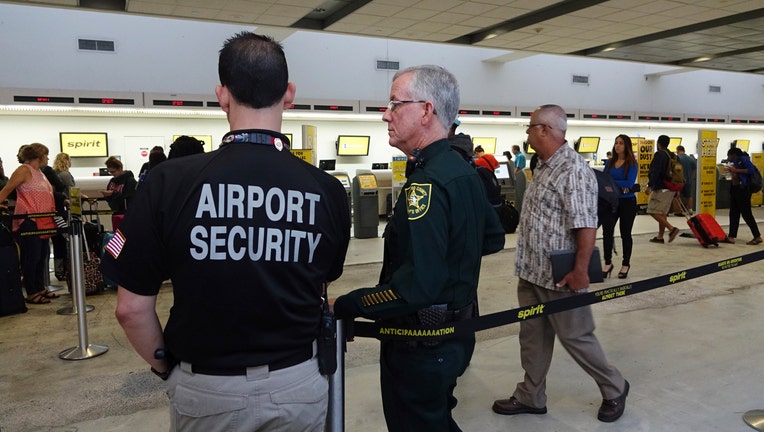 The Latest on fights that broke out a Fort Lauderdale-Hollywood International Airport after Spirit Airlines canceled nine flights (all times local):
10:30 a.m.
The Broward Sheriff's Office says three New York residents were arrested as irate passengers skirmished at Fort Lauderdale's airport after Spirit Airlines canceled nine flights.
Sheriff's reports released Tuesday say about 500 people were in the Spirit terminal late Monday night when 22-year-old Desmond Waul of Selden and 24-year-old Janice Waul and 22 year-old Davante Garrett, both of Brentwood, were seen by deputies threatening the airline's front counter employees.
Deputies say their actions caused the crowd to become increasingly aggressive to the point of near violence and that they wouldn't leave when ordered.
The three are charged with inciting a riot, disorderly conduct, resisting arrest and trespassing. They were being held Tuesday at the Broward jail in lieu of $10,000 bond each. Records do not show if they have attorneys.
Fort Lauderdale-Hollywood International Airport was the scene of a January mass shooting that killed five people and wounded six.
8:30 a.m.
Skirmishes involving irate passengers broke out at a Florida airport following the cancellation of multiple Spirit Airlines flights.
Broward Sheriff's officials tell ABC News that deputies were called to Fort Lauderdale-Hollywood International Airport on Monday to deal with angry passengers. Videos posted online show deputies trying to break up fights and detaining some unruly passengers.
CBS News reports nine flights were canceled.
In a statement, airline officials say they're "shocked and saddened" to see videos of the airport incident. They blame the Airline Pilots Association for the cancellations, adding they've filed a lawsuit against the pilots association over an "unlawful job action."
The association tells CBS that Spirit pilots aren't engaged in any job action with Spirit and that the airline's operations "have experienced significant problems over the past several days."