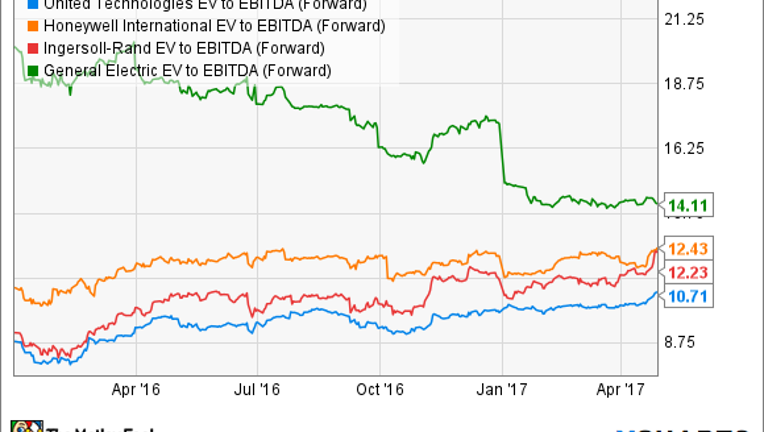 One of the advantages of owning a stock trading at a discount to its peers comes from the notion that all the company has to do is report an OK-looking set of results and investors are likely to reward it. In this context, I would argue that although United Technologies Corporation's (NYSE: UTX) recent first-quarter results were good enough to satisfy investors, they contained a mix of positives and negatives. That said, here are the key takeaways from the earnings so you can make up your own mind.
UTX EV to EBITDA (Forward) data by YCharts.
Pratt & Whitney GTF
It's never a good thing when a company's largest customer declares the "demonstrated performance" of a key product as currently being "not satisfactory." In this case, it's Airbus (NASDAQOTH: EADSY) CFO Harald Wilhelm, talking about Pratt & Whitney's geared turbofan (GTF) on his company's recent first-quarter earnings call.
And it gets worse. Wilhelm indicated that Airbus' ability to meet its 2017 delivery targets on the Airbus A320neo was contingent on Pratt & Whitney's meeting GTF delivery targets.
In short, Pratt & Whitney is under pressure to deliver, not least from the two technical issues it's had with oil seals and combustor liner on the GTF.
Here's a summary of United Technologies' commentary on the GTF:
GTF production target of 350 to 400 engines remains in place.
Most of the GTF engines will be upgraded with a carbon seal retrofit "by the middle of May," according to CEO Greg Hayes.
"Upgraded combustor liners" will be available in engines "starting in the fourth quarter," according to Hayes.
United Technologies plans to spend $40 million to $50 million in endurance testing to ensure there aren't any more problems.
In short, there was no new news, and that in itself is a positive. However, as Airbus and others point out, Pratt & Whitney still has a job to do to fully satisfy customers.
How United Technologies made money in the first quarter. Data source: United Technologies Corporation. In millions of U.S. dollars. Chart by author
Climate, controls, and security
Management hopes to increase the revenue growth rate in climate, controls, and security (CCS), and there are clear signs it's set to achieve its aim. Although CCS organic sales growth was only 2% in the quarter, the following chart shows that CCS equipment orders are on a clear uptrend, suggesting that sales growth will increase in future quarters.
Data source: United Technologies Corporation presentations. Year-over-year growth. Chart by author.
While CCS equipment orders were up 7% in the quarter, it wasn't a blemish-free period for CCS. In fact, CCS adjusted operating profit margin declined from to 15.6% from 17% in the same quarter last year -- and adjusted operating profit declined 4.2% from $634 million in last year's first quarter to $607 million. The reason for the margin decline?
A contract adjustment of $25 million on a large commercial project.
The impact of acquisitions.
A $10 million cost increase in research and development.
An unfavorable sales mix.
Hayes sought to reassure analysts by saying, "We'll get the margins back to where you expect" -- something to look out for in future quarters.
Products in United Technologies' CCS segment. Image source: United Technologies Corporation.
Aerospace systems and Otis
UTC aerospace systems had a good quarter, with organic sales growth of 5% spurred on by commercial aftermarket sales up 12% and commercial original equipment sales up 2%. The latter is particularly impressive, as United Technologies is seeking to offset declining sales on legacy aircraft with growth on new aircraft programs. Moreover, the adjusted operating margin expansion from last year's first quarter of 15.7% to 16.6% suggests the company is getting over the margin pressure from shifting to product sales on newer aircraft.
The news from Otis was somewhat mixed. On a positive note, overall new equipment orders were up 4%, and organic sales increased 3%. On the other hand, adjusted operating profit fell 4% to $457 million as Otis continued to suffer pricing pressure in China. To be fair, management's aim is to increase unit sales in the key China market to generate future services revenue. On that note, sales did increase 1% in units, but ongoing pricing pressure meant China orders declined 10% in dollar terms.
Is United Technologies still on track?
The company still has work to do on the GTF -- not least in delivering on its commitments to Airbus -- and pricing pressure on Otis in China is an ongoing concern. That said, CCS and aerospace systems had good starts to 2017, and management didn't change a single element of its segment sales and earnings guidance for 2017.
On balance, the results and commentary were good enough to convince investors that the company is on track for 2017, and that might be enough for the market to close the discount gap with its peers.
10 stocks we like better than United TechnologiesWhen investing geniuses David and Tom Gardner have a stock tip, it can pay to listen. After all, the newsletter they have run for over a decade, Motley Fool Stock Advisor, has tripled the market.*
David and Tom just revealed what they believe are the 10 best stocks for investors to buy right now... and United Technologies wasn't one of them! That's right -- they think these 10 stocks are even better buys.
Click here to learn about these picks!
*Stock Advisor returns as of April 3, 2017
Lee Samaha owns shares of United Technologies. The Motley Fool has no position in any of the stocks mentioned. The Motley Fool has a disclosure policy.