The iPhone SE Has One Big Problem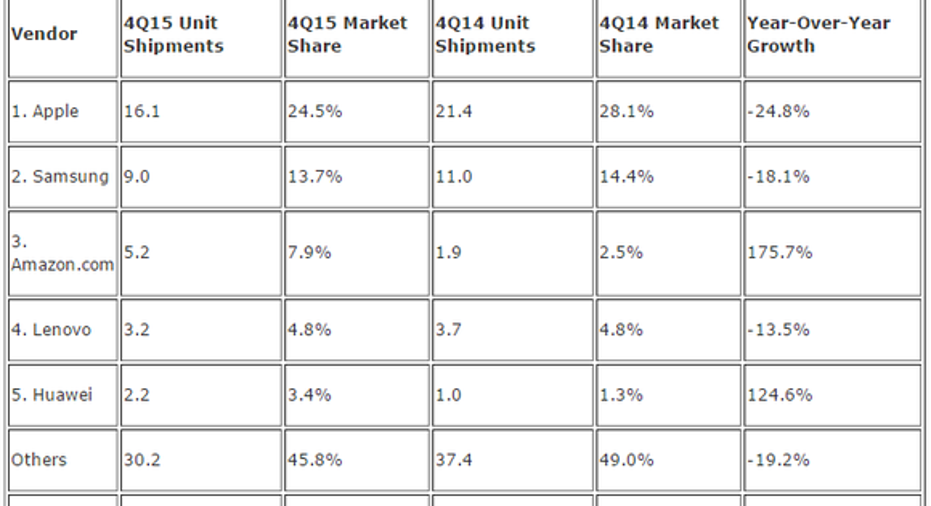 iPhone SE. Source: Apple.
Apple isn't giving up on smaller smartphones. The company's most recently released handset, the iPhone SE, sports a 4-inch display -- downright tiny by 2016 standards. Most of Apple's competitors reserve such pint-sized phones for the bargain bin, equipping them with subpar internals that make for a less-than-ideal user experience. In this regard, the iPhone SE is dramatically different and unique, boasting speedy silicon that allows it to stand toe-to-toe with its much larger rivals.
But there's something even more intriguing about the iPhone SE: its price tag. Starting at $399, the iPhone SE is $250 cheaper than the iPhone 6s, and $150 cheaper than the iPhone 6. Given its relative affordability, many have speculated that the iPhone SE is an iPhone aimed explicitly at emerging markets, whose consumers lack the purchasing power of their counterparts in more developed economies.
That may be the case, but Apple will be fighting an uphill battle: Emerging market buyers have demonstrated a strong preference for smartphones with much larger screens.
When you only have a smartphone, every inch mattersPhablets -- oversized smartphones that border on the realm of traditional tablets -- were viewed skeptically in developed economies when they began to emerge in 2012. That extra screen real estate made watching videos and playing games easier, but came with a fair number of trade-offs, some of which Apple emphasized in its advertising. In a television spot for iPhone 5, before the release of the larger iPhone 6, Apple declared that going with a 4-inch display was simply a matter of "common sense" given that the smaller size meant you could hold the phone in your palm and navigate around the screen with your thumb.
But emerging market consumers took to the phablet with far greater zeal. In the second quarter of 2013, phablets outsold both tablets and laptops combined in the Asia-Pacific region (excluding Japan). By the third quarter, smartphones with displays larger than 5 inches represented over one-fifth of total handsets sold globally, with Asian economies driving most of the demand. Emerging market buyers, many of whom lack traditional PCs and home Wi-Fi connections, were drawn to the cellular-equipped phablet as the perfect all-in-one device: small enough to double as a phone, large enough to replace a PC. In 2014, research firm Jana conducted a survey of smartphone users across several different emerging markets. Consumers (in countries such as India, Indonesia, the Philippines, Vietnam, and Mexico) overwhelmingly said they wanted phones with screens that were 5 inches or larger.
Unsurprisingly, Apple saw an unprecedented increase in demand following the release of the larger iPhone 6 (4.7 inches) and iPhone 6 Plus (5.5 inches), and for a time became the largest seller of smartphones in China. Its Chinese rivals, which have overtaken it in recent months, sell a larger variety of phones, but almost all sport fairly large displays. You'd be hard-pressed to find a Xiaomi phone much smaller than 5 inches. Even its ultra low-priced Redmi 3 boasts a 5-inch panel.
The same is true for Huawei, but to an even greater extent. In recent quarters, Huawei has emerged as one of the world's largest sellers of tablets. In the fourth quarter of 2015, for example, it shipped 2.2 million units, according to research firm IDC. A far cry from Apple's 16.1 million, but Huawei's growth was far more impressive (up a stunning 124.6% on an annual basis).
Source: IDC.
Huawei's approach to the tablet market, however, is unique: Most of the company's tablets are equipped with cellular radios. "Huawei's focus remains on cellular-connected tablets," wrote IDC. It's difficult to say for certain how consumers are choosing to use these Huawei slates, but they may be using them more like phones than tablets. Huawei's MediaPadX2 sports a 7-inch display and comes equipped with an LTE radio. In the U.S., LTE tablets aren't unheard of, but they are less popular, and often have larger displays.
A great phone, but not the perfect solution for emerging marketsThe iPhone SE has received rave reviews, and for $399, offers great value compared to the rest of Apple's lineup. Its existence doesn't pose a risk to Apple's bottom line: If anything, it could help endear its handsets to consumers turned off by the prospect of fumbling with a giant phone. But, with emerging market consumers demonstrating a strong preference for bigger handsets, it's unlikely to lead Apple to emerging market dominance.
The article The iPhone SE Has One Big Problem originally appeared on Fool.com.
Sam Mattera has no position in any stocks mentioned. The Motley Fool owns shares of and recommends Apple. Try any of our Foolish newsletter services free for 30 days. We Fools may not all hold the same opinions, but we all believe that considering a diverse range of insights makes us better investors. The Motley Fool has a disclosure policy.
Copyright 1995 - 2016 The Motley Fool, LLC. All rights reserved. The Motley Fool has a disclosure policy.