The Home Depot Inc.'s Best Segment in 2015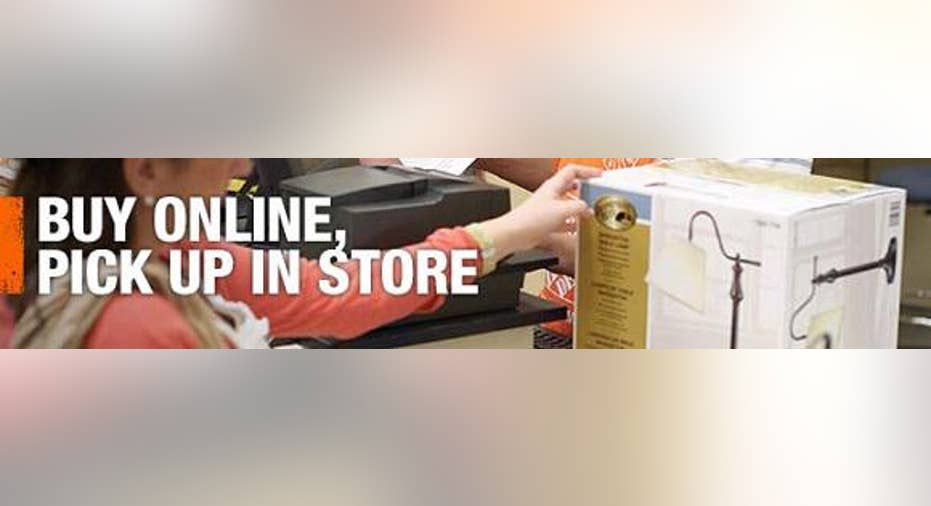 Investors can't complain about the recent performance of home-improvement giant Home Depot . The company has taken full advantage of the boom in the housing market, mounting an impressive recovery and navigating its way through what had been uncertain prospects a decade ago to prove that it can weather the inevitable cyclical downturns in the real-estate industry. Home Depot has done a good job of catering to do-it-yourself homeowners and professional contractors, but one of the most impressive things that the retailer has accomplished has been to incorporate e-commerce into its operations. The online business gave Home Depot the strongest contribution to growth in 2015, and it appears poised to continue to add a lot of value to the company in the years to come. Let's take a closer look at just how well Home Depot did on the e-commerce front this year.
How online did for Home Depot in 2015 Throughout the year, Home Depot emphasized how well its online channel has done in establishing itself as a key vehicle for sales. In February, the company reported that its 2014 Cyber Week performance set new records for traffic and orders, capping a fiscal year in which the online business topped the $1 billion mark, growing 36%.
That growth continued into the middle of the year. In the first quarter, Home Depot saw online sales jump by almost 30%, with online traffic jumping by double-digit percentages as well and contributing about a fifth of the retailer's overall growth during the quarter. In the second quarter, dot-com sales picked up by about 25%, with the bulk of the growth coming from online orders picked up at store locations through the Buy Online Pick-Up In Store and Buy Online Ship to Store programs. That 25% pace of growth continued in the third quarter as well.
Home Depot's online strategy Admittedly, online sales still make up only a small part of Home Depot's overall business. As of the third quarter, e-commerce represented just over 5% of Home Depot's total sales.
Yet Home Depot has invested heavily in making sure that it remains on the cutting edge of the e-commerce market. By ensuring that customers can make orders on their personal computers, tablets, or mobile phones, Home Depot hopes that it can meet the needs of professional contractors and homeowners alike.
At the same time, Home Depot is exploring ways to integrate its extensive store network to serve online customers more efficiently. In-store pickup has been a huge boon for Home Depot, with the initiatives to encourage shoppers to order online also leading to additional sales once customers actually visit the store to pick up their orders. At the same time, though, Home Depot is also looking at closing the last gap in the supply chain for customers, with initiatives to make deliveries from store locations to customers' homes in order to provide maximum convenience.
The challenges of shipping are especially significant for Home Depot. The sheer size and bulk of many of the materials that Home Depot offers makes it far more complicated for the home-improvement retailer to move its products through its supply chain than it is for retail peers that tend to sell smaller, lighter items. Nevertheless, consumers are demanding the most convenient options available, and Home Depot has done well to answer the call.
Competitive forces from Lowe'sHome Depot's strategy hasn't gone unnoticed by the competition. Lowe's has aimed itself squarely at e-commerce as well, with its LowesForPros.com website looking to cater to housing-industry contractors who want a custom-tailored online experience complete with discounts and promotions. Lowe's is trying to move away from print toward digital, and both Lowe's and Home Depot can save on marketing costs if they can successfully get their customers to look to their e-commerce channels rather than newspaper ads to drive sales.
For now, though, Home Depot continues to outpace Lowe's, and all signs suggest that those favorable trends should continue well into the future. For Home Depot, the online opportunity has been a huge success in 2015 and should continue to serve the home-improvement giant well in the years to come.
The article The Home Depot Inc.'s Best Segment in 2015 originally appeared on Fool.com.
Dan Caplinger has no position in any stocks mentioned. The Motley Fool recommends Home Depot. Try any of our Foolish newsletter services free for 30 days. We Fools may not all hold the same opinions, but we all believe that considering a diverse range of insights makes us better investors. The Motley Fool has a disclosure policy.
Copyright 1995 - 2015 The Motley Fool, LLC. All rights reserved. The Motley Fool has a disclosure policy.