The Hidden Cost of Wal-Mart's Fight Against Amazon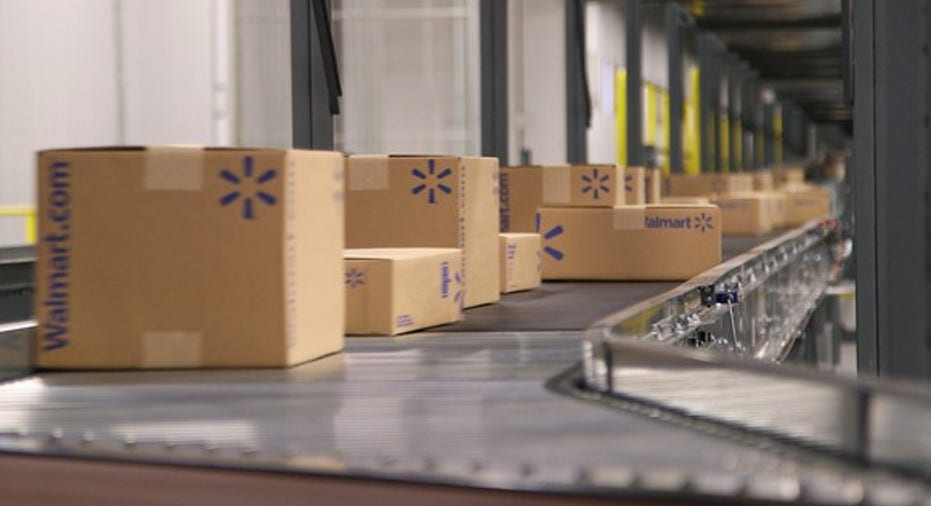 Image Source: Wal-Mart
When it comes to e-commerce, there's Amazon (NASDAQ: AMZN) and then there's everyone else. Amazon brought in over $79 billion in sales in the United States alone last year. Wal-Mart (NYSE: WMT) is its next closest competitor, and it managed just $13.5 billion in online sales in the U.S. last year.
But Wal-Mart is investing heavily in its e-commerce platform. It bought Jet.com for $3.3 billion earlier this year, and it's spending to bolster its own infrastructure and technology. These big investments make a lot of headlines but for the foreseeable future there's a related recurring cost that will show up down the income statement -- which investors need to pay attention to.
Wal-Mart's e-commerce platform is no good if no one knows about it
The biggest hurdle Wal-Mart faces in getting people to use its online commerce platform is that it's not currently well associated with online shopping -- unlike Amazon. In the U.S. 55% of online shoppers begin their product search on Amazon.com, according to a survey from BloomReach. I'm willing to bet a large percentage end their product search on Amazon.com as well.
Wal-Mart needs to change shopper behavior, and that takes a significant investment in marketing. It needs to incentivize shoppers to use Walmart.com, and give online publishers a reason to link to a product on its site instead of Amazon.com. Most importantly, it has to show shoppers that Amazon doesn't always have the best prices on identical products.
Amazon spends heavily on marketing with its digital advertising campaigns, as well as its growing investment in television advertising. Last year, Amazon spent $5.3 billion on marketing. That was up 21% year over year, and marketing spend is up another 35% through the first nine months of 2016.
Wal-Mart only provides details on its advertising expenses in its annual report (and it's unclear if advertising is synonymous with marketing). Last year, Wal-Mart spent $2.5 billion on advertising, up from $2.4 billion the year before. In its most recent 10-Q Wal-Mart noted "increased advertising expense" played a role in the overall increase in its operating expenses, which pressures its margins. Wal-Mart's operating margin fell 30 basis points to 4.7% through the first nine months of 2016. Last quarter, operating margin came in at 4.4%, down 50 basis points.
Attention grocery shoppers
One of the biggest advantages Wal-Mart has over Amazon is that it's the largest grocer in the United States. It's using that status to bring more of its grocery shoppers to its website through its online grocery order and pickup. The company has had some good success so far. Online grocery ordering is available in over 100 markets already, and Wal-Mart CFO Brett Briggs said "customer count and basket size continue to outperform [Wal-Mart's] expectations," during the third quarter earnings call.
It's unclear, however, how much Wal-Mart is paying to attract customers to its online grocery ordering site. It's also unclear if online grocery shoppers are ordering other items from Wal-Mart's website. In fact, if it's not able to sell non-grocery items as effectively as it does in store, Wal-Mart could be missing out on sales with its grocery pickup feature.
Wal-Mart will have to continue to spend to keep its website at the top of mind when consumers are shopping online. Watch for an increase in advertising spend, and continued pressure on operating margin, as Wal-Mart expands its online operations with Jet.com and online grocery ordering.
10 stocks we like better than Wal-Mart Stores When investing geniuses David and Tom Gardner have a stock tip, it can pay to listen. After all, the newsletter they have run for over a decade, Motley Fool Stock Advisor, has tripled the market.*
David and Tom just revealed what they believe are the 10 best stocks for investors to buy right now... and Wal-Mart Stores wasn't one of them! That's right -- they think these 10 stocks are even better buys.
Click here to learn about these picks!
*Stock Advisor returns as of Nov. 7, 2016
Adam Levy owns shares of Amazon.com. The Motley Fool owns shares of and recommends Amazon.com. Try any of our Foolish newsletter services free for 30 days. We Fools may not all hold the same opinions, but we all believe that considering a diverse range of insights makes us better investors. The Motley Fool has a disclosure policy.