The Future of Costco Depends on These 3 Factors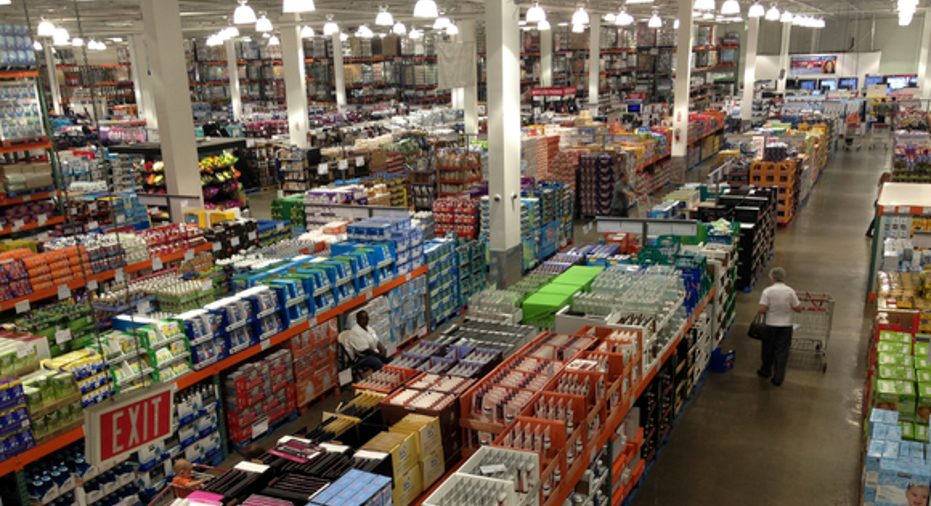 Costco. Image source: The Motley Fool.
Investors would be hard-pressed to find any meaningful period of time when Costco Wholesale (NASDAQ: COST) stock underperformed the broad market. Its customer- and employee-first mentality, coupled with strong operating performance, has led to a business that has consistently outperformed the competition.
| Time period | SPDR S&P Retail (NYSEMKT: XRT) ETF Price Increase | S&P 500 Index Price Increase | Costco Stock Price Increase |
| --- | --- | --- | --- |
| 1 year | (7.1%) | 3.9% | 14.8% |
| 5 years | 100.8% | 95.1% | 138.9% |
| 10 years | 153.7% | 71.2% | 227.5% |
Although long-term and newer Costco investors have fared well, future returns may be in question. The company's strong price appreciation has led to trading multiples at the upper end of its historical multiples.
Source: S&P Capital IQ.
For a stock trading at 32 times earnings and 22 times cash flow, investors should expect the company to be growing gangbusters. Yet like many of its retailing peers, Costco has seen its growth decelerate significantly.
Source: company financials.
Despite the slowing revenue growth, Costco was still able to muster 16% earnings growth in 2015. However, more recently, its earnings is under pressure, too. In its latest quarter, ending in May, Costco reported 6% EPS growth. Further, through the first three quarters of fiscal 2016, EPS at Costco declined 2%. Wall Street analysts are expecting the company to return to 8% revenue growth in 2017, but given its recent trajectory of decelerating revenue growth, that seems to be a bit optimistic.
Costco is a great business with strong management and tremendous customer loyalty. Its membership renewal rate in 2015 came in at 91% in the U.S. and Canada. However, if the company is to get back to growth levels that justify its lofty valuation, it needs to execute on persuading young shoppers to purchase memberships, meaningfully growing online sales, and expanding internationally. Let's take a closer look at each.
Converting younger consumers into members
Unless it's a Saturday afternoon and I'm constantly avoiding collisions with oversized shopping carts, I love Costco. As someone with a young family, I find it a great place to pick up groceries and everyday essentials at prices not even seen at Amazon.com and other online retailers. However, it wasn't until I had a young family that a Costco membership made sense. Before that, it was a place to fill up with cheap gas and pick up a $5 rotisserie chicken I can eat for a week. I still paid for the $55 annual membership, but its value was questionable.
Now, the millennial generation mostly isn't shopping at Costco. Research from Nielsen shows that Costco isn't even in the top 10 as a shopping destination for millennials. Even more, the findings from Nielsen's study may carry over similarly to another group -- the single person living in a small studio who doesn't need to purchase 24 D-size batteries, two gallons of milk, and 4 pounds of tri-tip. Simply put, it often isn't until a consumer moves to a larger space in the suburbs and has a family that a Costco membership makes sense.
For Costco to get back to growth and be relevant a decade from now, it doesn't need to get millennials into the store today -- it needs to convert them into members in the future. However, it probably won't be as easy for Costco to make those conversions as it has been in the past. According to Statista, around 91% of millennials make a purchase on their smartphone monthly. Today, only 3% of Costco's sales are online. If it wants to eventually turn millennials into members, it will need to find a way to tap into a generation that is less likely to shop at brick-and-mortar locations.
Building a meaningful online presence
Focusing on bulk items has been a double-edged sword for Costco. Given the high costs of shipping, it has been able to fend off Amazon as a disruptor to its business. However, it has also slowed its ability to build a strong online presence. The company is looking to change that.
In 2015, Costco upgraded its e-commerce distribution network to help reduce shipping costs and deliver orders faster. As of the end of the third quarter, it had an online presence in six of the 10 countries it operates warehouses in. Additionally, Costco has built relationships with e-commerce players Alibaba (NYSE: BABA), Google Express, Instacart, Boxed, and Jet.com.
The strategic initiatives appear to be paying off, as Costco grew online sales 20% in 2015 to $3.4 billion.It continued its double-digit growth rate in the third quarter, with a 14% increase over the prior year. Although impressive, the double-digit growth is off a small base, and as mentioned earlier, online is only 3% of its overall business -- a number that hasn't budged over the past three years. Despite its growth and strategic partnerships with successful e-commerce players, Costco still has room to improve in developing a strong online presence.
Expanding internationally
Costco currently operates 705 warehouses, 493 of which are in the United States and Puerto Rico. Its second biggest market is Canada, with 90 warehouses. The remaining markets are Mexico, the United Kingdom, Japan, South Korea, Taiwan, Australia, and Spain. The diverse mix of countries Costco operates is impressive, but its international growth story remains a question.
According to Costco, it has a 91% retention rate in the United States and Canada and an 88% retention rate worldwide. The retention rate is an excellent metric to help demonstrate customer loyalty and a company's competitive strength. At first glance, it appears that Costco is doing a superb job of retaining members. Although true domestically, the value Costco provides internationally is questionable.
Including Puerto Rico, the 91% retention rate is representative of 583 locations, or 83% of total locations. Therefore, the 88% worldwide retention rate is largely weighted toward domestic operations. With some simple math, it shows that the international retention rate is only 75%. With one out of every four members deciding not to renew its membership internationally, it's not a given that Costco's business model of selling items in bulk will be as well received outside the United States.
Costco has shown itself to be a disciplined, slow-and-steady grower. That being said, its international momentum is questionable, especially given that, through three quarters in 2016, it has opened only six locations outside the U.S. and Canada.
Over the past five years, Costco has increased warehouses, revenue, net income, and overall membership. It has built a business with a strong moat that even Amazon has had trouble penetrating. However, to justify the high multiples, it has to continue to grow its online and international business while converting younger shoppers to members. If it doesn't, investors shouldn't expect future returns to match the success it has had in the past.
A secret billion-dollar stock opportunity The world's biggest tech company forgot to show you something, but a few Wall Street analysts and the Fool didn't miss a beat: There's a small company that's powering their brand-new gadgets and the coming revolution in technology. And we think its stock price has nearly unlimited room to run for early in-the-know investors! To be one of them, just click here.
Palbir Nijjar owns shares of Amazon.com. The Motley Fool owns shares of and recommends Amazon.com and Costco Wholesale. Try any of our Foolish newsletter services free for 30 days. We Fools may not all hold the same opinions, but we all believe that considering a diverse range of insights makes us better investors. The Motley Fool has a disclosure policy.