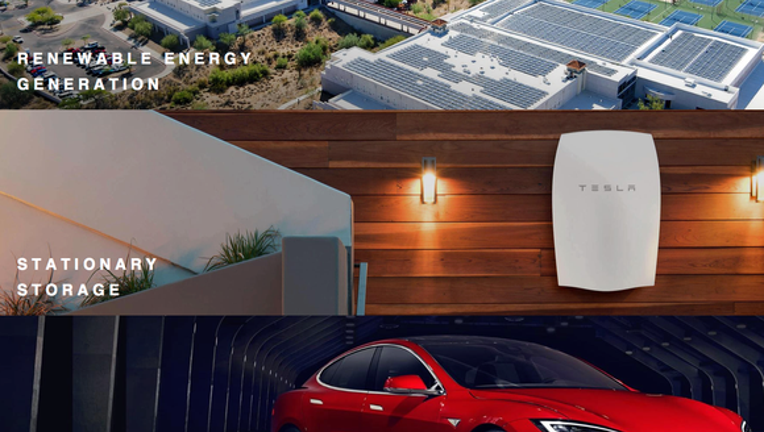 Thursday will be an important day for Tesla Motors (NASDAQ: TSLA) and SolarCity (NASDAQ: SCTY). Both companies have set Nov. 17 as the date of their shareholder meetings to vote on the acquisition. Tesla will stream its meeting, which may reveal whether or not shareholders voted in favor of the acquisition.
Tesla and SolarCity's planned solar roof, along with a Tesla Powerwall and a Model 3. Image source: Tesla Motors.
Tallying the votes
Tesla's shareholder meeting to consider the acquisition of SolarCity will take place in Fremont, California on Thursday, at 1:00 p.m. PST.For investors who won't be at Tesla's shareholder meeting, the company will also webcast the meeting live at tesla.com/shareholdermeeting.
SolarCity will be hosting its shareholder meeting to discuss the merger in Foster City, California, two hours before Tesla's meeting.
What investors should know
Tesla has ambitious plans for its SolarCity acquisition, essentially planning to be the world's first integrated sustainable-energy company, from energy generation to energy storage to transportation solutions.Today, Tesla is already the world leader for electric-car production when measured by kilowatt-hour battery capacity delivered.
Further, Tesla entered the energy-storage market with its Powerwall and Powerpack in 2015. And by the end of this year, Tesla will likely have already finished deploying the two-largest lithium-ion battery-storage installations in the world. Including projects being deployed now, Tesla has deployed 300 megawatt-hours of Tesla batteries in 18 countries.
With SolarCity, Tesla plans to also bring to market a solar roof, which the two companies jointly unveiled in October. The solar roof differs from traditional solar panels in that solar cells are actually the roof itself. With Tesla's solar roof, solar tiles are integrated into the roof and are nearly indistinguishable from high-end roofing options.
Tesla solar tiles. Image source: Tesla Motors.
Tesla summed up the vision for the combined companies in a Nov. 1 blog post:
Tesla and SolarCity expect the combined company, which will operate entirely under the Tesla brand, to add more than a half a billion dollars of cash to Tesla's balance sheet over the next three years. But some have questioned the two companies' optimistic outlook for the acquisition.
Skepticism toward the deal is well founded, solely due to the fact that mergers and acquisitions across many different industries have spotty track records. Culture clashes, unexpected execution issues, and unrealistic expectations are frequent deterrents to successful acquisitions.
Image source: Tesla Motors.
A merger is likely
Earlier this month, the Tesla-SolarCity deal took a key step forward when Institutional Shareholder Services (ISS) recommended the merger. With its considerable influence as arguably the world's top independent evaluator, ISS typically plays alarge role in whether or not mutual funds vote for or against mergers. So ISS's recommendation suggests majority voting will likely favor the deal.
If the deal does close, the terms of the acquisition stipulate that SolarCity shareholders will receive 0.11 Tesla share for every SolarCity share they own.
Forget the 2016 Election: 10 stocks we like better than Tesla Motors Donald Trump was just elected president, and volatility is up. But here's why you should ignore the election:
Investing geniuses Tom and David Gardner have spent a long time beating the market no matter who's in the White House. In fact, the newsletter they have run for over a decade, Motley Fool Stock Advisor, has tripled the market.*
David and Tom just revealed what they believe are the ten best stocks for investors to buy right now... and Tesla Motors wasn't one of them! That's right -- they think these 10 stocks are even better buys.
Click here to learn about these picks!
*Stock Advisor returns as of November 7, 2016
Daniel Sparks owns shares of SolarCity and Tesla Motors. The Motley Fool owns shares of and recommends SolarCity and Tesla Motors. Try any of our Foolish newsletter services free for 30 days. We Fools may not all hold the same opinions, but we all believe that considering a diverse range of insights makes us better investors. The Motley Fool has a disclosure policy.