The Dow in the Time of JFK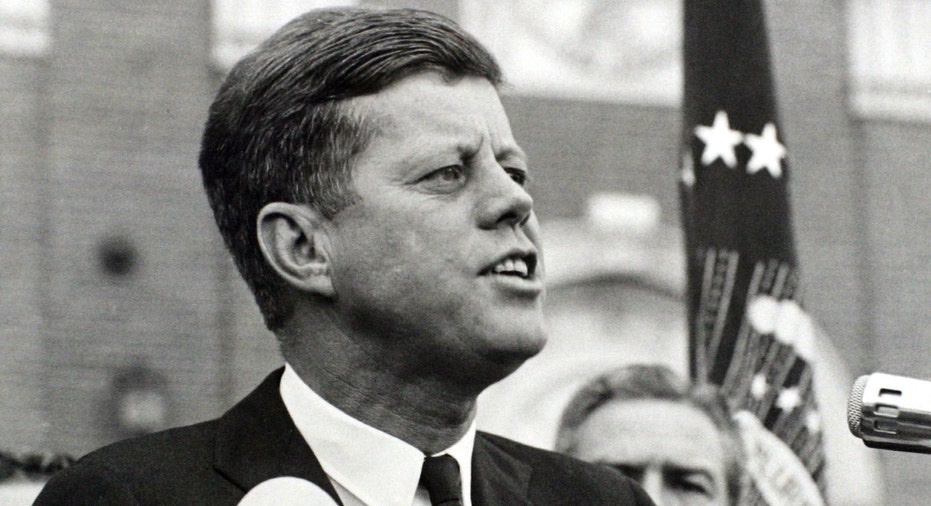 President John F. Kennedy's assassination ranks high on the list of stock market shocks in Wall Street history.
The Dow Jones Industrial Average opened that day 50 years ago at 732, but plunged 2.9% on news of the president's death. The index, however, was able to rebound, and closed at 711 points.
Some of the 30 companies included in the index are still traded on the Dow today.
-AT&T (NYSE:T)          -DuPont (NYSE:DD)          -Exxon (NYSE:XOM)          -Chevron (NYSE:CVX)          -GE (NYSE:GE)          -Procter and Gamble (NYSE:PG)          -United Technologies (NYSE:UTX)
Meanwhile, some of the 30 companies traded on the index in 1963 have fallen out of the Dow's graces, but they're still publicly traded today.
-Alcoa (NYSE:AA) – just recently removed from the index          -Eastman Kodak          -International Paper (NYSE:IP)          -Owens-Illinois Glass (NYSE:OI)          -U.S. Steel (NYSE:X)          -General Motors (NYSE:GM)          -Goodyear (NASDAQ:GT)          -Sears Holdings (NASDAQ:SHLD)          -Navistar (NYSE:NAV)
Then there are companies iconic enough to be included in the index in 1963, but that have now been either spun off, bought out, or are completely defunct.
-Allied Chemical          -American Can          -American Tobacco          -Anaconda Copper          -Bethlehem Steel          -General Foods          -Johns Manville          -Swift & Company          -Union Carbide – a division of Dow Chemical (NYSE:DOW)          -Woolworth
Westinghouse Electric and Chrysler are the only two companies traded on the Dow then that are no longer publicly traded at all, though they still remain in business.
In the last 50 years, the Dow has seen record-shattering highs – including its most recent historic route Thursday when it closed above 16000 for the first time.