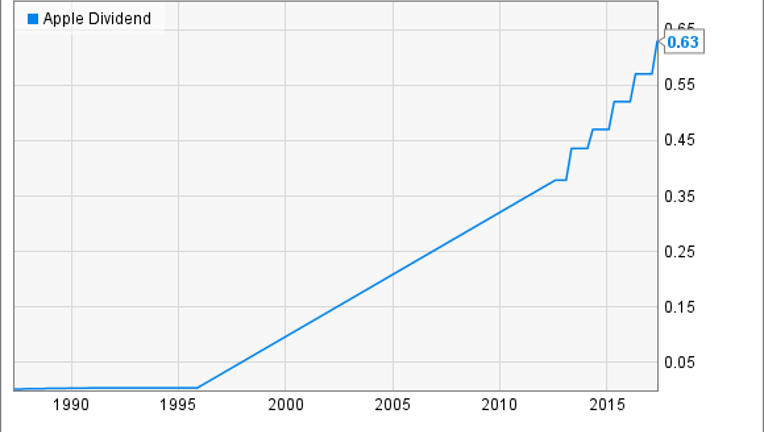 Technology stocks have historically been slow to embrace dividends, and until recently, Apple's(NASDAQ: AAPL) dividend history was no exception to that rule. After discontinuing a token payout in the mid-1990s, Apple went more than 15 years without making any dividend payouts at all. Yet now, the tech giant has not only started paying dividends but has increased them regularly, giving it a respectable yield even after a big run higher for its stock. Moreover, its modest payout ratio gives it plenty of room to boost scheduled quarterly dividends further in the future. Let's look more closely at Apple's dividend history to get a better sense of how the tech company has come to be a giant in the dividend world as well.
Apple's history of dividend payments
Apple has a long history of paying dividends, but it also has a long gap in the middle of its dividend history. From 1987 to 1995, it paid quarterly dividends that ranged from $0.06 to $0.12 per share, but that was before three subsequent stock splits that have given longtime investors 28 Apple shares for every one share they owned during that time span. Then in 1995, Apple suspended its dividends, choosing instead to focus on growth initiatives.
Image source: Apple.
But in 2012, Apple decided to bring back its dividend. The company started with a split-adjusted payout of about $0.38 per share quarterly as part of a broader package to return $45 billion in capital to shareholders over a three-year period. The payout represented a yield of slightly less than 2% at the time, but it began a process by which Apple could look at further dividend growth over time.
AAPL Dividend data by YCharts. Note: The line between 1996 and 2012 represents a discontinuity in Apple's dividend history during which Apple paid no dividend at all, rather than the gently sloping increase represented in the chart.
Those increases indeed did come with regularity. In 2013, the company made a roughly 15% increase to bring the dividend to about $0.426 per share, and 2014 brought Apple's latest 7-for-1 stock split and a boost to $0.47 per share. Roughly 10% annual increases have followed ever since, culminating in its most recent increase to $0.63 per share on the dividend Apple declared on May 2, with a record date of May 15 and paid out to shareholders on May 18.
What's next for Apple dividends?
Yet some investors are unsatisfied with what Apple has done with its dividend. With a huge nine-figure cash hoard, it has plenty of capital to return to shareholders, and in that light, a current yield of just 1.6% seems lackluster at best.
There's no doubt that Apple could afford to make greater dividend payments. Currently, the tech giant pays out only about 28% of its projected earnings for this year, and less than 25% of its forward earnings projections for the next year. It's true that a lot of those earnings are generated outside the U.S. and would therefore be subject to repatriation taxes if used to pay dividends. But even within the bounds of current tax law, Apple would have more latitude to make higher dividend payouts if it so chose.
The key question is what happens with tax policy. The Trump administration has proposed tax reform measures that would make it far easier for U.S. companies like Apple to bring overseas cash back into the U.S. for investment, but the details aren't yet clear. Whether Apple would be able to use repatriated money to pay a higher dividend or would instead have to demonstrate a commitment to more active investment within the U.S. remains to be seen.
Still, investors have to be aware that because of its size, even the relatively low dividend yield that Apple pays is enough to make the company the largest payer of dividends in the world in terms of raw dollar payout. In addition, it has emphasized stock repurchases over dividend increases, with more than two-thirds of its most recent $50 billion increase in capital return going toward buybacks. That has two negative impacts on dividends in that it both leaves less money for dividend payments and tends to boost the stock price, which makes the dividend yield weaker. Nevertheless, investors aren't complaining about the strong total returns that Apple stock has produced lately.
For dividend investors, Apple has gone from a nonentity to a leader in just five years. If its business continues to thrive, then Apple could see even more success in growing its dividend over time and satisfying its shareholders with strong total returns.
10 stocks we like better than AppleWhen investing geniuses David and Tom Gardner have a stock tip, it can pay to listen. After all, the newsletter they have run for over a decade, Motley Fool Stock Advisor, has tripled the market.*
David and Tom just revealed what they believe are the 10 best stocks for investors to buy right now... and Apple wasn't one of them! That's right -- they think these 10 stocks are even better buys.
Click here to learn about these picks!
*Stock Advisor returns as of May 1, 2017
Dan Caplinger owns shares of Apple. The Motley Fool owns shares of and recommends Apple. The Motley Fool has a disclosure policy.