The Conversation Is Changing in Washington, and That's Good for Biotech Investors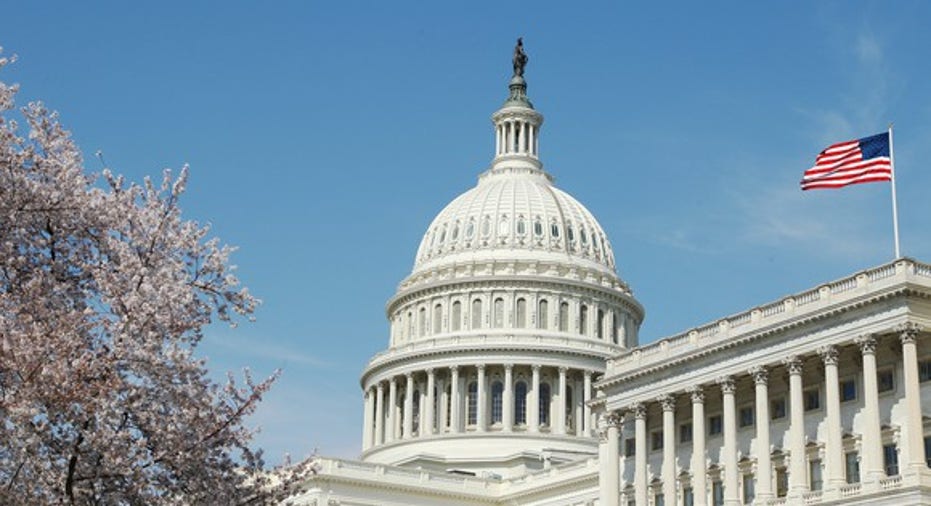 In the past year, one of the biggest questions facing biotech investors has been what the regulatory outlook for pricing would be after the election. Now that Americans have selected Donald Trump as the next President, the conversation appears to be shifting. Rather than arguing over regulatory drug-price controls, the political rhetoric is concentrating on sparking industry innovation. This week's passage of the 21st Century Cures Act in the House of Representatives is the biggest evidence of this shift, so let's take a closer look at what this bill could mean for biotech investors if it becomes law.
Image source: Getty Images.
First, some background
The 21st Century Cures Act has been years in the making. Politicians on both sides of the aisle have weighed in, and intense lobbying from the healthcare industry and energy industry (we'll get to why energy companies are interested in this bill in a bit) has resulted in a bill that is nearly 1,000 pages long.
The House of Representatives initially passed the 21st Century Cure Act in 2015; however, negotiations in the Senate have resulted in slight changes to the bill, and as a result, the House had to weigh in on it again this week. Overall, the Act passed easily on Wednesday, winning by a margin of 392 to 26 votes.
The nuts and bolts
There are lots of puts and takes in a bill this size, but there are some key takeaways that every investor ought to know. The Act:
Gives researchers more money and flexibility
Provides money to address opioid dependence
Reduces the regulatory burden on drugmakers and device makers
Increases the budget of the Food and Drug Administration (FDA) to speed up approvals
Over the past 10 years, inflation-adjusted funding for the National Institute of Health has shrunk by 20%, and as a result, researchers at universities and other institutions have been hamstrung. Fortunately, the funding bottleneck gets a bit of relief under the 21st Century Cures Act. Specifically, the bill provides for an additional $4.8 billion in funding over the next 10 years for research programs, including the Precision Medicine Initiative (which focuses on individualized treatment approaches) and cancer research.
The 21st Century Cures Act also gives $1 billion over two years to the states, to combat the growing problem of opioid dependence. And it gives $500 million over 10 years to the FDA to help streamline its review and approval process, and to hire more workers.
For biotech investors, some of the most important changes include deregulation and easier approval processes. Section 2034 calls on regulators to review and revise laboratory animal regulations and policies to reduce administrative burdens on researchers. Section 3001 elevates the importance of patient experience, including patient testimonials in determining whether or not a drug should win FDA approval.
The Act provides other incentives that could lower drug-development costs and failure rates, too. For example, it allows drug developers to use data from same or similar previously approved drugs to develop genetically targeted drugs for rare diseases. It also encourages novel clinical-trial designs (section 3021), and increases focus on the use of biomarkers, clinical outcome assessments, patient outcomes, and animal models to shorten drug development and increase trial success (section 3011).
Industry watchers believe that these various perks could result in faster approvals, and easier pathways to expanding the use of existing medications in other indications.
Image source: ccPixs.com, via Flickr.
Paying for innovation
I promised earlier that I'd get to why energy lobbies were involved in this bill. It comes down to how these new investments in research and the FDA will be paid for.
While some of the money to cover the costs of the 21st Century Cures Act will come from savings from dismantling the Affordable Care Act, a good portion of the costs will be paid for by tapping the country's strategic oil reserves. In fact, the bill itself came out of the House Energy and Commerce Committee.
The Strategic Petroleum Reserve (SPR) was created in the 1970s, when the nation was more concerned about energy independence than it is today. Since then, the SPR has grown significantly, and today, it's stuffed with 50% more oil than is required by law. Given the explosive growth in domestic oil production and the excess reserves, the SPR seems to be a good source of funding for this bill. Nevertheless, an unleashing of excess reserves could have unintended consequences on domestic oil prices, so it's not surprising that energy lobbyists got involved to defend their interests.
Looking ahead
The FDA has already demonstrated a willingness to be more aggressive when it comes to approving drugs for rare diseases and cancer. In September, compelling patient testimonials were largely behind the FDA green-lighting a controversial new therapy for Duchenne muscular dystrophy, a life-shortening muscle-wasting disease. Recently, the FDA agreed to review a new drug for the treatment of Merkel cell carcinoma in a six-month accelerated timeline that shortens the standard review period by four months.
How the 21st Century Cures Act ends up impacting the biotech industry and investors may not be fully understood for years. However, if this Act clears the Senate and the president signs off on it, I think it could be a net win for drug developers eager to capitalize on NIH grant money and a friendlier FDA.
A secret billion-dollar stock opportunity The world's biggest tech company forgot to show you something, but a few Wall Street analysts and the Fool didn't miss a beat: There's a small company that's powering their brand-new gadgets and the coming revolution in technology. And we think its stock price has nearly unlimited room to run for early in-the-know investors! To be one of them, just click here.
Try any of our Foolish newsletter services free for 30 days. We Fools may not all hold the same opinions, but we all believe that considering a diverse range of insights makes us better investors. The Motley Fool has a disclosure policy.