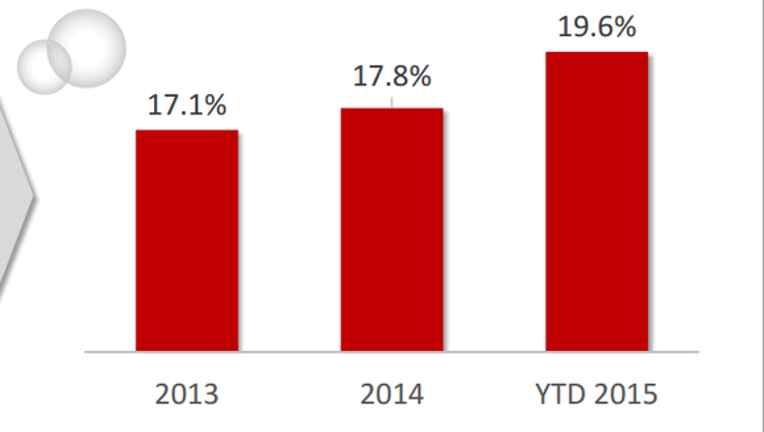 Last week at the Morgan Stanley Global Consumer & Retail Conference, Sandy Douglas, president of Coca-Cola North America, took a stab at addressing one of the foremost concerns of TheCoca-Cola Co. shareholders:
If you're not associated with the beverage industry, you may be unfamiliar with the term "gallonage," which is what it sounds like: a measure of volume in gallons. Douglas traces part of soda's decline to the way Coca-Cola and competitor PepsiCo, used to present their carbonated beverages on store shelves: in pure bulk and as a commodity to be thought of as a primary liquid, replacing water at many points in the consumer's day.
Our thirst for soft drinks from just two decades ago seems overdone in retrospect, and thedays of indiscriminate buying of 2-liter Coke products is but a memory for many a household.Still, to hear a Coke executive say that measuring volume isn't necessarily the best metric to understand and increase sales is slightly heretical.
After all, the Coca-Cola Company measures its quarterly progress by its volume of bottles and concentrates sold. Yet future revenue expansion will be found, management believes, in paying attention to packaging and marketing. In the same session, Douglas pointed out that the drive to the smaller, higher-margin packaging, such as the 8.5-oz. aluminum contour bottle and the 7.5-oz. "mini" can, has partially offset the decline of the company's core 12-oz. cans and 2-liter plastic bottles.
These innovations in how Coke presents its beverages are apparently demand-driven, as Douglas used the example of how smaller packages "recruit" customers -- in particular, moms -- who "want to treat their kids, but they don't want them to have too much, they want them to be in control."
The slimming formula: asset lightThus, volume doesn't necessarily have to climb if revenue can still increase, propelled by tinier packages with higher price points. The shrinking can of a Coke is a neat metaphor for a more global shift in Coca-Cola's strategy.
That is, the company increasingly sees itself as more of a marketing organization than a manufacturer. In the company's second quarter 2015 earnings conference call this summer, CEO Muhtar Kent declared the following: "We've found that disciplined quality marketing investments drive growth better than any other strategy or action."
Indeed, if you look at Coca-Cola's recent actions -- from accelerating its handover of bottling operations to its bottling partners, to trimming headcount, to investments in alternate beverage brands such as organic juice maker Suja Life-- it's clear the company wants to be a leaner organization, which unlocks the value in brands versus simply moving product.
Put another way, Coca-Cola foresees a higher return on capital by investing in greater marketing spends, packaging innovation, and emerging brands than it does in brute force volume growth through its own manufacturing capabilities.
Coca-Cola executives are quick to highlight that scaling up marketing, alongside Coke's $4 billion productivity program, is already resulting in a higher level of fiscal performance. CFO Kathy Waller, who also attended the Morgan Stanley conference, illustrated this phenomenon in the following slide:
Source: Coca-Cola.
Some of this cash flow efficiency arises from the company's recent focus on optimizing working capital. But it's also the result of Coke's changing economic approach. The message that Coke wants to underline is that its slimming formula is delivering tangible progress -- you just can't see it clearly since foreign currency translation keeps taking significant chunks out of revenue and earnings each quarter.
Indeed, in the very same session, Waller gave an update on foreign currency impacts for the fourth quarter of 2015. Coke's chief financial officer now projects a 7% headwind on net revenue and an 11% drag on income before taxes -- a percentage point worse on each count than guidance issued on the company's third-quarter call last month. At the moment, currency effects are drowning out a potentially persuasive argument about Coke's evolving business model.
The article The Coca-Cola Co. Tries a Slimming Formula originally appeared on Fool.com.
Asit Sharma has no position in any stocks mentioned. The Motley Fool owns shares of and recommends PepsiCo. The Motley Fool has the following options: long January 2016 $37 calls on Coca-Cola, short January 2016 $43 calls on Coca-Cola, and short January 2016 $37 puts on Coca-Cola. The Motley Fool recommends Coca-Cola. Try any of our Foolish newsletter services free for 30 days. We Fools may not all hold the same opinions, but we all believe that considering a diverse range of insights makes us better investors. The Motley Fool has a disclosure policy.
Copyright 1995 - 2015 The Motley Fool, LLC. All rights reserved. The Motley Fool has a disclosure policy.