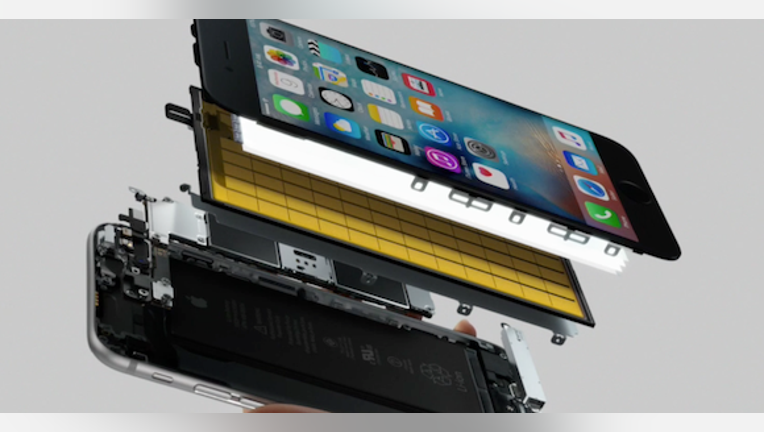 Image source: Apple.
If you read through Apple's (NASDAQ: AAPL) blockbuster lawsuit against Qualcomm (NASDAQ: QCOM), there's quite a bit of animosity toward how Qualcomm conducted its business with Apple over the years. This was not a pleasant relationship -- at least according to Apple.
Instead, this relationship was skewed significantly in favor of Qualcomm, and there wasn't a whole lot that Apple could do since the iPhone fundamentally relies on cellular connectivity. This is easily the only time that Apple has not had the upper hand with a supplier relationship. Look no further than Apple's own negotiating tactics with now-defunct GT Advanced to see how hard Apple could squeeze its suppliers. Yet Qualcomm was able to become the most powerful Apple supplier ever.
This story has at least a decade of history that you need to know to fully appreciate why Apple felt desperate enough to sue. "I've always hated litigation and I continue to hate it," said CEO Tim Cook in 2014, so we know Apple isn't trigger-happy when it comes to suing. The Mac maker simply had enough. Note that what follows is largely Apple's side, as laid out in the complaint. Qualcomm will of course offer a different perspective.
That being said, let's start from the beginning.
2007: Apple introduces the original iPhone
Much of Qualcomm's patent portfolio is considered essential to cellular standards that enable modern mobile devices to connect to cellular networks, which is the foundation of its licensing business. Standards-essential patents (SEPs) must be licensed to anyone, including competitors, at fair, reasonable, and non-discriminatory (FRAND) rates.
Apple initially sourced baseband modems from Infineon, which was subsequently acquired by Intel, for the first four years. Even before Apple ever bought its first Qualcomm baseband, it had to pay licensing fees indirectly through its contract manufacturers. Apple attempted to negotiate a direct license with Qualcomm, but was unable to, according to its complaint:
As a way to get relief on excessive royalties, Apple entered into a "Marketing Incentive Agreement" with Qualcomm in 2007 that prohibited it from marketing WiMAX devices, an emerging 4G standard that would compete with LTE -- and which Qualcomm lacks meaningful patents for. Obviously, if Apple can't market a device, it won't make said device. While this was before Apple became a major player in the smartphone market, this agreement certainly contributed to WiMAX's death.
It was around 2007 that Qualcomm allegedly stopped licensing its SEPs to rivals, and began charging separately for licenses. This violated the patent exhaustion doctrine of patent law.
2008: Turmoil in the baseband market
In January, Analog Devices exited the baseband market by selling its baseband business to MediaTek for $350 million in cash. MediaTek was one of the few remaining baseband companies.
In October, Freescale announcedthat it was discontinuing all mobile chips, including basebands, RF transceivers, and more.
2009: Joint ventures, negotiations, and regulatory actions
Ericsson and STMicroelectronics formed a joint venture, ST-Ericsson, in order to target the mobile market, including basebands, among other chips.
Knowing that it wanted to eventually release an iPhone that could connect to CDMA networks, Apple started to lay the foundation of procuring baseband chipsets from Qualcomm in the near future. Incredibly, Apple was unable to get Qualcomm to commit to its supply requirements, a standard ask of prospective suppliers. On the contrary, Qualcomm specifically retained the right to withhold chips as leverage.
During this year, Qualcomm also found itself subject to regulatory investigations in both Japan and South Korea over its shenanigans.
Note that this 2009 Korea Fair Trade Commission (KFTC) fine is separate from another one that the KFTC just imposed a few weeks ago.
2011: Apple launches the iPhone on Verizon, and Qualcomm's exclusivity begins
This was a big one. In many ways, this was the year that Apple fully got into bed with Qualcomm, largely because Verizon's 3G network uses CDMA instead of GSM. As the largest U.S. carrier, it was an important strategic move for Apple ahead of the scheduled end of AT&T exclusivity. Fully aware of this, Qualcomm flexed its licensing muscles:
Qualcomm's exclusivity in supplying all baseband chipsets began in 2011. Seeking relief from excessive royalties, Qualcomm gave Apple rebates that were contingent upon, among other things, exclusivity. We're talking about billions of dollars:
This exclusivity ended just a few months ago, with Intel coming on board as a second supplier. The timing of this lawsuit is surely not a coincidence.
NVIDIA announced in May that it is acquiring Icera's baseband and RF assets for $367 million, with the hopes of both addressing the baseband market as well as integrating cellular connectivity into its new Tegra line of mobile chips.
2012: Bye, TI
After deciding to exit the baseband market four years prior, Texas Instruments continued its plannedexit of the mobile chip market. TI discontinued its OMAP applications processors, and kept ratcheting down its baseband business.TI had still been making baseband for a few prominent customers, but now planned to wind them down completely by year's end.
2013: Another agreement, another exit, and another regulatory investigation
Apple kicked off 2013 with a new Business Cooperation and Patent Agreement (BCPA) that took effect on the first day of the year. This was simply an agreement intended in part to provide royalty relief. This BCPA also had the provision that Apple could not instigate or induce any regulatory investigations, although Apple was allowed to cooperate if approached.
In other words, Apple didn't even wait a full month following the BCPA's expiration to file suit.
Ericsson and STMicroelectronics decided to dissolve the ST-Ericsson joint venture, with Ericsson taking over baseband modem products. It would exit soon.
Broadcomagreedin September to acquire the 4G LTE assets from Japan-based Renesas for $164 million.
China's National Development and Reform Commission (NDRC) began its anti-monopoly investigation in November.
2014: Even more regulatory investigations
Broadcom announced in June that it wouldformally exitthe baseband market, and would attempt to sell its baseband assets. The company expected to save $700 million in annual operating expenses as a result. CEO Scott McGregor would later saythat Broadcom was losing $2 millionper dayby trying to compete in the baseband market. Of the initial 2,500 estimated layoffs, McGregor said 500 employees were able to find other positions at Broadcom, but 2,000 workers were let go.
No wonder companies kept exiting the baseband modem market. Image source: Intel Investor Meeting 2014.
Both the U.S. Federal Trade Commission and the European Commission opened their own investigations, commencing in September and October, respectively.
Apple attempted yet again to negotiate a direct license, knowing that several agreements would expire in less than two years. It was unsuccessful.
Roughly a year and a half after ST-Ericsson's dissolution, Ericsson also bailed on basebands, cutting 1,000 jobs in the process.
2015: Qualcomm makes peace with China, attempts to with Apple
In February, Qualcomm settled with China's NDRC and negotiated a rectification plan. The company paid the $975 million fine in full and agreed to modify its business practices in the Middle Kingdom. Qualcomm began charging royalty rates of 5% for 3G CDMA and WCDMA devices, including multimode devices that use both 3G and 4G. 4G devices that do not use CDMA fetch 3.5%. In both cases, that percentage is levied on a royalty base of 65% of the device's net selling price. Qualcomm offered these terms to Apple, but Apple rejected them, not believing that the offer was consistent with FRAND.
Four years after acquiring Icera's baseband assets, NVIDIA announced in May that it would wind down its Icera baseband operations, conceding defeat to Qualcomm.
Marvell announced a "significant restructuring" of its mobile platform, also bailing on mobile chips like basebands and applications processors. Annualized operating expense savings were estimated at $170 million to $220 million; Marvell laid off 17% of its employees.
The European Commission sentQualcomm two formal Statements of Objection in December based on its preliminary conclusions that "the company may have illegally paid a major customer for exclusively using its chipsets and sold chipsets below cost with the aim of forcing a competitor out of the market." Well, now we know who that major customer is, although Apple wasn't named at the time.
2016: The end of exclusivity
Apple approached Qualcomm once again in February looking for a direct license. During discussions, Qualcomm disagreed on which patents may or may not be in fact essential, and the company removed a public list of its patents from its website.
Qualcomm's exclusivity as Apple's baseband supplier ended in the spring.
The KFTC requested information from Apple, and Apple testified to the KFTC in August. Less than a month later, Qualcomm retaliated by withholding the quarterly Q2 rebate payment outlined by the BCPA that Apple had earned as of June 30 but wasn't due to be paid until September. Qualcomm hasn't paid the subsequent two quarterly payments, either. The $1 billion that Apple is seeking comprises three quarterly payments.
2017: Back to the future
That more or less brings us up to speed with how Qualcomm extracted exclusivity from Apple, which was a key factor in pushing out rivals. Apple is by far the largest purchaser of stand-alone modems, and missing out on that business was utterly fatal for rivals' baseband ambitions. In Apple's words:
No other Apple supplier in history has been able to wield such power over the Cupertino company. The key differentiator was Qualcomm's massive patent portfolio, combined with its willingness to disregard industry norms as well as its own FRAND licensing commitments. Perhaps more importantly for Apple going forward, there will probably never be another supplier with this much power ever again.
10 stocks we like better than Apple When investing geniuses David and Tom Gardner have a stock tip, it can pay to listen. After all, the newsletter they have run for over a decade, Motley Fool Stock Advisor, has tripled the market.*
David and Tom just revealed what they believe are the 10 best stocks for investors to buy right now... and Apple wasn't one of them! That's right -- they think these 10 stocks are even better buys.
Click here to learn about these picks!
*Stock Advisor returns as of January 4, 2017
Evan Niu, CFA owns shares of Apple. The Motley Fool owns shares of and recommends Apple, Nvidia, and Qualcomm. The Motley Fool has the following options: long January 2018 $90 calls on Apple and short January 2018 $95 calls on Apple. The Motley Fool recommends Intel and Verizon Communications. The Motley Fool has a disclosure policy.