The Chevy Bolt EV Gets Off to a Strong Sales Start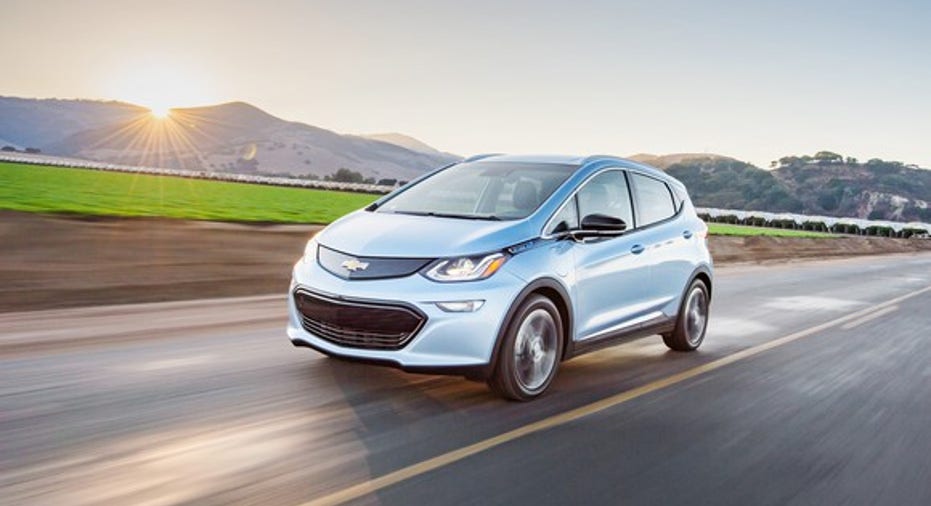 Tesla(NASDAQ: TSLA) CEO Elon Musk has talked about creating an affordable electric car for more than a decade. That car -- the Model 3 -- is finally taking shape. Test production could begin within the next few weeks, and Tesla hopes to begin mass production this summer. Meanwhile, hundreds of thousands of potential customers have put down $1,000 refundable deposits to reserve a place in line.
However, General Motors (NYSE: GM) has beaten Tesla to the punch with its own affordable electric car, the Chevy Bolt. The 2017 Chevy Bolt went on sale in December and is selling quite well so far. It may not match the Model 3 in terms of total sales, but the Bolt is on its way to becoming a key part of GM's vehicle lineup.
A bolt from the blue
Tesla has been talking up the Model 3 -- at least conceptually -- for a very long time. A few years ago, it set 2017 as a target for beginning production.
Tesla still hopes to start delivering the Model 3 sedan later this year. Image source: Tesla Motors.
Thus, most industry observers were shocked when GM showcased the Bolt concept car in early 2015 and then quickly confirmed that it would go into production with an on-sale date of late 2016. This allowed the Chevy Bolt to make it to market before the Model 3.
The Chevy Bolt offers an impressive EPA-estimated 238 miles of range. It has a starting price of $37,495 and is eligible for a $7,500 federal tax credit. (Some states, including California, offer additional tax credits.) Furthermore, most reviews of the Bolt have been quite positive and have confirmed that the advertised 238-mile range holds up in real-world driving conditions.
Strong sales out of the gate
The first Chevy Bolts arrived on dealer lots in December. GM dealers delivered 579 Bolts to customers that month. In January, availability improved modestly and sales doubled to 1,162 units.
That may not seem like much compared to the nearly 200,000 vehicles GM dealers delivered in the U.S. during January. However, the Bolt is only available in two states so far: California and Oregon. (To be fair, electric vehicles are particularly popular in those states.) Furthermore, inventory remains extremely low, with Chevy Bolts spending just seven days on dealers' lots on average.
GM plans to gradually roll the Chevy Bolt out to more states over the course of this year. It will be available in most West Coast and Northeast markets by the spring, with nationwide availability scheduled for September.
The Chevy Bolt will be available nationwide by September. Image source: General Motors.
Considering the strong initial demand for the Bolt, sales could far exceed anything the plug-in hybrid Chevy Volt has managed over the last six years. In 2016, GM delivered 24,739 Volts, which was a new record for the model.
A key piece of the puzzle
The Chevy Bolt is likely to remain a relatively low-volume model for GM. However, as the company's first fully electric car, it could prove to be very important for the General.
First, even if it isn't as cool as Tesla's Model 3, the Bolt may serve as a halo car for the Chevrolet brand, improving its image among environmentally conscious consumers and bringing more people into dealerships.
Second, if the Chevy Bolt sells relatively well, it will help General Motors meet the EPA's aggressive fuel economy targets in the coming years. Full-size trucks and SUVs generate the lion's share of GM's profit and will continue to do so. However, in order to continue churning out those gas-guzzlers, GM also has to produce some fuel-efficient vehicles. With a 119 MPG-equivalent rating, the Bolt goes a long way in this regard.
Third, some states -- most notably, California -- require automakers to buy zero-emission vehicle credits if they don't produce enough electric vehicles. The Chevy Bolt should reduce or eliminate GM's need to buy these ZEV credits from rivals like Tesla. (Not surprisingly, the Bolt will be available in all 10 states on the ZEV credit system by May.)
It's still early in the rollout of the Chevy Bolt. However, so far, everything seems to be going to plan. As a General Motors shareholder, I will be paying close attention to the Chevy Bolt's sales trend as availability improves during the course of 2017.
10 stocks we like better than General MotorsWhen investing geniuses David and Tom Gardner have a stock tip, it can pay to listen. After all, the newsletter they have run for over a decade, Motley Fool Stock Advisor, has tripled the market.*
David and Tom just revealed what they believe are the 10 best stocks for investors to buy right now... and General Motors wasn't one of them! That's right -- they think these 10 stocks are even better buys.
Click here to learn about these picks!
*Stock Advisor returns as of February 6, 2017
Adam Levine-Weinberg owns shares of General Motors. The Motley Fool owns shares of and recommends Tesla. The Motley Fool recommends General Motors. The Motley Fool has a disclosure policy.