The Boeing 777 Gets a Big Boost From Iran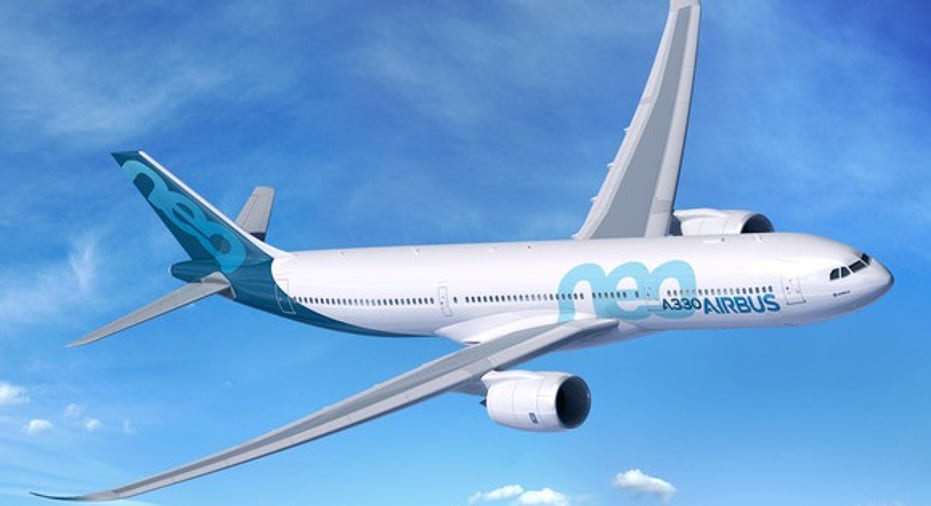 In January, the U.S. and its allies began lifting economic sanctions on Iran, after the International Atomic Energy Agency verified that Iran was complying with its nuclear obligations. Since then, one of Iran's main goals has been to replace its commercial aircraft fleet, which is thoroughly obsolete.
Iran quickly struck a deal with Airbus in late January to buy 118 jets spanning all of Airbus' aircraft families. The deal for 45 narrow-bodies and 73 widebodies is worth $27 billion at list prices. (That said, discounts of 50% or more are quite common for large orders.)
Iran plans to buy more than 100 planes from Airbus. Image source: Airbus.
Boeing was slower to engage with Iran, perhaps due to political concerns. However, the two parties have been discussing an aircraft deal for several months. On Tuesday, the two sides finally announced a tentative agreement for about 100 Boeing airplanes.
Important opportunities in this market
Iran's commercial aircraft fleet currently consists of about 250 planes. That makes it a relatively small market for Boeing and Airbus, which each plan to churn out about 900 planes annually by the end of the decade. By comparison, there are thousands of commercial airplanes operating in large markets like the U.S. and China.
However, because of Iran's economic isolation since the 1979 revolution, it hasn't been able to buy new planes for many years. Iranian officials estimate that 230 of the 250 commercial airplanes in Iran need to be replaced as soon as possible. Iran is interested in buying 400-500 new airplanes, including growth opportunities,in the coming years.
This makes Iran a very enticing market in the near term. Order volumes have been slowing at both Boeing and Airbus recently, largely because airlines collectively have more than 10,000 new planes scheduled for delivery over the next 10 years. Iran is one of the few markets where there is ample demand for new airplanes right now.
Widebody orders are particularly important
During a recent sales trip to Iran, Boeing offered its 737 single-aisle jet as well as the 777 and 787 widebodies. The tentative agreement covers planes from the upcoming 737 MAX family as well as the 777-300ER and the next-generation 777-9X.
To Boeing, 777 orders are far more important than 737 orders, as the latter model has a massive backlog. By contrast, Boeing has fewer than 200 firm orders remaining for the current-generation 777. Boeing needs to bring in 40 to 50 orders per year over the next several years to fill the remaining delivery slots until production switches over to the 777X around 2020. Year to date, Boeing has won only 12 firm orders for the 777 family.
Orders for Boeing's 777 family have slowed in recent years. Image source: Boeing.
Boeing and Iran Air haven't revealed the exact mix of models covered by their tentative agreement. The good news is that Iran seems particularly interested in buying widebodies and is looking to get new planes as soon as possible. That could help Boeing fill some of its remaining 777 delivery slots for 2017 and 2018, which is the company's most critical priority.
Political and economic challenges ahead
Even though Boeing and Iran have a tentative agreement, there's no guarantee that it will stick. Airbus and Iran still haven't finalized their sales agreement; they are waiting for export licenses from the U.S., which are needed due to the high proportion of U.S.-made parts. (Airbus expects to get those licenses later this month.)
If anything, Boeing faces even bigger hurdles due to the deep enmity between the U.S. and Iran. Many U.S. lawmakers and special-interest groups are vehemently opposed to American companies doing business with Iran. Hard-line factions in Iran are equally suspicious of the U.S.
This means that even a small shift in the political winds could cause an aircraft deal with Iran to unravel. Additionally, anti-money-laundering controls related to Iran remain extremely strict. Most banks are very wary of providing financing to Iran, which could make it impossible for airlines there to pay for new planes.
Thus, there are more stumbling blocks here than would be the case in a typical aircraft deal. However, Boeing needs to reel in as many 777 orders as possible. That makes it worth jumping through a lot of hoops and taking on some extra risk in this case.
The article The Boeing 777 Gets a Big Boost From Iran originally appeared on Fool.com.
Adam Levine-Weinberg owns shares of Boeing. The Motley Fool has no position in any of the stocks mentioned. Try any of our Foolish newsletter services free for 30 days. We Fools may not all hold the same opinions, but we all believe that considering a diverse range of insights makes us better investors. The Motley Fool has a disclosure policy.
Copyright 1995 - 2016 The Motley Fool, LLC. All rights reserved. The Motley Fool has a disclosure policy.