The Biggest Threat to Baytex Energy Corp Stock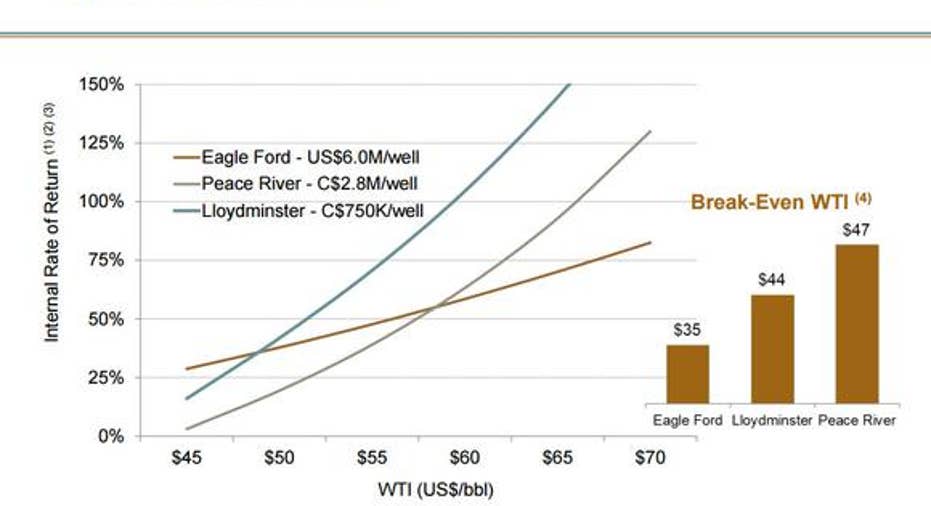 Image Source: Flickr user Thank you for visiting my page.
The collapse of crude oil prices is having a significant impact on Baytex Energy's current operations. The oil price is currently so low that it has forced the company to shut down uneconomic oil wells in addition to ceasing drilling activities in two of its core areas. Because of the deep impact low oil prices are having on the company it is the greatest threat facing Baytex.
Turning off the pumpsThe current commodity price environment is so challenging at the moment that some of Baytex Energy's oil wells were actually losing money. That left the company no choice but to shut-in wells that were delivering very low and in some cases negative margins, with the company having shut-in 7,500 barrels of oil production per day during the first quarter. That's a large chunk of its production coming offline, with it representing 8.8% of the company's average production in 2015.
While Baytex Energy wasn't the only Canadian oil and gas producer that was forced to shut-in production due to weak oil prices, it did have one of the higher shut-in rates among its peer group. For example, troubled peer Penn West Petroleum projected that it would shut-in up to 4,000 barrels of oil equivalent per day during the first quarter because of challenged economics. In addition to that, Penn West Petroleum estimated that it would need to defer repair and replacement projects in some of its non-core fields and this could result in another 2,500 barrels of oil equivalent per day coming offline. That said, these combined shut-ins only represent 7.5% of Penn West Petroleum's average production from 2015. Meanwhile, Pengrowth Energy had only shut-in 1,000 barrels of oil equivalent production due to challenged economics. That represented a mere 1.4% of full-year production in 2015.
Shutting down the rigsNot only is a larger percentage of Baytex Energy's production currently threatened by very weak oil prices, but the company's drilling economics are very threatened as well. In fact, based on the projected forward oil price in 2016, the company has decided not to invest any capital into its two heavy oil developments this year. As such, it will forgo drilling a dozen wells at its Peace River development and two dozen wells at Lloydminster.
The reason it chose to defer these investments is because they wouldn't make much, if any, money based on the current break-even points of those two plays. As the slide below shows, both plays need oil to be over $44 a barrel just to break-even, let alone deliver an acceptable economic return:
Source: Baytex Energy Investor Presentation.
That being said, the company is still able to drill economic wells in the Eagle Ford Shale, which is a play it will continue to develop in 2016 with plans to bring 30 wells online. However, the company has reduced the pace of development due to weaker oil prices, with its initial plans having been to bring 35 to 40 wells online this year.
Still, the fact that it is drilling any wells this year does put it ahead of Pengrowth Energy, which isn't planning on drilling a single well in 2016. Instead, it's just trying to survive the year and generate enough cash flow to help pay down its 2017 debt maturities. Penn West Petroleum, likewise, won't be drilling any new wells this year, instead it's only investing to complete the wells it started last year as it tries to preserve as much cash as possible to weather the current storm.
Investor takeawayThe biggest threat Baytex Energy is facing right now is coming from weak oil prices. Not only has it forced the company to shut down a substantial number of legacy wells, but it has had to stop drilling in two of its core plays as well as slow the pace of growth in its other core play. The concern is that if oil starts collapsing again, more of Baytex Energy's wells and drilling rigs will need to be shut down, which could have a grave impact on its financial situation.
The article The Biggest Threat to Baytex Energy Corp Stock originally appeared on Fool.com.
Matt DiLallo has no position in any stocks mentioned. The Motley Fool has no position in any of the stocks mentioned. Try any of our Foolish newsletter services free for 30 days. We Fools may not all hold the same opinions, but we all believe that considering a diverse range of insights makes us better investors. The Motley Fool has a disclosure policy.
Copyright 1995 - 2016 The Motley Fool, LLC. All rights reserved. The Motley Fool has a disclosure policy.