The Biggest Threat to Ambarella Stock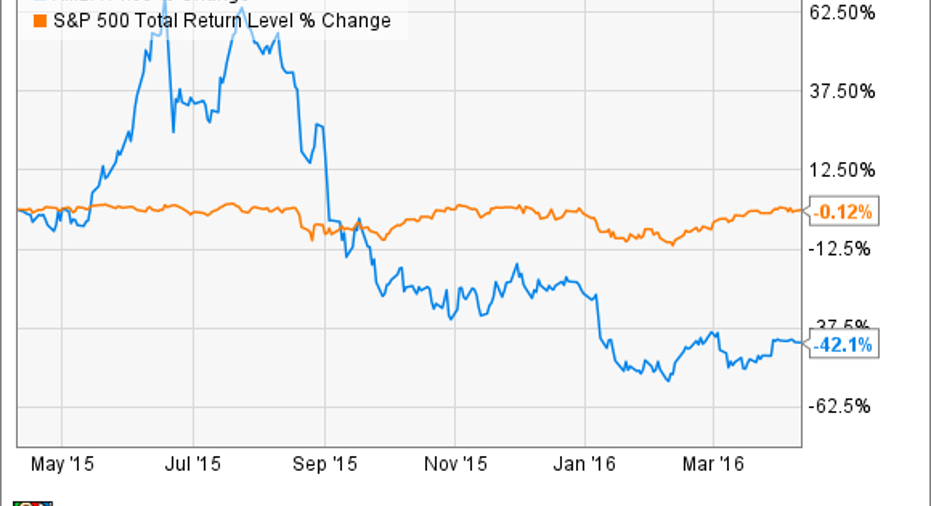 If the stock performance of late for Ambarella is any indication, investors are obviously worried for the video processing chip specialist's future. Ambarella shares have fallen more than 40% over the past year, including a 21% decline so far in 2016, and also sit 66% below their 52-week-high set last June -- all as the broader market has stayed relatively flat over the same period:
In Ambarella's most recent quarterly report last month, the main culprit of its under-performance was a familiar one: Continued declines and high inventories in the wearable sports camera market held back Ambarella's overall results, almost completely offsetting solid growth from its remaining segments including IP security, automotive aftermarket, home monitoring and flying cameras (i.e. drones).
That raises the question: What is the biggest threat to Ambarella stock today?
An honorable mentionGiven this perspective, it's tempting to say Ambarella's biggest threat is the potential demise of key customer GoPro . After all, GoPro effectively dominates the wearable camera segment that's causing Ambarella so much pain right now. And the action camera company previously represented as much as 30% of Ambarella's total revenue. So if GoPro continues to stumble, it seems to follow that so, too, will Ambarella.
However, I don't think GoPro is Ambarella's biggest problem at this point. To be sure, during Ambarella's most recent conference call, CFO George Laplante was forthright with analysts that actual demand from GoPro had already fallen to the low-single digits as a percent of Ambarella's total revenue. As a result, Ambarella management wisely opted to take a conservative approach to forecasting shipments into the wearable camera segment until visibility there improves. What's more, Morgan Stanley analyst Joseph Moore further backed up this view by upgrading shares of Ambarella just over a week ago, stating the business has "bottomed" and suggesting it we might expectzeroshipments to GoPro this quarter and the next given inventory overhang.
While GoPro's decline has certainly hurt Ambarella's performance, then, at this point it seems wearable camera segment weakness is all but priced in. Put another way -- and given Ambarella's relative strength elsewhere -- it should be all uphill from here.
The looming threatRather, I think Ambarella's single biggest threat is competition. More specifically, Ambarella is not only facing more intense competition from chip supplier Qualcomm of late in higher-end products, but also from high-volume, low-priced chip providers.
Ambarella's flying camera SoC, Image credit: Ambarella
That's not to say Ambarella isn't holding its own. In fact, regarding the latter, Ambarella CEO Fermi Wang reminded analysts during the company's latest earnings conference call that they've spoken to "many, many Chinese and Taiwanese semiconductor houses [that have] tried to compete with [Ambarella] on the low-priced side." And while Ambarella has remained competitive on both the high and low end sides, the threat of competition is par for the course.
But what about recent reports that Qualcomm has ramped its efforts to steal market share from Ambarella customers -- notably those describing Qualcomm's efforts to find a home inside GoPro's cameras and its impending new Karma drone?
According to Wang, Qualcomm actually began trying to compete in earnest with Ambarella -- with solutions that still ship in the majority of drone solutions today -- on the drone side two quarters ago. What's more, Wang noted Ambarella is fully aware that Qualcomm is "talking" to its primary camera solution customers.
However, Wang also elaborated, "[W]e still don't see [Qualcomm] making much progress with camera solutions. In fact, we still believe that their current ad processor base solution is quite behind in video quality, compression efficiency, power consumption, video features, and performance."
Regarding drones, Wang also elaborated,
To that end, keep in mind Qualcomm did reveal late last year it had plans to enter the drone SoC market, causing Ambarella stock to plunge as a result. But as it stands -- at least from Ambarella management's perspective -- Ambarella's continued focus on innovation has allowed it to sustain an edge over these competing solutions for now. And with fierce competition ever-present in its niche, you can bet even as they maintain that edge Ambarella isn't taking Qualcomm's impending entry into its key markets with a grain of salt.
Nonetheless, I still think competition remains the single most significant threat to Ambarella right now -- if not only in the form of stolen market share outright, but also from pressured margins if competitors manage to narrow the technological moat it has built with other "good enough" solutions. So while Ambarella's competitive position remains solid right now, investors would be wise to keep a close eye on this threat going forward.
The article The Biggest Threat to Ambarella Stock originally appeared on Fool.com.
Steve Symington has no position in any stocks mentioned. The Motley Fool owns shares of and recommends Ambarella, GoPro, and Qualcomm. Try any of our Foolish newsletter services free for 30 days. We Fools may not all hold the same opinions, but we all believe that considering a diverse range of insights makes us better investors. The Motley Fool has a disclosure policy.
Copyright 1995 - 2016 The Motley Fool, LLC. All rights reserved. The Motley Fool has a disclosure policy.