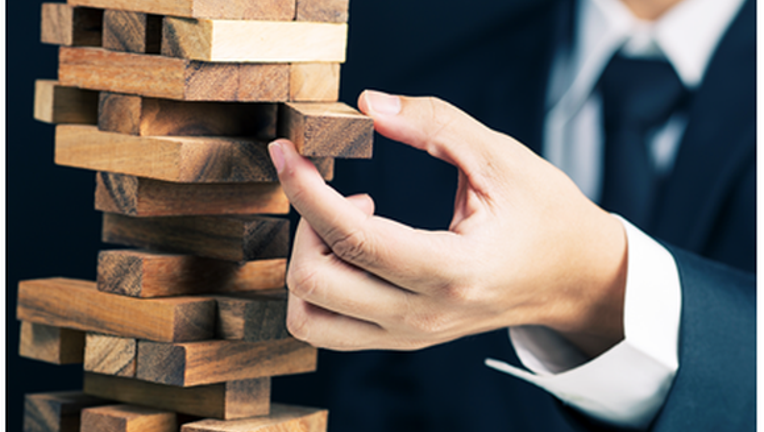 It's tempting to think that LendingClub's (NYSE: LC) business model carries much less risk than a traditional bank. This is because Lending Club is a marketplace lender, meaning that it doesn't typically make loans with its own capital and thereby sidesteps credit risk, the scourge of banking.
But there's a problem with this assumption. Namely, banks don't tend to fail because of credit risk, but rather because of liquidity risk, which is something that LendingClub can't hide from, as it recently learned.
Image source: Getty Images.
When it comes to banks, liquidity risk is the risk that depositors will learn something concerning about a bank and then withdraw their money from it en masse. This is what's known as a bank run.
In 2008, for instance, hedge funds that held balances at Bear Stearns started to fear that the investment bank was overexposed to the subprime mortgage market. Those institutions turned the fear into a self-fulfilling prophecy by frantically emptying their accounts at Bear Stearns, starving it of the funds it needed to finance its assets.
"For the first time, a major investment bank that was well-capitalized and apparently fully liquid experienced a crisis of confidence that denied it not only unsecured financing, but short-term secured financing, even when the collateral consisted of agency securities with a market value in excess of the funds to be borrowed," then-SEC Chairman Christopher Cox said at the time.
Something very similar to this happened at LendingClub in the wake of a scandal that led to the departure last year of its founder and then-CEO Renaud Laplanche.
Here's how LendingClub explained what happened in the risks section of its latest quarterly filing with the SEC:
There are two things to note here. The first is the point about "a number of investors that account for, in the aggregate, a significant amount of investment capital on the platform, have paused their investments in loans through the platform."
This is a bank run -- albeit a modern-day, low-level variation on the theme. The only difference is that the "investors" aren't pulling their funds from LendingClub's balance sheet but instead from its marketplace.
This difference aside, the impact will be the same, as LendingClub itself acknowledges later in the same section of its quarterly filing: "Failure to attract investor capital on reasonable terms may result in the Company having to use additional capital to invest in loans or reduce origination volume."
The second thing to note is that one of LendingClub's two responses to an incident like this is to, as it notes, assume credit risk by using capital on its balance sheet to finance loans made in its marketplace. This isn't good because it changes the risk profile of LendingClub, and not for the better.
The other response is to slow down loan originations, which also isn't good when you consider that LendingClub makes money from fees each time a loan is originated.
The point here is that LendingClub's success and survival, just like that of a traditional bank, is ultimately predicated on trust. The risk that it violates that trust is thereby the biggest risk to the online marketplace's business model.
10 stocks we like better than LendingClubWhen investing geniuses David and Tom Gardner have a stock tip, it can pay to listen. After all, the newsletter they have run for over a decade, Motley Fool Stock Advisor, has tripled the market.*
David and Tom just revealed what they believe are the 10 best stocks for investors to buy right now... and LendingClub wasn't one of them! That's right -- they think these 10 stocks are even better buys.
Click here to learn about these picks!
*Stock Advisor returns as of February 6, 2017
John Maxfield has no position in any stocks mentioned. The Motley Fool has no position in any of the stocks mentioned. The Motley Fool has a disclosure policy.