The Biggest Problem With Summit Midstream Partners, LP Stock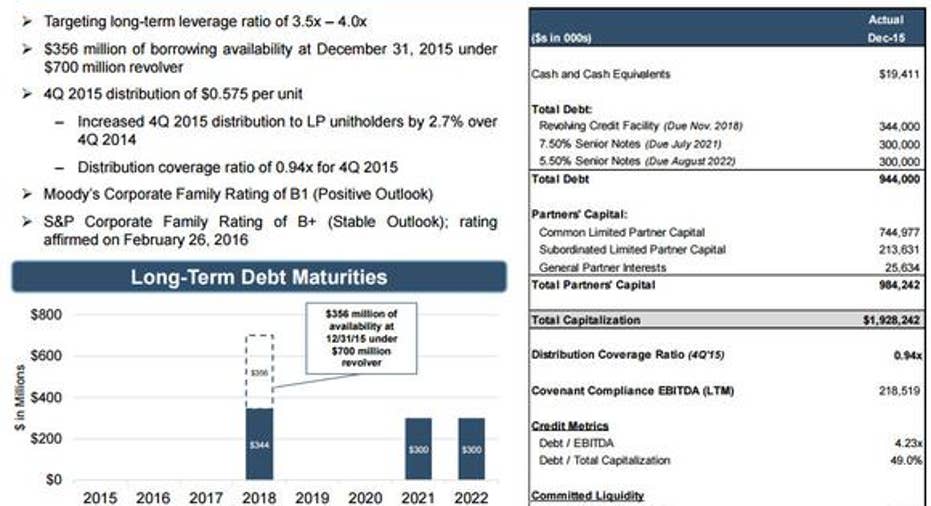 Summit Midstream Partners bills itself as a growth-oriented midstream MLP and since its IPO in early 2012, it has done just that growing its distribution by 44%. Having said that, when looking ahead its growth doesn't appear that it will be quite as robust as it had been in the recent past. That's because not only has its biggest historical source of growth dried up, but it also lacks the financial flexibility to fund growth going forward, which is a big problem for a growth-oriented company.
The final dropdownEarlier this month, Summit Midstream Partners closed the final drop down transaction between itself and its parent company Summit Investments, which has now dropped down all of its operating assets to the MLP. As the following slide shows, these dropdown transactions have represented a significant portion of the capital the MLP has invested to grow over the past couple of years.
Source: Summit Midstream Partners investor presentation.
Going forward, the company only expects to invest $150 million to $200 million per year on growth, which is well below what it has invested in the past and will likely mute it's ability to grow its distribution going forward. That being said, $400 million to $500 million of the organic growth capex it intends to invest through 2019 came via assets acquired from this most recent drop down transaction, so it wouldn't have much, if any, organic growth if it wasn't for this transaction. Further, all that growth can be funded with internally generated cash flow as well as borrowing under its credit facility, which has eliminated its need to access the capital market for the foreseeable future and is expected to improve its credit metrics over time.
Walking a tightropeIt's actually a good thing that the company doesn't have a glaring need to access the capital market at the moment, because that market is pretty much closed off to MLPs right now. That's one reason why Summit Midstream basically wrote an IOU to its parent in order to fund the bulk of its recent drop down transaction, with only $360 million of the $1.2 billion transaction being funded at closing, with the remaining amount due in 2020 and payable in either cash or Summit Midstream units. The reason the transaction needed to be structured this way is because Summit Midstream Partners' unit price has been cut in half over the past year making it impossible to issue equity at a favorable price, while its balance sheet, which is noted on the slide below, is on the weaker side limiting its ability to access the credit market.
Source: Summit Midstream Partners investor presentation.
There are two metrics on that slide worth noting. First, the company's current debt-to-EBITDA ratio stands at 4.23, which is above the company's long-term leverage target of 3.5 to 4.0, thus limiting its ability to borrow without stretching itself too thin. Further, the company's credit rating is B+/B1, which is not only well below investment grade, but thought to be highly speculative. As such, the company would pay a much higher interest rate and receive less favorable terms when it borrows money than investment grade-rated entities, which eats into Summit's projected returns.
Energy midstream companies will go out of their way to protect an investment grade credit rating because having access to cheap debt and favorable terms is so important given the need these companies have for cash to fund growth projects. Take energy infrastructure leader Kinder Morgan , which put protecting its investment grade credit rating above maintaining its dividend. Kinder Morgan chose to slash its dividend 75% last year and internally fund the entirety of its near-term capex budget after one of its credit rating agencies warned that its credit rating was at risk of being downgraded into junk territory. That's something Kinder Morgan couldn't afford to let happen because it relied on its open access to the credit markets to provide it with the flexibility to inexpensively fund growth. Needless to say, for a sub-investment grade company like Summit, it needs to improve its credit metrics in order to obtain more favorable access to the credit market.
Investor takeawayThe biggest problem with Summit Midstream Partners is that the growth-oriented MLP doesn't have a robust growth pipeline now that it has completed the drop down deals with its parent. That lack of a visible growth pipeline, as well as the company's limited financial flexibility because of a sub-investment grade credit rating, could limit its ability to grow its distribution in the years ahead. That's not to say it won't be able to overcome these obstacles, but it is something investors need to watch closely because it could really hinder this growth-oriented MLP's ability to actually grow.
The article The Biggest Problem With Summit Midstream Partners, LP Stock originally appeared on Fool.com.
Matt DiLallo owns shares of Kinder Morgan andhas the following options: short January 2018 $30 puts on Kinder Morgan and long January 2018 $30 calls on Kinder Morgan. The Motley Fool owns shares of and recommends Kinder Morgan. The Motley Fool has the following options: short June 2016 $12 puts on Kinder Morgan. Try any of our Foolish newsletter services free for 30 days. We Fools may not all hold the same opinions, but we all believe that considering a diverse range of insights makes us better investors. The Motley Fool has a disclosure policy.
Copyright 1995 - 2016 The Motley Fool, LLC. All rights reserved. The Motley Fool has a disclosure policy.