The Biggest Problem With Kratos Defense & Security Solutions Inc. Stock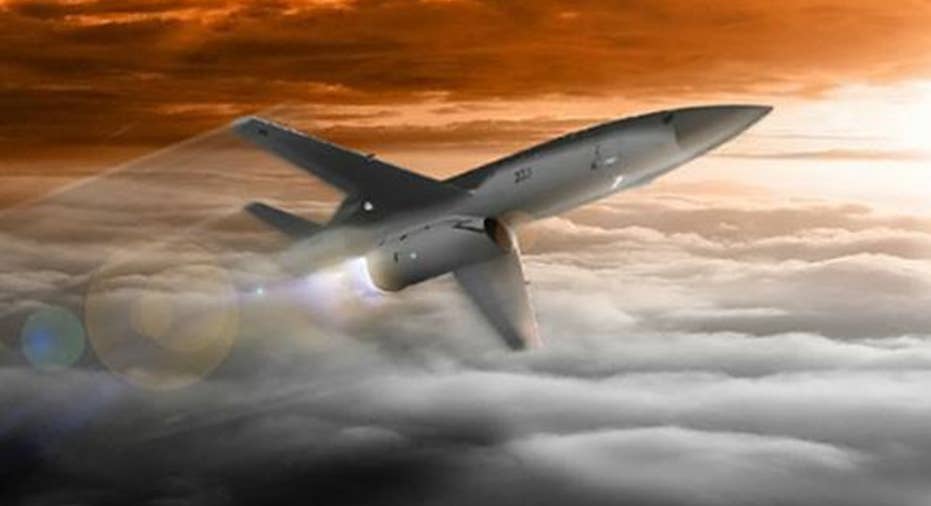 Drones are the future for the U.S. Air Force, so if you want to invest in the future of defense, you pretty much have to own the stocks of companies that do drones. One of the most promising plays on this future, in my estimation, is Kratos Defense & Security , a tiny U.S. defense contractor that's making great strides in combat-capable drone aircraft.
And yet there's a big problem with investing in Kratos, too.
ARTIST'S DEPICTION OF UTAP-22 IN FLIGHT. IMAGE SOURCE:KRATOS DEFENSE.
Kratos's biggest opportunity...As we discussed late last year, Kratos Defense is well on its way to developing an unmanned aerial combat vehicle capable of unseating General Atomics as the Pentagon's go-to drone supplier. It's called the UTAP-22, and it's a subsonic (Mach 0.9), 20-foot-long turbojet powered warbot with a 10-foot wingspan, able to fly at altitudes up to 50,000 feet. According to Kratos, this fighter is stealthy enough to operate in a "hostile environment," and fast enough to keep up with manned fighter jets operated by the Air Force in combat.
...comes at a high costMost amazing of all, Kratos has developed the UTAP-22 entirely on its own, without funding support from the Department of Defense -- but this success came at a cost.
Granted, at first glance things look to be going well for Kratos. It has a new drone to sell, and it's getting good publicity for its role in developing the Navy's new Laser Weapon System (LaWS) as well. And on the financial side of things, Kratos came back from a string of four consecutive money-losing quarters to report a $20 million profit in 2015 -- no mean feat, given that revenues have been falling for three straight years.
But dig a bit deeper into the financial statements, and what do you find? As revenues have declined, so too has cash generation. From a high of $54 million collected in 2012 (the most Kratos generated this side of the millennium), operating cash flow has plunged deeply into the red, and hit negative $27 million last year. Meanwhile, capital spending -- presumably tied to the UTAP-22 project -- surged to $11 million last year, and averaged more than $13 million annually over the past four years.
According to data from S&P Global Market Intelligence, Kratos' free cash flow (operating cash flow minus capex) currently sits below negative $38 million. And with no money coming in but plenty going out, cash reserves have fallen to just $28 million. Long-term debt is $444 million, so net debt is now $416 million -- more than 150% of Kratos' market capitalization.
Kratos' biggest bomb is a time bombWhy is this a problem? For one thing, it's a debt load unlike anything you'll find elsewhere in the defense industry. Rival Textron Inc. , for example, which makes the Shadow drone, has a debt load just 27% the size of its market cap (about one-sixth Kratos' debt burden). With interest rates finally beginning to rise, time is running out for Kratos to monetize its investment in UTAP-22 and LaWS, resume generating cash, and start paying off its debts.
Problem is, that may be easier said than done.
Why? Textron provides a good example. Like Kratos, Textron poured millions of dollars into developing a (manned) fighter jet essentially on spec. It's been nearly three years since Textron unveiled its Scorpion fighter jet, though, and Textron still hasn't managed to sell any. To date, the entire investment in Scorpion has yet to yield a penny in revenue.
Luckily for Textron, it has a light debt load, steady revenues, and growing profitability -- all factors that will ensure it stays in business even if the Scorpion doesn't pan out. An expensive investment in what remains, to date, a dud product will not be fatal to the company.
Burdened by debt, and currently unable to generate cash to pay it off, Kratos may not be so lucky.
The article The Biggest Problem With Kratos Defense & Security Solutions Inc. Stock originally appeared on Fool.com.
Rich Smithdoes not own shares of, nor is he short, any company named above. You can find him onMotley Fool CAPS, publicly pontificating under the handleTMFDitty, where he's currently ranked No. 278 out of more than 75,000 rated members.The Motley Fool has no position in any of the stocks mentioned. Try any of our Foolish newsletter services free for 30 days. We Fools may not all hold the same opinions, but we all believe that considering a diverse range of insights makes us better investors. The Motley Fool has a disclosure policy.
Copyright 1995 - 2016 The Motley Fool, LLC. All rights reserved. The Motley Fool has a disclosure policy.