The Biggest Problem With CVR Energy, Inc. Stock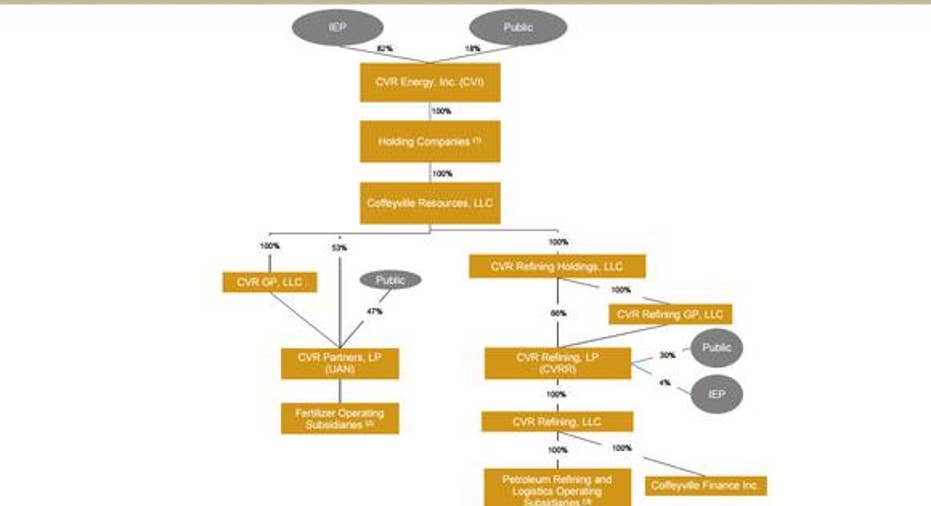 CVR Energy is an interesting energy company. Unlike most in the sector, it actually stands to benefit from low oil and gas prices because it uses those commodities as feedstocks in its petroleum refining and nitrogen fertilizer plants. Further, it structures the ownership of those assets via publicly traded partnerships: CVR Refining and nitrogen fertilizer producer CVR Partners . That said, unlike more traditional midstream MLPs, both of these companies are exposed to the volatility of both commodity prices and volumes, which leads to a lot of cash flow fluctuation. That is a big problem for the company because it causes huge swings in its own profitability, putting the stability of its dividend in question.
It's a complex relationshipCVR Energy is primarily a holding company that controls the general partners and a substantial amount of the outstanding units of CVR Refiningand CVR Partners. That said, its actual organizational structure is much more complex:
Image source: CVR Refining Investor Presentation.
While this structure appears similar to a traditional general partner/master limited partner relationship, there's one key difference. CVR Energy doesn't own the incentive distribution rights of its partnerships, which typically fuel huge sums of cash into the parent company's coffers. Instead, its only income stream is the distributions from its partnerships, which can be quite volatile because they're set up to pay variable distributions based on the prior quarter's distributable cash flow.
A rough fourth quarterThat volatility was abundantly clear in the fourth quarter of 2015. Due to turnaround activities at one of CVR Refining's two refineries, as well as lower realized refining margins, the company's refining partnership reported an adjusted net loss of $4.3 million, or $0.05 per share. That's well below the $24 million, or $0.28 per unit in profit it reported in the year-ago quarter. Because of that weak quarter, CVR Refining did not declare a fourth-quarter distribution to its unit holders. That's a huge difference from the prior quarter when the company's distribution was a very generous $1.01 per unit.
While that was the first time since its IPO the company failed to declare a quarterly distribution, it's far from the only time the payout varied from quarter to quarter:
CVRR Dividend data by YCharts.
Meanwhile, the company's fertilizer segment, operated via CVR Partners, also had a rough fourth quarter, with its adjusted EBITDA slumping 15% to $28.5 million. That weakness, caused by lower pricing and lower sales volume, led to the company reducing its distribution by 34% over what it paid in the fourth quarter of last year to $0.27 per unit. Given that CVR Energy owns 53% of those units, it was entitled to received 53% of the cash flow that was distributed, which, as mentioned, was 34% less than would have been received in the year-ago quarter. As such, the company endured a one-two punch after one partnership didn't declare any cash distribution, while the other cut its payout by more than a third.
The problem with this volatility is that this cash flow fluctuation impacts CVR Energy's ability to maintain its dividend. Unlike its partnerships, which pay variable distributions based on recent cash flow, CVR Energy has traditionally paid a fixed dividend each quarter. However, after the poor end to 2015, CVR Energy only earned $1.95 per share for the year while it paid out $2.00 per share in dividends. In paying out more than it earns, it calls into question the company's ability to continue to maintain its current dividend rate. That uncertainty is one reason its stock has sold off by 33% this year, causing its dividend yield to spike above 7% in a sign that investors don't think the payout can be maintained at its current level going forward.
Investor takeawayUnlike most energy general partners, CVR Energy doesn't own incentive distribution rights to stable income-producing pipeline and processing assets. Instead, its assets are more directly exposed not just to commodity price volatility, but to volume fluctuations. That causes a lot of volatility within its own cash flow, putting its ability to maintain its dividend in question. It's something investors need to keep in mind before banking on this currently high-yielding stock, because that payout might be cut if the income it receives from CVR Refining and CVR Partners keeps dropping.
The article The Biggest Problem With CVR Energy, Inc. Stock originally appeared on Fool.com.
Matt DiLallo has no position in any stocks mentioned. The Motley Fool has no position in any of the stocks mentioned. Try any of our Foolish newsletter services free for 30 days. We Fools may not all hold the same opinions, but we all believe that considering a diverse range of insights makes us better investors. The Motley Fool has a disclosure policy.
Copyright 1995 - 2016 The Motley Fool, LLC. All rights reserved. The Motley Fool has a disclosure policy.