The Big Reason Behind Celgene Corporation's 13% Year-to-Date Tumble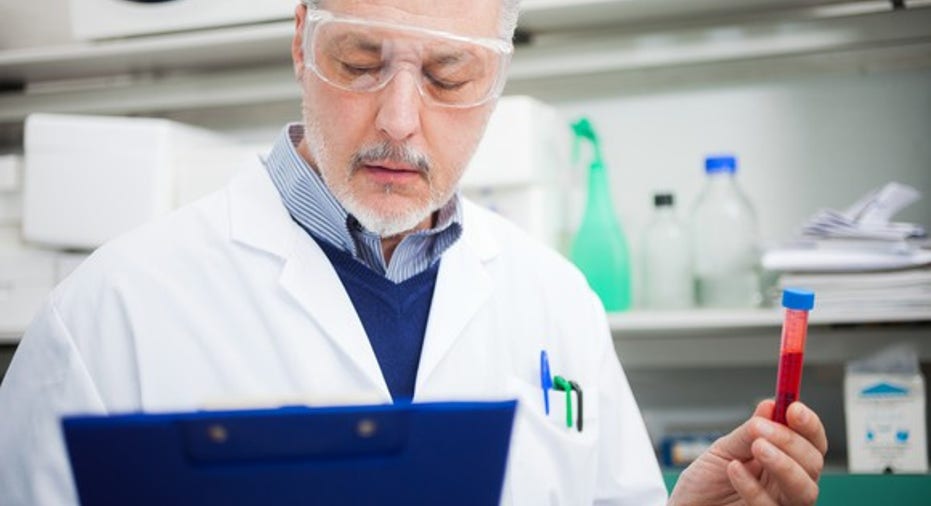 Image source: Getty Images.
What: Shares of Celgene , a biotech blue-chip stock primarily focused on oncology, immunology, and inflammatory-related diseases, has plunged 12.8% year-to-date according to data from S&P Global Market Intelligence. The cause of the plunge appears to squarely be placed on growing oncology competition.
So what: In late April, Celgene announced its first-quarter results, which came with an unexpected surprise: lowered guidance. The drug developer, which has become a mainstay for double-digit growth thanks to blockbuster cancer drug Revlimid, wound up surpassing Wall Street's tepid Q1 EPS estimates and even upped the low-end of its 2016 full-year sales and profit guidance. Yet, the company lowered its 2017 full-year guidance from a previous range of $13 billion to $14 billion in sales and $7.25 in EPS to a fresh range of $12.7 billion to $13 billion in sales and $6.75 to $7 in full-year EPS. Wall Street was none too pleased with the guidance reduction.
Image source: Celgene.
At the heart of Celgene's new projections is dramatically slower growth for cancer drug Abraxane, which it acquired when it purchased Abraxis BioScience in 2010. Abraxane was first approved as a treatment for advanced breast cancer, but it has gained approval for advanced non-small cell lung cancer and advanced pancreatic cancer since Celgene's acquisition.
Unfortunately for Celgene, the solid tumors that Abraxane targets are the prime targets of new cancer immunotherapies. Cancer immunotherapies work by suppressing cancer's ability to hide from the immune system, while also supercharging the immune system to fight cancer cells. In clinical studies, immunotherapies have been handily outperforming most standards of care, and it's likely we're seeing Abraxane's sales stagnate as a result. Nonetheless, sales of the drug could trudge higher to hit $1 billion this year.
Now what: The drug likely responsible for Abraxane's recent struggles is Opdivo, an immunotherapy developed by Bristol-Myers Squibb that's already approved to treat metastatic melanoma, second-line advanced NSCLC, and second-line renal cell carcinoma. Bristol-Myers' Opdivo is being explored in dozens of solid tumor studies, and it's quite possible off-label use is taking place and displacing Abraxane.
Image source: Bristol-Myers Squibb.
Now here's the good news: Bristol-Myers and Celgene are also working on a number of early stage studies that combine Opdivo with Abraxane. Immunotherapies have been generally shown to work better as a combination therapy, so if Abraxane proves to be effective in combination with Opdivo (or some other immunotherapy), the drug could have new life.
Beyond Abraxane, Celgene has been delivering exciting growth from blockbuster Revlimid, which is benefiting from more multiple myeloma diagnoses, longer periods of use, sustained market share, and drug pricing power. Sales of multiple myeloma drug Pomalyst and oral anti-inflammatory drug Otezla has been rising nicely, too.
Additionally, Celgene's more than 30 ongoing collaborations give it a way to outsource some of its research and development costs to its partner companies, while throwing development and regulatory milestone payments at only the most promising therapies.
With the company appearing to be on track for its 2020 goal of at least $21 billion in sales and $13-plus in full-year EPS, I'm inclined to suggest that this year-to-date dip presents an intriguing buying opportunity for long-term investors.
The article The Big Reason Behind Celgene Corporation's 13% Year-to-Date Tumble originally appeared on Fool.com.
Sean Williamshas no material interest in any companies mentioned in this article. You can follow him on CAPS under the screen nameTMFUltraLong, and check him out on Twitter, where he goes by the handle@TMFUltraLong.The Motley Fool owns shares of and recommends Celgene, and has the following options: short October 2016 $95 puts on Celgene. Try any of our Foolish newsletter services free for 30 days. We Fools may not all hold the same opinions, but we all believe that considering a diverse range of insights makes us better investors. The Motley Fool has a disclosure policy.
Copyright 1995 - 2016 The Motley Fool, LLC. All rights reserved. The Motley Fool has a disclosure policy.