The Best Way to Invest in Mobile Gaming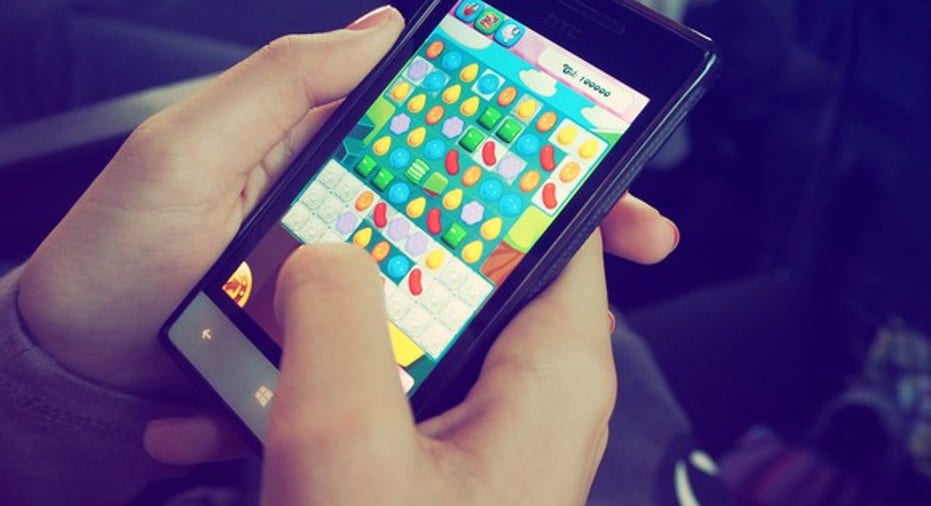 The growth of smartphones and tablets over the last decade has been a boon to the video game industry. Mobile gaming is now a key driver of growth for the gaming industry, and this presents a great opportunity for investors interested in video game stocks.
As with many industries, there are winners and losers in mobile gaming, so investors need to be careful if they wish to pursue this area for investment. Let's take a look at the impact mobile gaming is having, and then we'll take a look at the best options investors have to benefit from this fast-growing market.
Mobile gaming is a big business
SuperData Research reported the mobile gaming market reached $40.6 billion in worldwide revenue in 2016, an increase of 18% over 2015.According to another report fromNewzoo, mobile game sales represent 37% of the revenue generated in the video game industry.Digital and physical PC/console game sales combined still control the majority of revenue in the game industry, but this won't last long as mobile continues to grow in the double-digits, while PC and console sales are growing less than 5% annually.
Engagement levels on mobile games is higher than streaming video services.IMAGE SOURCE: PIXABAY.
The key players in mobile gaming
The two dominant mobile platforms where game apps are distributed are Apple's iOS and Google'sAndroid. As of September 2016, Apple and Google were the fifth and eighth largest game companies by revenue, respectively.According to Newzoo, Apple generated $4.2 billion from game apps downloaded on its App Store, and Google generated $2.7 billion from Android games.
These would be great choices for investors looking to ride the wave of mobile gaming growth, but the revenue these tech juggernauts generate from game apps is peanuts relative to Apple and Google's total annual revenue.
Then there are the mobile game developers, which is the purest way to invest in mobile gaming. But once again, there's a problem.
Glu Mobile (NASDAQ: GLUU) and Zynga (NASDAQ: ZNGA) are two notable mobile game developers that are publicly traded, but the first one cannot earn a profit, and the second hasn't demonstrated it can grow consistently.In addition, some mobile game developers are either not publicly traded, or are traded on foreign exchanges, making it difficult for U.S.-based investors to own a decent mobile game stock.
Some of the best-managed mobile game companies have been acquired by major game publishers, which brings me to what I believe is the best option.
The better way to invest in mobile gaming
The best option for investors is to consider the top game publishers:Activision Blizzard (NASDAQ: ATVI), Electronic Arts (NASDAQ: EA), and Take-Two Interactive Software (NASDAQ: TTWO). Unlike other options, these companies are indifferent to the platforms for games. The focus for these companies is making great games on whatever platform -- mobile, Virtual Reality, console, or PC -- will generate the best return on investment.
In addition, the game publishers are putting cash to work for shareholders by acquiring the best-managed, most profitable, and growing mobile game studios.
This option makes more sense for investors since the major game publishers are able to use ample cash resources to acquire the best mobile game companies that may not be publicly traded, allowing shareholders to benefit from the best-of-breed mobile studios without taking on the risk of owning a thinly traded mobile game stock that doesn't have a long track record of financial success.
Three top choices
In 2016, Activision Blizzard acquired Ireland-based King Digital Entertainment for $5.9 billion.King is the developer of top-grossing mobile games Candy Crush and Bubble Witch.The deal was highly accretive to Activision's bottom line in 2016, helping the game company increase its annual cash flow from $1.2 billion in 2015 to $2.2 billion in 2016.Activision has also released mobile versions of some of its PC/console franchises such as Call of Duty and Skylanders.
Electronic Arts and Take-Two's portion of cash flow derived from mobile games is smaller than Activision's, but still an important contributor to margins. Along with other forms of digital content sales, mobile games are freeing game publishers from the dependency of physical game sales and helping game companies expand margins in the process.
Take-Two recently announced theacquisitionof Spain-based mobile developer Social Point for $250 million. Social Point's revenue has grown 29% annualized since 2013, to $90 million, and it generated $19.9 million in operating income for 2016. This is an operating margin over 20%, whereas Take-Two reported an operating loss for the first nine months of fiscal 2017.This acquisition will not dramatically improve Take-Two's bottom line, but more acquisitions like this could be a game-changer for the company as it seeks to diversify its revenue channels.
Electronic Arts has had a solid presence in mobile for several years with a series of acquisitions including Plants vs. Zombies developer PopCap Games and Icycle: On Thin Ice developer Chillingo, which is based in the U.K.The company has also been very successful in developing mobile versions of its best-selling console franchises like Madden NFL and its FIFA soccer game. EA's revenue from mobile games grew 14% to $626 million over the trailing-12-month period.
Mobile gaming is changing the game
Americans spent more time playing a mobile game than watching streaming video on sites like Netflix and YouTube in 2016.The growth and player engagement level of mobile gaming is changing the landscape of the gaming industry. Rather than depending on physical game sales, mobile games have opened up a new source of growth and better margins for game companies.
If you are looking for a way to invest in the growth of mobile gaming without taking on high risk, consider buying shares in Activision Blizzard, Electronic Arts, or Take-Two that are able to acquire the best mobile game companies from around the world on behalf of shareholders.
10 stocks we like better than Activision BlizzardWhen investing geniuses David and Tom Gardner have a stock tip, it can pay to listen. After all, the newsletter they have run for over a decade, Motley Fool Stock Advisor, has tripled the market.*
David and Tom just revealed what they believe are the 10 best stocks for investors to buy right now and Activision Blizzard wasn't one of them! That's right -- they think these 10 stocks are even better buys.
Click here to learn about these picks!
*Stock Advisor returns as of February 6, 2017
Suzanne Frey, an executive at Alphabet, is a member of The Motley Fool's board of directors. John Ballard owns shares of Activision Blizzard. The Motley Fool owns shares of and recommends Activision Blizzard, Alphabet (A and C shares), Apple, Netflix, and Take-Two Interactive. The Motley Fool has the following options: long January 2018 $90 calls on Apple and short January 2018 $95 calls on Apple. The Motley Fool recommends Electronic Arts. The Motley Fool has a disclosure policy.