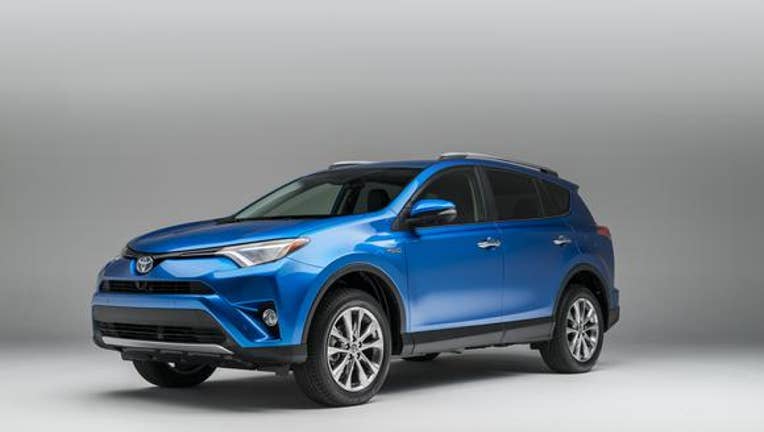 Exchange rates helped boost Toyota's bottom line in 2015. But so did big sales of crossover SUVs like the Highlander. Image source: Toyota.
2015 looks to have been a very good year for Toyota . Favorable exchange rates helped the giant Japanese automaker to very strong profits during the year. And Toyota looks set to once again win the global sales crown in 2015, with its chief global rivals General Motors retrenching in several key overseas markets and Volkswagen hobbled by a massive emissions scandal.
Toyota also pushed ahead on some key technological fronts in 2015. Here are Toyota's best headlines of the year as we saw it here at The Motley Fool:
In the quarter that ended on March 31 (Toyota's fiscal fourth quarter), Toyota generated an operating profit of $5.31 billion. That trounced GM's $2.1 billion pre-tax profit for the same period, despite the fact that GM sold almost as many vehicles as Toyota.
"Why Can't General Motors Earn Profits Like Toyota's?"
Toyota's secret? Part of it is simply that Toyota, unlike GM, isn't in the process of recovering from years of mismanagement. GM CEO Mary Barra expects to boost the company's profits significantly as it harnesses its economies of scale over the next five or six years -- but Toyota's already there.
But another secret was the weakness of the Japanese yen versus the U.S. dollar and euro. Simply put, one dollar earned in the United States buys more yen than it did a year or two ago. For Toyota, which reports its profits in yen, that has been a boon all year, as we saw in the quarter ended June 30:
"Toyota's Profits Jump on Weak Yen as Sales Drop"
And once again in the quarter that ended on Sept. 30:
"Toyota Profit Rises 14% on Exchange-Rate Windfall"
But that doesn't mean that Toyota wasn't also executing well on the fundamentals. Early in the year, I noted that while buyers at many other brands were eschewing cars in favor of SUVs, Toyota was still managing to sell plenty of sedans.
"How Toyota's (Not So) Secret Weapon Is Helping It Clobber Ford and General Motors"
That "not-so-secret weapon" was the company's ever-popular compact Corolla.
But Toyota, like rival Honda , has proven that it knows how to compete for SUV business, too. Both companies have popular car-based "crossover" SUV models that have posted big sales numbers in 2015, in the U.S. and in other markets such as China.
I took a look at that trend in July, noting that even though the two don't have big-selling full-size pickups like their Detroit rivals, both are doing well with crossovers.
"How Honda and Toyota Are Becoming Big Players in Trucks"
A refreshed RAV4 should help keep Toyota's crossover SUV sales strong into next year. Image source: Toyota.
That trend continued as the year went on, and we revisited it in October.
"Crossover SUVs Drive Big Gains for Honda and Toyota Again"
Toyota is also pushing ahead with high-tech efforts in areas that have historically been two of its strong points, safety and fuel efficiency. The company showed off its driverless-car technology in a demonstration in Tokyo in October, and let it be known that it plans to have full-blown autonomous cars available by about 2020.
"Toyota's Latest Move Toward Self-Driving Cars"
Despite remarkably low gas prices, the company's green-car efforts continued to attract attention in 2015. Its Mirai sedan, powered by a hydrogen fuel cell, represents an intriguing bet against the battery-electric technology favored by Tesla Motors and most of Toyota's big rivals.
"Why the 2016 Toyota Mirai Is a Big Bet Against Tesla Motors' Future"
The Toyota Mirai, an electric car powered by a hydrogen fuel cell. Image source: Toyota.
But Toyota hasn't abandoned its now-dominant position in traditional gasoline-electric hybrids. It's launching an all-new Prius for 2016 that might be the most fuel-efficient gasoline-powered car ever.
"Will the All-New 2016 Prius Jump-Start Toyota's Hybrid Sales?"
The new Prius is a significant product. But with gas prices so cheap, we continue to wonder whether it'll be able to revive Toyota's flagging hybrid-car sales in the near term -- or whether Toyota's loyal fans will continue to favor RAV4s and Highlanders instead. Either way, Toyota looks set for another good year in 2016.
The article The Best Toyota Motor Corporation Headlines in 2015 originally appeared on Fool.com.
John Rosevear owns shares of General Motors. The Motley Fool owns shares of and recommends Tesla Motors. The Motley Fool recommends General Motors. Try any of our Foolish newsletter services free for 30 days. We Fools may not all hold the same opinions, but we all believe that considering a diverse range of insights makes us better investors. The Motley Fool has a disclosure policy.
Copyright 1995 - 2015 The Motley Fool, LLC. All rights reserved. The Motley Fool has a disclosure policy.