The Best Tech Dividend Stocks of 2015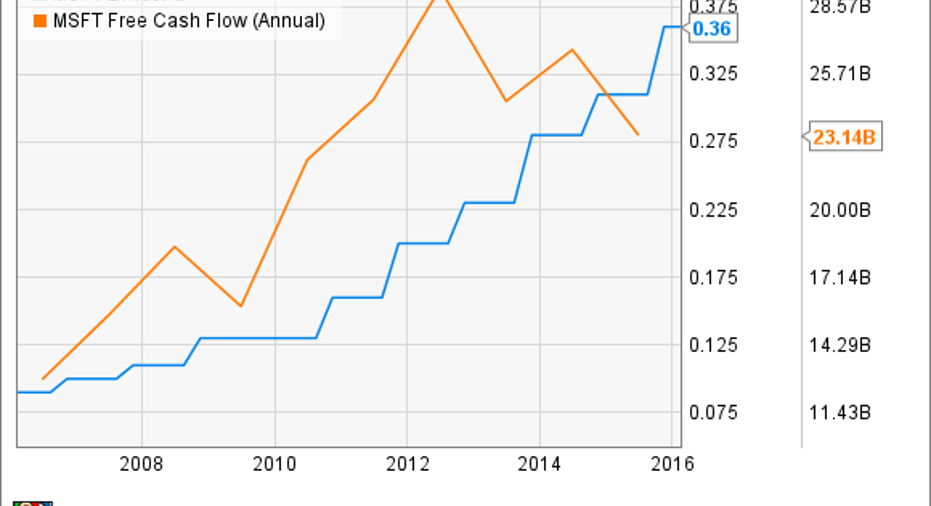 The tech sector hasn't traditionally been a hotbed of dividend-paying stocks. Generally speaking, its companies have tended to be young and capital-hungry, plowing their earnings -- assuming they have any, of course -- back into the business in order to grow.
Over the past few years, however, some of the more established tech incumbents have begun to set aside some coin for payouts to shareholders. These days, it's not uncommon for veteran techies to pay out distributions on a regular basis. The sector still isn't readily identified with income investing, yet it houses a number of fine stocks that directly reward shareholders.
Source: AcidCrow via Pixabay.
For 2015, in my opinion, the market's top three tech dividend issues were...
1. AppleOn the face of it, Apple stockholders didn't have a triumphant 2015. After seeing big gains in the early part of the year, shares traded down in the wake of diminished sales forecasts from analysts, and worries that the company is too heavily dependent on the iPhone for its success.
Although there's merit to these concerns, they obscure the enormous potential the company boasts. Sales of services are stealthily creeping upward, with some extremely promising offerings -- Apple Pay and Apple Music, for example -- still in their early years. Both have the capacity to grow much bigger, and that's only two items out of many.
On top of that, the company is still extremely cash-rich, recording $81 billion in operating cash flow in fiscal 2015 -- a meaty 36% higher on an annual basis. This gives it that much more juice to power research and innovation for new and existing products.
Meanwhile, the latest free cash flow figure of just over $70 billion easily covers the company's dividend, which it has raised consistently since relaunching its payout in 2012. The distribution yields a respectable 1.9% on the current share price, a nice little side income-earner for stock in a company that still has a very bright future.
2. MicrosoftFrom caterpillar to butterfly, Microsoft is executing well on its shift from a purveyor of expensive software, to what it terms a "mobile-first, cloud-first" enterprise. In its most recently reported quarter, the company's revenue from its cloud computing platform Azure more than doubled on a year-over-year basis. The take from its Office 365 cloud-based software suite advanced by almost 70%.
Although legacy businesses like the ill-considered purchase of Nokia's phone manufacturing operation have dragged on results, they weren't bad at all for said quarter. The adjusted bottom line slipped by 1% (to $5.4 billion) on revenue that fell 7% to just under $22 billion, yet both line items comfortably beat analyst estimates.
Meanwhile, Microsoft is pumping out cash like the geyser it's always been. During the quarter, its free cash flow pile topped $8.5 billion, which is more than many blue-chip companies amass in a full year. That gives the company plenty of scope to maintain large-scale, share-price-supporting moves like stock buybacks and, of course, its dividend, which has been paid faithfully for years.
MSFT Dividend data by YCharts.
That distribution now amounts to $0.36 per share per quarter, for a healthy and stockholder-pleasing annual yield of 2.5%, and this is on top of a robust 20% 2015 stock price rise. Microsoft's transformation from lumbering giant to spry competitor is a treat to watch. And for shareholders, lucrative to be a part of.
3. Cisco SystemsAn old dog with new tricks, Cisco Systems isn't the sleepy incumbent many investors seem to think it is.
Its less-prominent offerings are growing at encouraging rates. The best is the data center segment, which has seen significant revenue rises lately, most recently a 24% year-over-year gain in Q1 FY 2016 to nearly $860 million. Meanwhile, collaboration solutions improved by 17% to cross the $1 billion mark, and the security and wireless categories both rose by 7%. Collectively, these four lines brought in nearly one-quarter of total revenue for the period.
At the same time, the top line for Cisco's bread-and-butter category, switching, is also rising, albeit more slowly, by 5% in that latest quarter to just over $4 billion.
CSCO Net Income (Annual) data by YCharts.
The nice performance of those business units was overshadowed by the company's fairly weak guidance for the current quarter. The shares subsequently traded down, and although they've recovered they remain cheap on a price-to-earnings basis; the stock trades at a trailing-12-month P/E of under 15.
Patient investors, meanwhile, are pocketing a nice dividend while they wait for investor sentiment on the stock to improve. The yield is a comparatively high 3%, and I'll bet Cisco raises that payout early in 2016; it's done so for the past two years, and it has more than enough cash for the purpose.
The article The Best Tech Dividend Stocks of 2015 originally appeared on Fool.com.
Eric Volkman has no position in any stocks mentioned. The Motley Fool owns shares of and recommends Apple. The Motley Fool recommends Cisco Systems. Try any of our Foolish newsletter services free for 30 days. We Fools may not all hold the same opinions, but we all believe that considering a diverse range of insights makes us better investors. The Motley Fool has a disclosure policy.
Copyright 1995 - 2016 The Motley Fool, LLC. All rights reserved. The Motley Fool has a disclosure policy.