The Best Shake Shack Inc. Headlines in 2015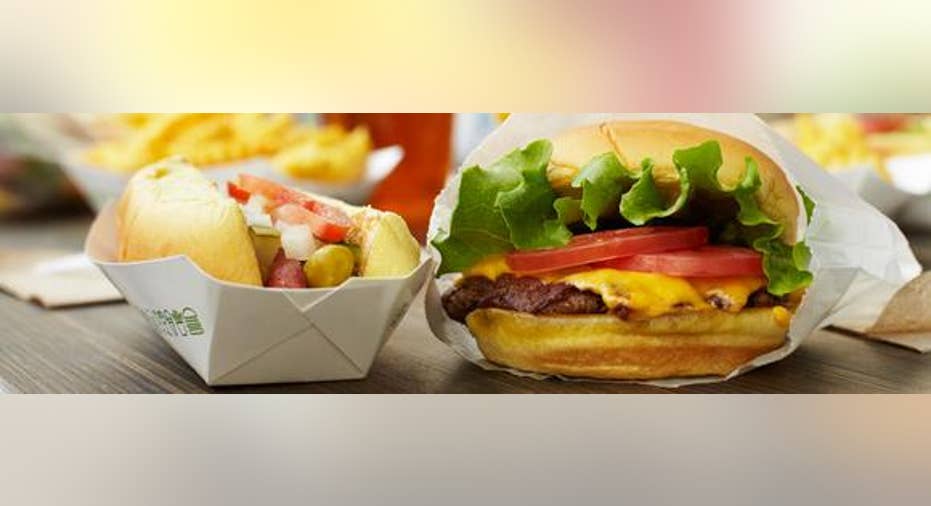 Source: Shake Shack.
It's been a wild freshman year forShake Shack . The fast-growing burger chain went public at $21 in January, nearly hit triple digits by May, and has gone on to give most of those gains back by mid-December.
There were plenty of headlines to cheer for in the "better burger" eatery's first year as a public company. Let's go over a few of the more notable bullish developments.
Jan. 29: The IPO pricesWe may as well start with the birth announcement. Shack Shack priced its offering after the market close on Jan. 29. Underwriters priced the deal at $21 a share, but the market had a rosier opinion. The stock went on to soar 119% the following day on its first day of trading. Shake Shack left money on the table.
April 21: Westward hoShake Shack is still early in its growth phase, and in April it announced that it would be opening its first unit in California. This is In-N-Out country, but singling out West Hollywood will create visibility for the brand and a great trial balloon to see if the concept can work on the west coast.
May 22: Playing chickenShares of Shake Shack would go on to hit an all-time high of $96.75 on May 22. This was the week that the market was buzzing on news that Shake Shack had taken out a Chicken Shack trademark. Some speculated that it would be rolling out a sister concept specializing in poultry, but the more logical explanation was that it was arming itself for the inevitable addition of chicken sandwiches to the menu. Surely enough, Shake Shack introduced the ChickenShack sandwich on July 7.
Sept. 1: Turning JapaneseOverseas expansion was in the cards as Shake Shack announced that it would be opening its first unit in Tokyo. This isn't its first restaurant outside of the U.S., as it has several franchisee-run locations in the United Arab Emirates. It also has a presence in London, Istanbul, and Moscow. It's still an important new market.
Nov. 15: Business is boomingComparable-restaurant sales clocked in at a modest 4.1% for all of 2014, but the pace has been accelerating since late 2014. Shake Shack came through with a monstrous 17.1% year-over-year spikein comps for the third quarter, as a well-received price increase and a healthy uptick in traffic pushed sales at the individual eatery level higher.
The article The Best Shake Shack Inc. Headlines in 2015 originally appeared on Fool.com.
Rick Munarriz has no position in any stocks mentioned. The Motley Fool has no position in any of the stocks mentioned. Try any of our Foolish newsletter services free for 30 days. We Fools may not all hold the same opinions, but we all believe that considering a diverse range of insights makes us better investors. The Motley Fool has a disclosure policy.
Copyright 1995 - 2015 The Motley Fool, LLC. All rights reserved. The Motley Fool has a disclosure policy.