The Best Realty Income Corporation Headlines in 2015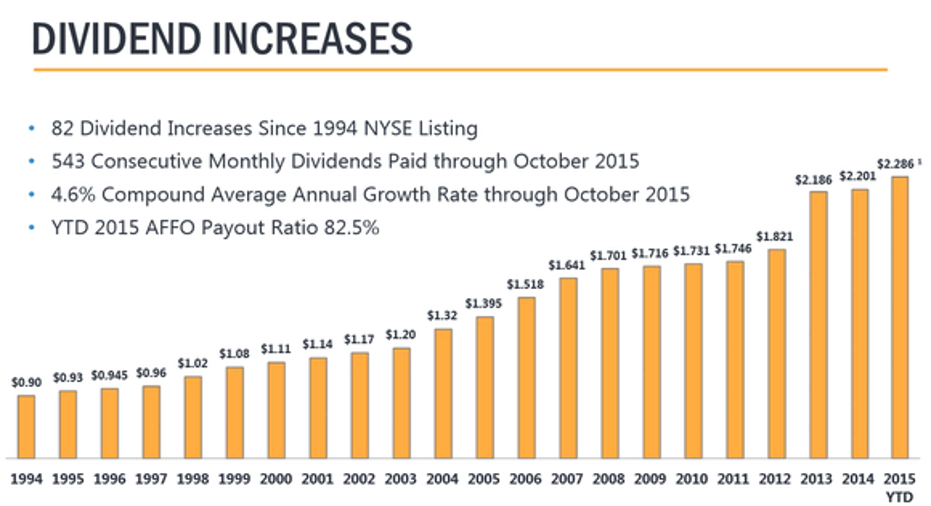 Realty Income Corporation is one of the most popular real estate investment trusts in the market, and for good reason. Known as the "monthly dividend company," Realty Income pays a juicy 4.5% dividend yield and has increased its payout 83 times since going public in 1994. Plus, shareholders have been rewarded with a 16.6% average annual return on their investment -- a remarkable level of performance to sustain for over 20 years.
This was another solid year for Realty Income, so here's a recap of some of the more notable headlines you may have missed.
Realty Income joined two prominent stock indices in 2015In 2015, Realty Income jumped into two elite groups of stocks. First, the company announced in late January that it had been added to the S&P High Yield Dividend Aristocrats Index, which consists of 99 stocks that have raised their dividends for at least 20 consecutive years. Generally, stocks in this index are regarded as great choices for income-seeking investors looking for predictable, growing dividends.
There are several REITs in this group, including healthcare giant HCP, Inc.and fellow retail property REIT National Retail Properties. Admittedly, these two beat Realty Income to the coveted 20-year mark, but neither has been able to deliver the same level of long-term performance.
Even more significantly, Realty Income was added to the well-known S&P 500 index in April, becoming one of only 24 REITs and the only net lease REIT to be included (National Retail Properties is significantly smaller than Realty Income). The S&P 500 is considered to be the best indicator of how large-cap U.S. stocks are doing, and inclusion opens Realty Income up to a share of the $7.8 trillion invested in products linked to the index.
Realty Income raised new capital and increased its available creditRealty Income has been growing rapidly, with over $1 billion in new acquisitions in each year since 2011. The challenge is to maintain this level of growth without taking on excessive debt, and to address this, Realty Income took steps to not only increase its liquidity, but also to reduce its borrowing costs.
In June, Realty Income announced it had closed a new $2.25 billion unsecured credit facility to replace its previous $1.5 billion facility. So the company has more liquidity, but it also can borrow at a lower cost. Under the terms of the new credit facility, the company has a total borrowing rate of LIBOR plus 105 basis points, 20 basis points (0.20%) less than the old facility.
Although it's nice to have access to this kind of credit, that doesn't mean it's a good idea to use it for all acquisitions. Realty Income prefers to finance much of its acquisitions with equity, rather than debt, and it completed a couple of major common stock offerings in 2015. The company sold 5.5 million new shares in April and 11.5 million shares in October, with total proceeds of $793.7 million. This was used to pay down debt from its credit facility, as well as for general corporate and working capital purposes, such as acquisitions.
Source: Realty Income
Thanks to moves like these, Realty Income has been able to maintain a conservative balance sheet, with just 28% of the company's total capitalization in the form of debt.
546 consecutive dividend paymentsAlthough it wasn't unexpected, one of the top headlines of 2015 for Realty Income shareholders came recently when the company announced yet another dividend increase. Effective as of the Jan. 15 dividend payment, Realty Income is increasing its payout for the 73rd consecutive quarter, and for the 83rd time since going public in 1994.
This will represent the company's 546th consecutive dividend payment (more than 45 years in a row) and brings the company's dividend total to over $3.8 billion in its history -- including before its IPO.
Source: Realty Income.
What's in store for 2016?I don't foresee any major surprises for Realty Income's shareholders in 2016. As I've written before, I completely expect the streak of quarterly dividend increases to continue, and I think we'll see yet another year of strong performance.
The article The Best Realty Income Corporation Headlines in 2015 originally appeared on Fool.com.
Matthew Frankel owns shares of National Retail Properties, and Realty Income. The Motley Fool has no position in any of the stocks mentioned. Try any of our Foolish newsletter services free for 30 days. We Fools may not all hold the same opinions, but we all believe that considering a diverse range of insights makes us better investors. The Motley Fool has a disclosure policy.
Copyright 1995 - 2015 The Motley Fool, LLC. All rights reserved. The Motley Fool has a disclosure policy.