The Best Marijuana Stocks in 2016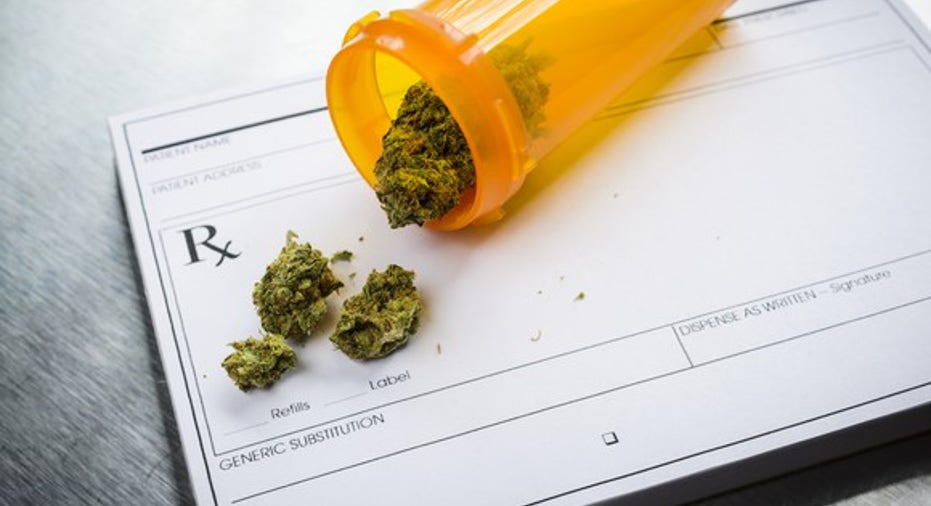 History might someday note 2016 as the year of marijuana. After the November elections, 28 states now allow use of medical marijuana. Support for legalization of the drug is at an all-time high in the U.S. As you might expect, marijuana stocks have been hot in 2016. Here's why Axim Biotechnologies (NASDAQOTH: AXIM), Corbus Pharmaceuticals (NASDAQ: CRBP), Aurora Cannabis (NASDAQOTH: ACBFF), and GW Pharmaceuticals (NASDAQ: GWPH) stood out as the best this year among marijuana stocks with market caps of at least $200 million.
Image source: Getty Images.
Hemp-based chewing gum
Not only is Axim Biotechnologies one of the best marijuana stocks of the year, it's also the best-performing biotech stock of 2016 so far. Axim's shares have skyrocketed more than 2000% year to date.
The company made less than $35 million in revenue during the first three quarters of 2016 and lost over $4.6 million during the period. So why did the stock shoot up so much? Investors were excited about the potential for Axim's hemp-based chewing gum.
Axim plans to launch its CanChew chewing gum as a food supplement in 2017. The company also intends to initiate multiple clinical studies for the chewing gum, including a trial evaluating use of the product in treatingchronic pain and spasticity in patients with multiple sclerosis.
Mid-stage success
Corbus Pharmaceuticals is another marijuana stock that also ranked among the top biotech stocks of the year. Corbus' shares have soared more than 380% year to date.
The driver behind the company's success in 2016 came from its sole pipeline candidate, Resunab. In November, Corbus announced positive results from a mid-stage study of the experimental drug in treating system sclerosis. Those results from the Resunab study were better than what the company expected.
Resunab is also the focus of two other mid-stage clinical studies. Results from a clinical trial evaluating the drug in treating cystic fibrosis are expected in the first quarter of 2017. Corbus anticipates wrapping up enrollment in another mid-stage study of resunab as a potential treatment fordermatomyositis in the second quarter of next year.
Canadian cannabis
Aurora Cannabis is one of the top medical marijuana companies in Canada. It's also one of the fastest-growing marijuana stocks of 2016, with shares up over 380%.
The company began selling medical marijuana in Jan. 2016. In just 10 months, Aurora registered 9,000 active patients. The company is now generating revenue of more than $1 million per month.
More growth could be on the way. Aurora acquired CanvaxRx, the largestmedical cannabis counseling network in Canada with more than 10,000 registered patients. The company is expanding its facilities to provide the capability to produce over 70,000 kg annually of medical marijuana. Aurora also gained approval from Health Canada earlier this year toproduce derivative cannabis products.
Quality counts
GW Pharmaceuticals' shares performed well in 2016, but the stock's year-to-date increase of over 65% pales in comparison with the gains achieved by Axim, Corbus, and Aurora. There are other marijuana stocks not mentioned in this list that also outperformed GW Pharmaceuticals. So why is the stock included among the best of the year? Because of its quality.
While Axim turned in a sizzling stock performance, the company has a grand total of six full-time employees. GW Pharmaceuticals had 369 employees in 2015. Corbus Pharmaceuticals' great mid-stage results came from a study with 33 patients. GW Pharmaceuticals reported impressive results forEpidiolex from three late-stage clinical studies, the most recent of which included 255 patients. Aurora has been in business a little over a year. GW was founded in 1998.
The bottom line is that GW Pharmaceuticals is a solid company with a track record of research and development and a promising late-stage candidate. Epidiolex could reach peak annual sales of $3 billion if approved.
Axim, Corbus, and Aurora could be big winners again in 2017. However, my view is that GW Pharmaceuticals remains the best overall marijuana stock over the long run.
10 stocks we like better than GW Pharmaceuticals When investing geniuses David and Tom Gardner have a stock tip, it can pay to listen. After all, the newsletter they have run for over a decade, Motley Fool Stock Advisor, has tripled the market.*
David and Tom just revealed what they believe are the 10 best stocks for investors to buy right now... and GW Pharmaceuticals wasn't one of them! That's right -- they think these 10 stocks are even better buys.
Click here to learn about these picks!
*Stock Advisor returns as of November 7, 2016
Keith Speights has no position in any stocks mentioned. The Motley Fool has no position in any of the stocks mentioned. Try any of our Foolish newsletter services free for 30 days. We Fools may not all hold the same opinions, but we all believe that considering a diverse range of insights makes us better investors. The Motley Fool has a disclosure policy.