The Best International Business Machines Corporation Headlines in 2015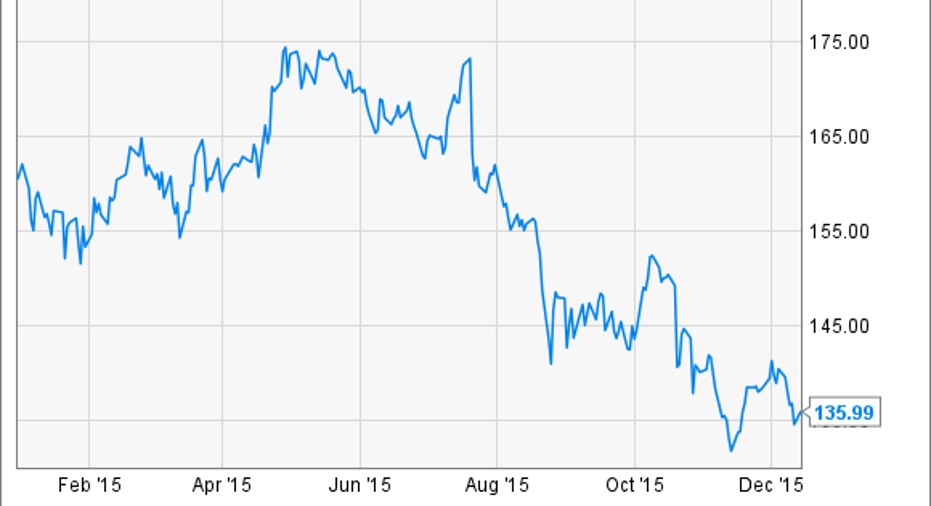 International Business Machines has had a tough year. The stock is down more than 15% year to date, revenue has declined by a double-digit percentage in each of the past four quarters, and the company's guidance for 2015 earnings is about 25% lower than the target IBM was forced to abandon in late 2014. IBM's transformation is moving slower than many analysts and investors would like to see.
Despite the challenges facing IBM, the company isn't falling apart. Much of the recent revenue declines have been due to currency fluctuations, and on an adjusted basis, IBM's sales have fallen only slightly in 2015. Amidst what seems like an unending stream of bad news, there has been plenty of good news as well. Here are three of the best IBM headlines from 2015.
A new mainframeDespite all of the changes currently going on in the world of computing, IBM's mainframe systems continue to play a critical role. Unlike commodity x86-based servers, IBM's System Z mainframes are ultra-reliable, with a mean time between failures measured in decades. The systems are built without a single point of failure, and components can be hot-swapped on the fly.
Companies ranging from financial firms such as Visa to retailers such as Wal-Martrely on IBM's mainframes to process hundreds of millions of transactions per day. Every couple of years, IBM launches a new line of mainframes, increasing the computational power and adding new features. In January, IBM announced the z13, the newest mainframe that cost the company $1 billion to develop. The z13 is capable of running 8,000 Linux virtual machines simultaneously, and it can process 2.5 billion secure transactions per day, with real-time encryption of mobile transactions built in.
IBM's mainframes, once related software and services are considered, are a major source of profits for the company. Despite IBM's ongoing transformation, which has further reduced the role of hardware in favor of software and services, the mainframe remains at the core of IBM, and it's the source of an important competitive advantage for the company.
The first OpenPOWER servers arriveBeyond mainframes, IBM also sells servers powered by its Power CPUs. Because IBM's Power systems are expensive and previously sold exclusively by IBM, Intel has essentially run away with the server CPU market, with companies building hyperscale data centers having no real option beyond Intel.
IBM is looking to get back in the game, and in 2013, the company founded the OpenPOWER foundation with a handful of other companies. The goal of the foundation is to build a hardware and software ecosystem around the Power processor, thus providing a viable alternative to Intel's x86 chips. The OpenPOWER foundation now has around 150 members, including industry heavyweights such as Google, NVIDIA, Samsung, and Micron.
IBM is allowing third-party Power servers, and even third-party Power chips, opening the door for inexpensive Power servers that can compete with Intel on price. The first third-party OpenPOWER server, from member company Tyan, was announced in March and launched a few months later. IBM also launched its own OpenPOWER Linux servers aimed at running data analytics workloads in October, and the company claims that its new servers provided 2.3 times the performance per dollar of a comparable Intel-based system.
The OpenPOWER initiative is still in its infancy, but IBM is making serious progress, and Intel certainly has something to worry about in the long run.
The healthcare moonshotOne of IBM's major initiatives is Watson, its cognitive computing system that won Jeopardy! in 2011. Since 2011, IBM has invested heavily in Watson, and one area where the company believes that Watson could make a big impact is healthcare. IBM has teamed up with a variety of organizations, including the Mayo Clinic, Boston Children's Hospital, and the Cleveland Clinic, in an effort to use Watson to draw insights from mountains of medical data and provide personalized treatment options.
IBM CEO Virginia Rometty has called healthcare IBM's "moonshot," and if the company can succeed at embedding Watson as a key tool in helping doctors diagnose and treat patients, the opportunity is enormous. Healthcare is a multitrillion-dollar industry in the United States, and IBM's Watson has the potential to be a transformative technology.
IBM has made some major acquisitions in the healthcare space, including the $1 billion purchase of Merge Healthcare in August. Merge is a leading provider of medical image handling and processing, and the acquisition gives IBM the ability to integrate Watson, allowing the system to analyze enormous quantities of medical images to more efficiently diagnose and treat patients.
IBM's aggressive push into the healthcare market is one of the most important developments of the year, and if Watson lives up to its promise, healthcare could become a major source of revenue for IBM in the future.
The article The Best International Business Machines Corporation Headlines in 2015 originally appeared on Fool.com.
Timothy Green owns shares of International Business Machines and Nvidia. The Motley Fool owns shares of and recommends Alphabet (A shares), Alphabet (C shares), and Visa. The Motley Fool recommends Intel and Nvidia. Try any of our Foolish newsletter services free for 30 days. We Fools may not all hold the same opinions, but we all believe that considering a diverse range of insights makes us better investors. The Motley Fool has a disclosure policy.
Copyright 1995 - 2015 The Motley Fool, LLC. All rights reserved. The Motley Fool has a disclosure policy.