The Best Healthcare Stocks for 2017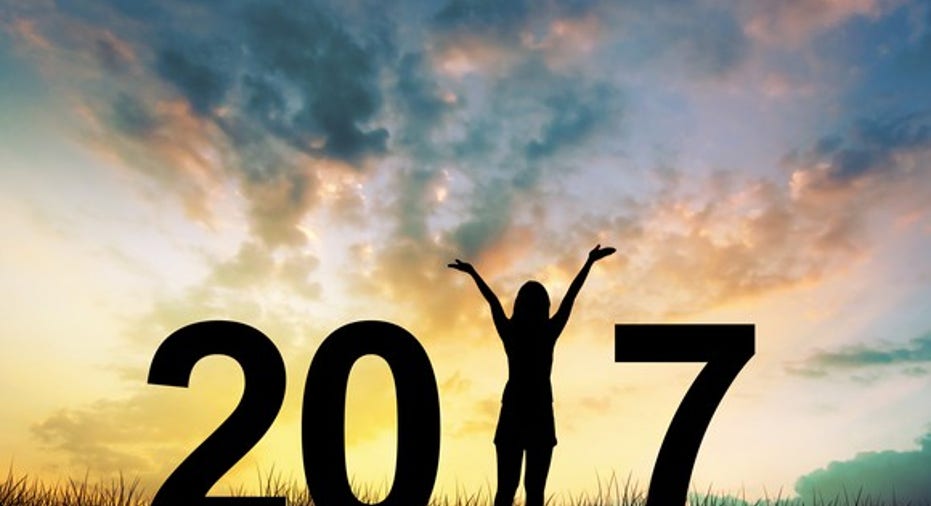 Although 2016 hasn't been the greatest year for healthcare stocks in general, another year is around the corner, and with it come new opportunities. Here's why Celgene (NASDAQ: CELG), Ligand Pharmaceuticals (NASDAQ: LGND), and UnitedHealth Group (NYSE: UNH) stand out as three of the best healthcare stocks to buy for 2017.
Image source: Getty Images.
Celgene: Strong products, a solid pipeline, and strategic partnerships
There aren't many companies with a pathway to success as compelling as Celgene's. The big biotech's revenue increased 23% year over year in the first nine months of 2016, and earnings soared 50%. Celgene looks likely to keep up its winning ways thanks to a strong product lineup and a promising pipeline.
Blood cancer drug Revlimid continues to shine. Celgene has also built on its success in the multiple myeloma indication with third-line treatment Pomalyst/Imnovid. Meanwhile, the fastest growth is coming from anti-inflammatory drug Otezla, with sales soaring nearly 147% in the first nine months of 2016 compared to the prior-year period. Although cancer therapy Abraxane isn't growing nearly as much, it still generated revenue of $707 million in the first three quarters of this year.
Celgene's pipeline includes 19 late-stage programs. Some of these are for additional indications for current drugs, in particular Revlimid and Otezla. Others, though, are newer candidates. I particularly like the prospects for ozanimod, which is in a late-stage study targeting multiple sclerosis and another study targeting ulcerative colitis, and luspatercept, which is in a couple of late-stage studies for treating blood disorders.
The list of partners in Celgene's ecosystem is also impressive. Celgene has expanded its opportunities for growth by collaborating with small and large biotechs alike. This approach is great for shareholders, because it limits Celgene's risk but still leaves significant upside.
A plethora of potential winners
Speaking of partnerships, few (if any) healthcare companies have forged as many partnering relationships as Ligand Pharmaceuticals. At last count, Ligand had over 90 partners and licensees for its drug development technologies. The list reads like a "who's who" of the biopharmaceutical world.
Ligand's business model is to license its technology platforms to other companies so that they can develop drugs more effectively. Ligand receives royalties on any sales of those drugs developed by its partners. The biotech's most successful products to date using this approach are Amgen'smultiple myeloma drug Kyprolis and Novartis' bone marrow stimulant Promacta.
There are currently over 140 programs in development using Ligand's technologies. Four await regulatory approval. Another seven candidates are in late-stage clinical studies.These programs don't have equal opportunities, though: Some could generate substantial royalty payments, while others have smaller potential.
Aside from Kyprolis and Promacta, Ligand has high expectations for roughly 18 of the drugs in development by partners. One of those is Merck's experimental Alzheimer's disease drug, verubecestat. Results are expected from a late-stage study of the drug in late 2017.
Wall Street thinks Ligand can grow earnings by 48% annually over the next five years. With its vast array of potential winners in the pipelines of multiple partners, I suspect that sort of growth is achievable.
Life after Obamacare
UnitedHealth Group didn't have to wait for the presidential election results to say goodbye to Obamacare. After several years of losing lots of money on the Obamacare exchanges, the giant health insurer announced earlier this year that it would pull out of "all but a handful" of state exchanges in 2017. The news was well-received, because it meant that UnitedHealth would soon begin improving its bottom line.
That said, UnitedHealth's bottom line wasn't exactly hurting in the first place. The company reported net earnings of over $5.3 billion in the first nine months of this year, a 16% year-over-year increase. Exiting from most of the Obamacare exchanges, though, should pad earnings even more.
It's entirely possible that UnitedHealth could benefit even more if Obamacare is repealed and replaced with something else by the incoming Trump administration and Republican Congress. A lot depends, of course, on the details. The insurer could also win if the GOP successfully moves forward with plans to implement a premium support model for Medicare.
Regardless of which way the political winds blow, UnitedHealth's primary earnings growth driver, Optum, should keep its momentum going. The health services business segment's earnings from operations during the first nine months of this year increased 40% over the prior-year period. Optum's pharmacy benefits management (PBM) business led the way with 68% year-over-year growth.
Long-term winners
Of these three healthcare stocks, only UnitedHealth has enjoyed a strong performance in 2016. Shares of the health insurer are up more than 30%, while Celgene and Ligand are down slightly year to date.
My view is that things are about to change for Celgene and Ligand -- and keep on rolling for UnitedHealth. Celgene, Ligand, and UnitedHealth should all be great healthcare stocks to own in 2017 -- and long afterward.
A secret billion-dollar stock opportunity The world's biggest tech company forgot to show you something, but a few Wall Street analysts and the Fool didn't miss a beat: There's a small company that's powering their brand-new gadgets and the coming revolution in technology. And we think its stock price has nearly unlimited room to run for early in-the-know investors! To be one of them, just click here.
Keith Speights owns shares of Celgene. The Motley Fool owns shares of and recommends Celgene. The Motley Fool recommends UnitedHealth Group. Try any of our Foolish newsletter services free for 30 days. We Fools may not all hold the same opinions, but we all believe that considering a diverse range of insights makes us better investors. The Motley Fool has a disclosure policy.