The Best Fast-Food Stocks of 2016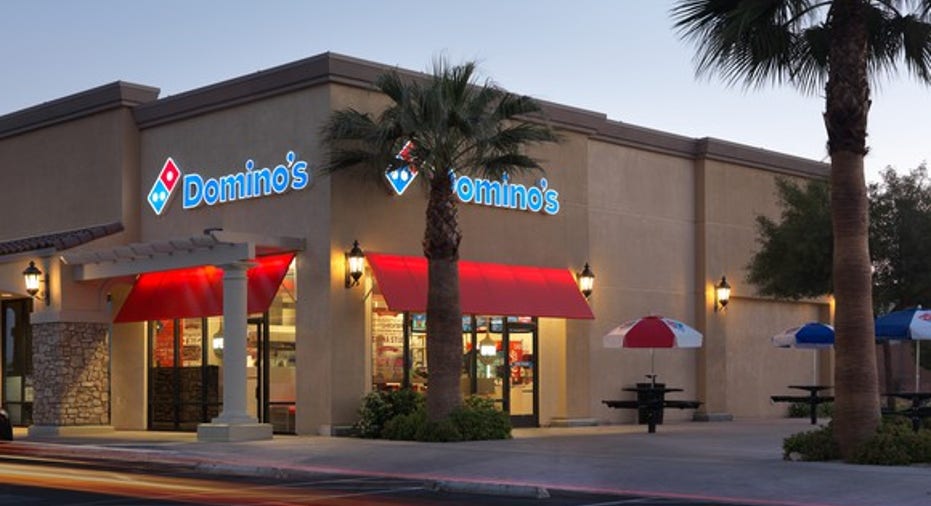 The past year has been a difficult one for restaurants. Sit-down casual chains suffered as business was siphoned off by fast-casual concepts. Meanwhile, fast casual, once the hottest segment in the industry, suffered from too much development. Diners still like those chains, but with the current level of saturation, it's going to be hard for all of them until the marketplace decides which ones are the winners, and some of the losers go away.
Fast food had its struggles as well in 2016, but four chains bucked those trends. Yum! Brands (NYSE: YUM) rode crazy innovation to keep its three brands relevant. Restaurant Brands International (NYSE: QSR) followed a similar script to improve sales at its Burger King brand while it also made inroads with coffee and doughnut chain Tim Hortons, despite a very crowded niche. The most successful fast-food chains, however, were Domino's (NYSE: DPZ) and Papa John's (NASDAQ: PZZA) as the two pizza chains seem immune to market concerns as they steadily grow in number of locations, and same-store sales.
Domino's had a very strong 2016 and shows no signs of slowing down. Image source: Domino's.
Hey, look at us!
Yum! Brands' Pizza Hut, Taco Bell, and KFC had a very simple strategy in 2016 -- do whatever it takes to get attention. That led to hot-dog-stuffed pizza crusts, even more tacos flavored like popular snack chips, and fried-chicken-infused candles, nail polish, and sunscreen.
That has been a recipe for success. Through three quarters, Yum! has seen its earnings per share (EPS) jump 12% from $2.50 to $2.79. In Q3 alone, the company saw same-store sales jump 4% at KFC and 3% at Taco Bell, while they fell 1% at Pizza Hut. The company also spun off its China operation this year, which should give it more resources to focus on the rest of the world.
Despite the ongoing struggles at Pizza Hut, Yum! saw its stock price rise steadily all year. After opening 2016 at $51.27, shares closed at $64.25 on Dec. 16, a 25% gain. That's impressive at a time when competition has become even more intense and fast-food chains must compete with higher-end fast-casual offerings.
Image source: YCharts.com.
All hail the king
RBI has brought Burger King back from its slump by focusing on innovation as well. At first, that plan involved putting bacon on sundaes and other gimmicky, but not super-successful ideas. This year, the company had a surprise hit when it mixed Cheetos and macaroni and cheese for Mac N' Cheetos. That successful rollout led to Cheetos Chicken Fries, which gave new momentum to the gimmick, and finally gave the chain a good answer to McNuggets.
Those changes, as well as continued growth from the company's Tim Hortons brand, led to a strong 2016. The company raised its total revenue slightly from $2.99 billion through three quarters of 2015 to $3.04 billion during the same nine months in 2016. More important than the small increase in sales was the fact that the company raised net income attributable to common shareholders over those periods from just over $50 million to $227 million.
That was enough to send the company's stock from a January opening of $36.51 to a Dec. 16 close of $48.51, a 32% gain. Beyond the gimmicks,RBI powered that by stronger management and cost controls as the company continues to expand.
Image source: YCharts.com.
Domino's and Papa John's can't be stopped
Americans have shown that they will never tire of mediocre, but convenient and consistent pizza. In Q3, Domino's posted its 22nd consecutive quarter of year-over-year domestic same-store sales growth, notching a 13% improvement for the period. It also had strong international numbers, gaining 6.6% in same-store sales, its 91st consecutive quarter of growth by that measure.
Papa John's does not have quite that long a streak going, but it delivered systemwide comparable-store sales increases of 5.5% for North America and 7.6% for the rest of the world in Q3. It also reported earnings per diluted share of $0.57 in 2016, an increase of 26.7% year over year.
Image source: YCharts.com.
Both companies have steadily delivered and have proven immune to headwinds against the restaurant industry. In addition, neither one seems to have lost any business to the burgeoning fast-casual pizza movement popping up around the country.
Papa John's stock opened the year at $54.97 and closed at $89.17 on Dec. 16, a 62% increase. Domino's closed on Dec. 16 at $160.04, up from $109.96 to start 2016, an almost-as-impressive 45% gain. These chains have a good-enough product that people clearly want, partly because they've made getting it very easy. That made for an excellent 2016, and there's no reason to expect matters to change in 2017.
10 stocks we like better than Yum! Brands When investing geniuses David and Tom Gardner have a stock tip, it can pay to listen. After all, the newsletter they have run for over a decade, Motley Fool Stock Advisor, has tripled the market.*
David and Tom just revealed what they believe are the 10 best stocks for investors to buy right now... and Yum! Brands wasn't one of them! That's right -- they think these 10 stocks are even better buys.
Click here to learn about these picks!
*Stock Advisor returns as of Nov. 7, 2016
Daniel Kline has no position in any stocks mentioned. He rarely eats fast food. The Motley Fool owns shares of Papa John's International. The Motley Fool is short Domino's Pizza. Try any of our Foolish newsletter services free for 30 days. We Fools may not all hold the same opinions, but we all believe that considering a diverse range of insights makes us better investors. The Motley Fool has a disclosure policy.