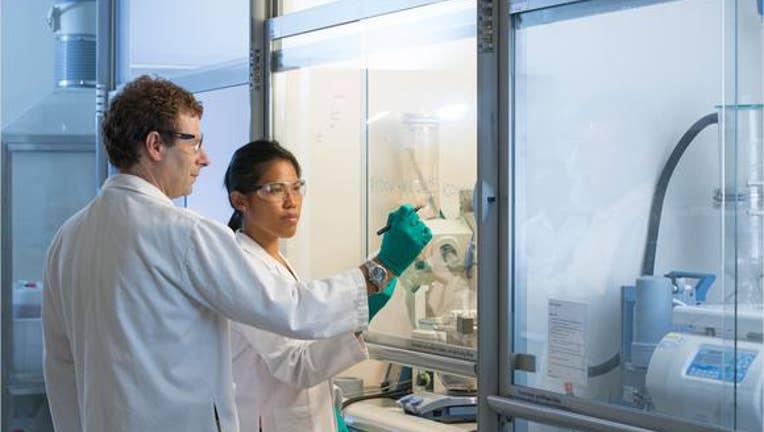 Image source: GlaxoSmithKline.
It's been roughly four weeks since U.K.-based pharmaceutical giant GlaxoSmithKline reported mixed results for the fourth quarter, and investors still aren't sure what to make of its performance.
According to the company's Q4 press release, GlaxoSmithKline generated about $9.2 billion in sales, a 2% increase on a year-over-year basis, and delivered adjusted EPS of $0.27 per share. Both figures were more or less in line with what Wall Street had been projecting. However, GlaxoSmithKline was dealt a 2% top-line reduction from adverse currency moves and witnessed its core operating profits fall by 18% to $1.98 billion.
Five things GSK's CEO wants you to know On the surface, it appeared to be another ho-hum quarter for GSK, but reading a few paragraphs in an earnings press release doesn't tell you the whole story. In order to fully understand the growth drivers and challenges facing GSK, you need to be willing to dig below the surface and analyze what GSK's leader had to say during its conference call.
With this in mind, here are the five most important points CEO Andrew Witty made during that call. (All quotes are from Witty, courtesy of S&P Global Market Intelligence.)
1. New product growth is ahead of schedule
One of GlaxoSmithKline's biggest issues has been its declining top line, which is a direct result of the expiration of the patent for its inhaled COPD and asthma therapy, Advair, which may face generic competition as early as 2017, and the loss of exclusivity on Lovaza. Advair, which was once a drug capable of generating $8 billion in annual sales, continues to find its pricing power pressured, and generics are eating Lovaza's revenue stream for lunch.
Image source: GlaxoSmithKline.
What Witty wants you to understand is that the new products the company has introduced are tracking well ahead of expectations in terms of total sales. New products, which GSK classifies as 11 therapies (including a small handful that haven't been approved yet, such as shingles vaccine Shingrix), are already on pace for $4 billion in extrapolated annual sales. According to its updated projections, this group of therapies could generate $8.4 billion in annual sales by 2018 -- more than 100% expected growth in the coming three years.
GSK's established product growth may be disappointing, but its up-and-coming products are certainly worth paying close attention to.
2. Product launches have been more successful than you realize
Image source: GlaxoSmithKline.
This was an interesting comment from Witty because GSK took flak for its slow launch of Breo Ellipta in the U.S. in 2013, as well as for its difficulties getting its new respiratory line approved in Europe and other global markets. Investors have watched GSK's top line fall and simply assumed that the company was struggling to get its ducks in a row when launching new products.
Witty refutes that, pointing out that in terms of timeliness and costs (which were discussed throughout the call) GSK is hitting the mark. It successfully initiated five times as many launches last year than in 2014, which is part of the reason why its new product growth was so robust. The big question is if GSK can continue to translate this success into overseas wins in 2016 and beyond.
3. An Anoro sales pickup could be right around the corner
If we're going to nitpick about GSK's new product growth, its next-generation long-lasting COPD and asthma therapies (which were developed in partnership with Theravance ) have been mildly disappointing. Breo has endured quite the uphill battle. At first it struggled to gain insurer coverage, but overcame that obstacle after a few quarters. Then, Theravance and GSK took another blow when the long-term SUMMIT study involving Breo didn't show a statistically significant reduction in the risk of death for patients taking the drug. Thankfully for both companies, Breo has found its stride despite its early woes.
Image source: GlaxoSmithKline.
The latest issues are with Anoro and Incruse. GSK and Theravance are having a hard time penetrating a market that's dominated by Spiriva and Advair. Physicians and consumers have die-hard allegiances to these therapies, and even getting doctors to notice that an all-in-one, once-daily, dual bronchodilator exists has been difficult.
Based on the data mentioned by Witty about new-to-brand prescriptions, Anoro and Incruse have nearly 30% of total NBRx market share. While this doesn't translate into immediate top- and bottom-line wins, it does signal that gains in market share are likely in the next six to 18 months. Slowly but surely, Anoro's ramp-up may be speeding up.
4. We're in no rush to acquire, but we're looking
This comment was particularly interesting because GSK appears to be one of the few drug developers to admit that valuations within the sector had gotten out of hand. Witty emphasizes that just because biotech and pharma have been pummeled so far this year, that doesn't mean that GSK is going to chase assets that are potentially still overvalued.
Image source: Flickr user Nguyen Hung Vu.
Nonetheless, GSK did pull the trigger on a deal with Bristol-Myers Squibb in December that saw it pay $350 million to acquire Bristol-Myers' HIV assets. GSK could wind up paying an additional $1 billion depending on whether or not certain sales and development milestones are met. The move complements GSK's rapidly growing HIV portfolio, which stems from its majority stake in ViiV Healthcare.
If I were a betting man, I'd look for more of these smaller, bolt-on type acquisitions (perhaps in the price range of $300 million to $3 billion) that complement GSK's existing portfolio, rather than a large deal.
5. Our pipeline is deep and maturing
Image source: Novartis.
Lastly, investors should keep in mind that GSK isn't under any pressure to cut deals any longer. GSK completely reorganized its business last year by sending its oncology business to Novartis for $16 billion, acquiring Novartis' vaccine business (minus influenza) for about $7 billion, and forging a joint venture with in consumer healthcare products. These moves gave GSK a healthy cash infusion that it can use to run its 93 clinical "projects" in the works.
Based on Witty's commentary, around two-thirds of GSK's clinical studies are currently in the mid-to-late stages, which is where safety and efficacy are really illustrated, and where peak sales potential can first be estimated. With its revenue generation more geographically and operationally balanced than it was before, the company can now focus on one of the industry's deepest pipelines.
The ongoing loss of revenue from Advair is likely to weigh on GSK in the near term, but the light at the end of the tunnel can finally be seen. Investors searching for a Big Pharma turnaround candidate with a healthy dividend may want to consider giving GSK a closer look.
The article The 5 Most Important Things GlaxoSmithKline's CEO Said During the Q4 Conference Call originally appeared on Fool.com.
Sean Williamshas no material interest in any companies mentioned in this article. You can follow him on CAPS under the screen nameTMFUltraLong, track every pick he makes under the screen name TrackUltraLong, and check him out on Twitter, where he goes by the handle@TMFUltraLong.The Motley Fool has no position in any of the stocks mentioned. Try any of our Foolish newsletter servicesfree for 30 days. We Fools may not all hold the same opinions, but we all believe thatconsidering a diverse range of insightsmakes us better investors. The Motley Fool has adisclosure policy.
Copyright 1995 - 2016 The Motley Fool, LLC. All rights reserved. The Motley Fool has a disclosure policy.